Flying schedules on Qantas and Jetstar planes have been slashed dramatically as travel demand falls significantly.
Total Qantas Group (ASX: QAN) international capacity will be cut by around 90 per cent until the end of May 2020, while domestic capacity will be cut by around 60 per cent.
Internationally the 90 per cent cut is up from a 23 per cent reduction announced just last week and is largely in response to the impact of severe quarantine requirements globally.
Within Australia the jump to 60 per cent is significantly higher than the five per cent reduction announced last week and reflects a decline in forward travel demand due to government containment measures, corporate travel bans, and a general pullback from everyday activities across the Australian community.
Effectively 150 Qantas Group planes have been grounded as a result, including almost all of the group's wide-body fleet.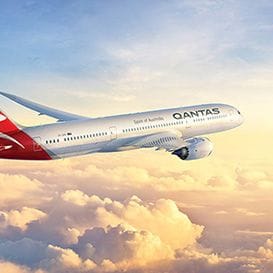 The route-by-route details of these changes are still being worked through and will be clarified in the coming days.
Some domestic passenger aircraft will be used for freight-only flights in the meantime to replace lost capacity from regular scheduled services.
Naturally this announcement will have a significant impact on the company's 30,000 strong workforce.
Qantas says the company is working to manage the impact through the use of paid and unpaid leave.
Customers with existing bookings on any domestic or international flight until 31 May 2020, who no longer wish to travel, can cancel their flight and retain the value of the booking as a travel credit voucher.
Virgin Atlantic has taken similar measures to manage its experience with Covid-19 which has resulted several days of negative bookings for the airline.
The British airline will reduce its schedule by around 80 per cent per day by 26 March.
Consequently, approximately 75 per cent of the airline's fleet will be grounded and it is expected this will increase to up to 85 per cent grounded during April.
Certain flight routes have also been canned including its London Heathrow to Newark route.
Staff will be asked to take eight weeks unpaid leave over the next three months, with the cost spread over six months' salary to reduce costs without job losses.
Regional airline Rex (ASX: REX) has entered into a trading halt this morning pending the release of a further announcement.
Updated at 10:27am AEDT on 17 March 2020.
---
Get our daily business news
Sign up to our free email news updates.