THE medical cannabis subsidiary of Queensland Bauxite (ASX: QBL) has signed a landmark deal with a Canadian company to develop a new cannabis pill, one which doctors will be able to recommend and officially prescribe to patients.
Queensland Bauxite's VitaCann division says the pill will be the first of its kind; a pharmaceutical-grade cannabis medicine which doctors will likely be more willing to prescribe than the drug's smoked alternative.
The company came out of a trading halt this morning to announce plans for the medication which it will develop in a joint venture with Toronto-based pharmaceutical company Canntab Therapeutics.
Following the announcement, QBL shares surged more than 71 per cent to trade at $0.089 at the time of writing (10:17am AEST).
There is currently no pharmaceutical-grade cannabis medicine yet available for doctors to prescribe anywhere in the world, however high-THC smoked marijuana is available in countries with health department exemptions including the United States, Canada and Israel.
VitaCann believes the new product could be a market disruptor.
"It is our belief that these new pharmaceutical-grade Canntab products however will, subject to the formal approval process, achieve the approvals required under the current legislation to be the premier medical cannabis product that can be confidently recommended and prescribed by the medical fraternities in Australia and globally," said the company.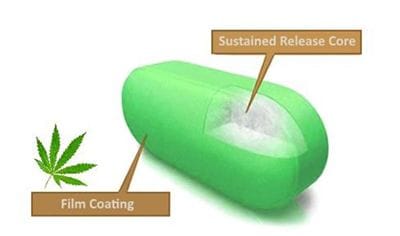 A cross section of the proposed 'Canntab' pill
By creating its solution in pill form, VitaCann also hopes to eliminate many of the significant shortcomings associated with smoking cannabis.
"Medical practitioners report that the current delivery methods are mostly unreliable, hard to accurately manage dosage, and there is also a clear stigma attached together with potential dangerous side effects of smoking and vaping," says the company.
"Bud smoking for example, which accounts for a significant percentage of medical cannabis sales in Canada, has major dosage management issues, patients cannot consume discreetly, carcinogens are inevitably inhaled and is inappropriate for children."
Managing director of Queensland Bauxite Andrew Kavasilas expects there will soon be a fundamental shift from smoked to swallowed medications around the world.
"First we must understand the difference between the high THC medical cannabis being smoked by almost all patients in countries that provide a health department exemption and phaemaceutical cannabinoid medicines which are regulated," says Kavasilas.
"These are the types of products that must be developed and now we believe that Canntab has done just that."
Pnina Feldman, executive chairperson of Queensland Bauxite, says the company is looking forward to improving a product which is now commonly used to treat symptoms of arthritis, chronic pain, diabetes, epilepsy and mental health disorders, among other illnesses.
"It is exciting to be involved in a venture which, aside from its lucrative business prospects, aims at helping so many people in need," says Feldman.
---
"Everyone knows someone who could benefit from this new technology, and it is deeply satisfying to see positive results with friends or family in dire need of such medication."
---
The Australian Federal Government has put legislation in place and granted necessary export approvals which allows VitaCann to begin development.
Another benefit of the drug, according to VitaCann, is that it provides a solution to the growing opioid crisis, as medical cannabis does not appear to have many of the dangerous and toxic side-effects that come with opioid-based medicines.
Never miss a news update, subscribe here. Follow us on Facebook, LinkedIn, Instagram and Twitter.
Business News Australia
Get our daily business news
Sign up to our free email news updates.