LAWYERS are good at being lawyers and bad at marketing - the belief that drove Katie Richards to launch her business Virtual Legal.

Others then gravitated, for Virtual Legal to now be growing at an average rate of 400 per cent each year since inception in 2013.

Richards' vision has been rewarded too, with the 35-year-old last week taking out Bronze for Female Entrepreneur of the Year at The Stevies Awards in New York, following a succession of accolades including Finalist at Business News Australia's Brisbane Young Entrepreneur Awards.

Richards commercial mindset transpired early in her career, attractive to the likes of previous employers Domino's Pizza Enterprises (ASX: DMP), National Australia Bank (ASX: NAB), GE Mining and Ecowash Mobile.
As global legal counsel for Ecowash Mobile, Richards took the brand international to the USA, Europe and the Middle East.

"I was constantly working on my laptop, one day in Paris, the next in Bahrain, then over in Ireland," says Richards.

"I spent several years at Ecowash preparing the documentation and launching the company, and by learning different cultural aspects country to country it made me understand that no matter what, the focus should always be on creating a business environment that's collegiate where you're not trying to force something out of someone else."

Richards has embedded this into her Virtual Legal model, which is hinged on a personable cloud computing platform, playing up to her passions for 'systemisation and efficiency'.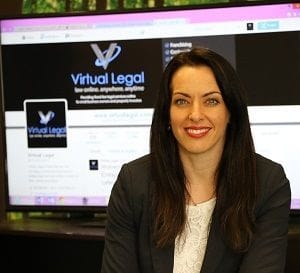 Everything is done systematically, right through to using DiSC profiling to personality profile clients so they are matched with the 'right' lawyer.

Richards is also currently developing another service that takes 'collegiate' to the next level, first fed to the Sharks for next season's Shark Tank.

"It's a legal system that would earn money without the need for human resources, basically where people can create their own legal contracts by typing in layman's terms what they want to do, then the system drafts it up for them and links to government systems to cross-check the legalities again.

"We think it would be useful not only for property and commercial, but also wills and estates."

Growing up on a small sugarcane farm in North Queensland, Richards says she knows too well the injustice in the legal system.

However, she's confident she can do her part to turn it around.

"Growing up, it was only the wealthy cane farmers who had lawyers to help them, and there was only one lawyer in town so if the other person was using the lawyer there wasn't an alternative," says Richards.

"My job is to empower people so they can improve their own lives.

"Lawyers are often good at being lawyers but bad at marketing and networking they sell what they do and not why they do it. No one cares if you do a lease review, they want to know you can do a lease review to make their lives better.

"We're giving people access to legal by giving them access to the tools 'teach a man to fish' is our way."

Help us deliver quality journalism to you.
As a free and independent news site providing daily updates
during a period of unprecedented challenges for businesses everywhere
we call on your support