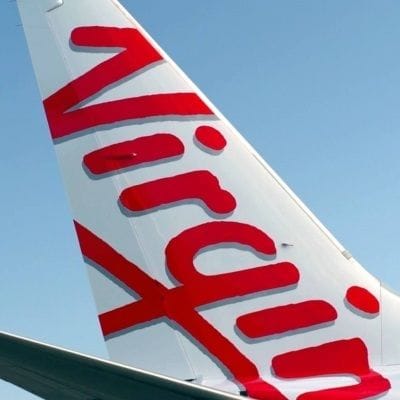 While Virgin Australia (ASX: VAH) has emphasised its domestic focus means less exposure to international flight problems, ratings agency Standard & Poor's (S&P) believes the airline is in for tough times ahead.
S&P has downgraded Virgin's rating to 'B-' due to deteriorating domestic market conditions, along with a CreditWatch negative placement.
The company previously had rating of 'B+'.
"We believe Virgin Australia's concerted efforts to further reduce capacity, exit loss-making routes, as well as accelerate cost reduction and fleet simplification initiatives - while appropriate - are unlikely to fully offset the cash flow impact of reducing travel demand," S&P said.
"As a result, we believe there is an increasing likelihood that near-term cash outflows will increase, and leverage will remain elevated in fiscal 2021."
The agency took this position after forming the view that rapidly deteriorating industry conditions are spreading from the international to the Australian domestic market.
"We now believe Australia's economy will grow at just 1.2 per cent in 2020, which is the weakest economic outlook in 20 years," S&P said.
"Subdued economic conditions are exacerbated by corporate and leisure travelers cancelling unnecessary travel and the requirement for incoming international travelers to self-isolate on their return to Australia.
"Further, the extent and duration of reduced travel demand remain highly uncertain. We believe risks remain to the downside with an increasing likelihood that infections will continue to rise as Australia approaches the winter months."
S&P also notes forward bookings and the Velocity Frequent Flyer business provide a material source of working capital, some of which could unwind.
"The airline's unearned revenue comprises predominantly forward bookings," the agency said.
"While most bookings are unlikely to be eligible for cash refunds, changes in forward booking patterns could reduce Virgin Australia's working capital benefit, particularly given the skew towards near-term bookings.
"In addition, any decrease in the sale of frequent-flyer points to third-parties (particularly banks) or increased frequent-flyer redemption activity (particularly merchandise rather than flights), could also erode Virgin Australia's working capital buffer."
Updated at 11:18am AEDT on 17 March 2020.
---
Get our daily business news
Sign up to our free email news updates.