Despite having a 13 year long career as a successful rugby star playing for the Queensland Reds, Ed O'Donoghue says his experience on Shark Tank was scarier than facing up for a scrum.
O'Donoghue is the mind behind Fro Pro, self-described as 'Australia's healthiest ice cream'. Fro Pro is sugar free, high protein, and low carlorie.
The story behind the brand is pretty simple; O'Donoghue loved to indulge in ice cream but wanted a healthier option to the calorie packed, fatty, sugary ice creams on the market.
He started the brand five years ago after retiring from professional rugby, and after securing support from Glen Richards on Shark Tank last night, is hoping to transform the brand into one of the most well-known and beloved ice cream names in Australia. He's already well on his way, with Fro Pro already being sold at the majority of Woolworths in the country.
Business News Australia spoke to O'Donoghue about his time on Shark Tank, what he plans to do with Glen's $250,000 investment, and the lessons he's learnt in the transition from professional rugby player to becoming a successful startup founder with products stocked in Woolworths.
What was more intimidating? The Sharks or going into a scrum?
Easily the sharks. I actually thought it was going to be a walk in the park. Literally the day before I had a huge meeting with Woolworths. I was going into a big meeting a day or two later in Melbourne with Coles and I hadn't really prepared for the Shark Tank as much. I just thought to myself I just know my business so it won't be a big issue. And then I got there and I absolutely froze and it was the worst thing. I never used to get nervous before big games or anything I just assumed it would be the same, and it wasn't. It was pretty daunting.
What are you going to do now with the investment from Glen?
I just want good product. Our big mantra is availability is the best ability. We want to be in as many stores at the best price with the best products so we can get that to our customers. The money that we've raised we'll be able to put it into the business. We're going to put money into a marketing budget so that we can raise awareness and the more that we sell the more we can do with our price and hopefully that continues. We've got really great product development and obviously in time hopefully if we can keep selling strong we'll be able to add those products. Wherever there's an unhealthy ice cream we'll make a version of Fro Pro for it.
Getting into Woolworths must've been a tough journey what did you learn from that experience?
It was really hard. It was actually a little bit of a twist of luck just to get our foot into the door. We had to do direct to store delivery, you have to basically supply to each store's back door, and you have to do your own logistics. Ice cream, I love it to death, but the freezer logistics in Australia are pretty tricky. We delivered it at quite a considerable loss for the first say 8-9 months and that's where you really prove yourself. After that Woolworths became really a partner for us. I must admit you hear all these horror stories like don't go too fast but genuinely they've been amazing for us. They back us because we're Australian, they back us because we're an innovative product.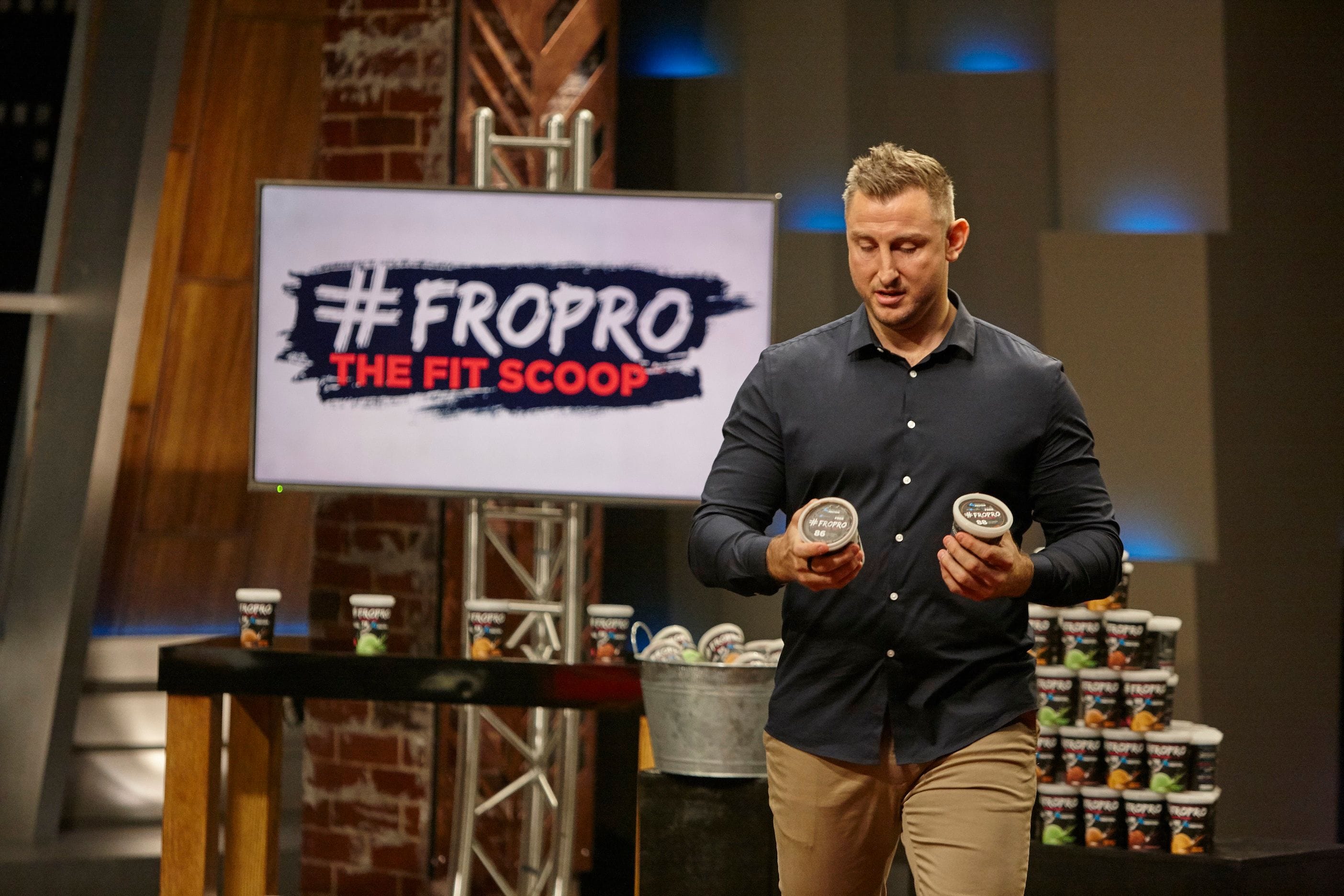 Photos courtesy of Network Ten
There's a lot of players in the ice cream game, how do you go about differentiating yourself and trying to come out on top of your competitors?
To start with, we were trying to be and potentially were the first in the world to do what we do with a sugar free high protein ice cream. Having been an innovative product we're always going to innovate and that's something that I think we're already ahead with some of our new range that we're looking to offer by the end of the year. There's just so much great food innovation in Australia but hopefully we can lead the world in this area.
From rugby to business what would you say has been the biggest thing you've learnt through the transition?
I don't know if I got a lot a lot out of sport to get into business other than just the core cultural things. I definitely had to learn on the fly a lot. I learnt from books that I read in airports. I think definitely some of the carry over things from sport that give you a bit of an edge are the competitive nature things. I just had to make mistakes and learned from what I did wrong.
Never miss a news update, subscribe here. Follow us on Facebook, LinkedIn, Instagram and Twitter.
Business News Australia
Help us deliver quality journalism to you.
As a free and independent news site providing daily updates
during a period of unprecedented challenges for businesses everywhere
we call on your support