SUNLAND Group (ASX:SDG) has hit its strides in the latest property cycle by more than doubling its bottom-line profit to $30.1 million for the year to June 30.
The latest result, which compares with $14.25 million a year ago, has beaten forecasts by $2 million as the Brisbane-based developer capitalises on continued strength in its key markets in Victoria, NSW and Queensland.
However, Sunland, which traditionally takes a counter-cyclical view to the market, has beefed up its focus on south-east Queensland this past year with at least four major high rise projects either in train or under construction.
The company's home market of Gold Coast is already paying dividends as investor appetite for the tourism strip gains momentum with national and offshore investors.
During the year, Sunland went on an $82 million buying spree of new development sites, largely in south-east Queensland.
The acquisitions were offset by $90.1 million in asset sales, mainly in NSW and Victoria, with funds diverted to what Sunland describes as key growth markets. Another $29 million in acquisitions are expected to settle this financial year
Despite the buying spree, Sunland had $26.2 million in cash and $107 million in undrawn credit at the end of the financial year. The cash position is up from $14.6 million in FY14.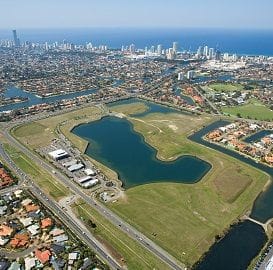 "These acquisitions include the flagship 42ha Lakeview development site (pictured right) on the Gold Coast and Sunland's first residential housing development site in Brisbane in the affluent suburb of St Lucia," says Sunland managing director Sahba Abedian.
Sunland recorded 754 sales during the year totalling $509 million, up 20 per cent and 31 per cent respectively on the previous year. The unsettled sales are not necessarily reflected in the current revenue figures.
Total group revenue climbed to $288.9 million from $187.9 million, which includes a modest $2.3 million from project services. Most of the revenue, $250.3 million, was generated from land and housing developments.
Property settlements totalled 387, delivering $279.7 million in sales revenue. While FY14 was more active, with 446 settlements, total revenue was just $178 million, although the FY15 figure includes the $90.1 million sale of development sites.
"While settlement volumes decreased as a result of these strategic asset sales, settlement values still increased by 7 per cent across the balance of the portfolio," says Abedian.
The company's first high rise in Brisbane, the luxury Abian tower overlooking the city's botanical gardens, is 98 per cent sold and price increases have been achieved for the project.
The company's high rise activities are expected to ramp up sales volumes over the next few years.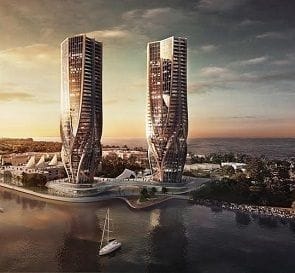 These projects include Abian and Grace on Coronation in Brisbane, and the proposed $600 million landmark project comprising two towers on the Mariners Cove site (picured left) at Main Beach on the Gold Coast.
Other Gold Coast high rise and medium rise projects include One Marine Parade at Labrador, The Lakes at Mermaid Waters and a major development at Palm Beach that has yet to be revealed.
The twin-tower Grace on Coronation has hit a snag following an appeal lodged against development approval granted by Brisbane City Council in June. Abedian expects the delay could be up to 12 months.
"Ultimately, we have great confidence that the project will be approved and will proceed," he says.
Sunland has upgraded its development pipeline worth to $3.7 billion, with the latest site acquisitions boosting that figure by $1.1 billion. The company's portfolio now comprises 6086 land, housing and multi-storey apartment products.
Major contributors to the FY15 profit came from Concourse Villas and The Glades on the Gold Coast, The Parc in Sydney and Whyte in Melbourne.
Development margins across the house and land portfolio have surged to 30 per cent from a targeted 20 per cent.
Abedian says 10 new projects will be launched by the company this financial year.
"As we enter new horizons, Sunland will maintain a disciplined and conservative approach to the delivery of its portfolio, recognising the inherent value that remains to be crystallised as projects are delivered in the medium to long term," he says.
Sunland is expected to reveal its FY16 profit forecast at its annual general meeting in Brisbane on November 20.
Sunland is paying a final dividend of 2c per share, bringing the full-year payout to 10c, which includes a 2c interim dividend and a special dividend of 6c paid earlier this year. This compares with a 4c payout in FY14.
Get our daily business news
Sign up to our free email news updates.