IT'S the Gold Coast's smallest office precinct and it's become one of the most expensive places to set up a business in the city, yet the tightening Broadbeach commercial market could finally be good news for Surfers Paradise.
In a classic tale of two 'cities', office vacancies at Broadbeach have fallen as low as 4.2 per cent making it tighter than even Sydney and Melbourne, while Surfers Paradise continues to struggle with a figure just shy of 30 per cent.
According to property agency heads, something has to give as the latest figures show the broader Gold Coast office market continues to improve, with Surfers Paradise the market to watch over the next couple of years.
The latest data from the Property Council of Australia reveal that the Gold Coast office vacancy rate has fallen from 15.2 per cent to 14.8 per cent in the past six months.
Five years ago that figure stood at 24 per cent and the Gold Coast was labelled the worst office market in Australia.
Now it's ahead of Brisbane (15 per cent), Canberra (15.3 per cent) and Perth (16.6 per cent) thanks to a commercial property market driven by the strongest jobs growth in Queensland and an emerging residential construction boom.
The news comes as receivers controlling two of the Gold Coast's largest office towers, 50 Cavill Avenue in Surfers Paradise and Seabank at Southport, finally place the struggling properties on the market.
Both towers have distorted Gold Coast office vacancy figures for the better part of five years. The properties, formerly controlled by Brisbane investor Albert Chung, are said to be sitting on vacancies of around 45 per cent and 35 per cent respectively largely due to the extended receivership.
CBRE's Jonathan O'Brien, Mason Kidman and Lachlan Harris are marketing the properties with Roland Evans and Greg Harris of Canford Property Group.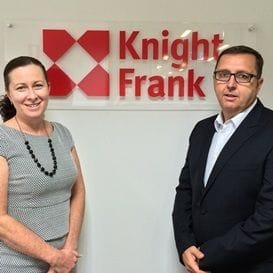 Knight Frank Gold Coast joint-managing director Tania Moore (pictured with business partner Mark Witheriif) says tight vacancies and the relatively small scale of the Broadbeach commercial precinct have made it the most expensive office market on the Gold Coast.
However, she's forecasting this will work in favour of Surfers Paradise over the next two years.
"We are seeing 50 Cavill being eyed off by tenants now as a credible option if they don't get space in Broadbeach," Moore says.
Other agency bosses, including Greg Bell of Ray White Commercial, also are reporting growing business interest in the city's traditional tourism heart.
"Surfers Paradise, in particular, has experienced a major turnaround from past years when shops and offices would stay vacant for months without raising any inquiry," says Bell.
Some agents are seeing businesses looking to relocate to Surfers after moving out due to the chaos of light rail construction two to three years ago.
While the latest Property Council data shows a slowdown in the office take-up rate on the Gold Coast over the past two years, the tightening vacancy trend is likely to continue.
"Unless there was a fundamental issue with financial markets, there's no reason to expect current decline in vacancies on the Gold Coast will stop," says Moore.
"Generally, business confidence is improving and more businesses are expanding, and that's across the whole market fueled by both public and private spending."
Despite falling office vacancies, the Gold Coast has a long way to go before it reaches the 2006 low of 4.6 per cent.
The super-tight office market at the time triggered a rush of speculative office projects, including Southport Central, which were delivered just as the sub-prime crisis was emerging in the US.
Between 2006 and 2010, 113,000sqm of new stock was added to the Gold Coast office market, with about 50,000 of that at Varsity Lakes and 30,000 at Southport Central.
According to Colliers International Gold Coast boss Cameron Wilson, the latest turnaround in the Coast office market has led to significant capital growth in the past six months, especially in Southport.
"Current office vacancy in Southport is assessed at 13.8 per cent; five years ago this figure was close to 22 per cent," Wilson says.
"As a result rental rates are firming and, with that, capital values are rising and investment yields are compressing.
"Two years ago, there was over 5000sqm of small strata offices for sale in Southport Central that were achieving prices of around $2200 to $2700 per square metre.
"In the last 6 months we have seen this on-market rate decline to around 1500sqm and a rise in capital values of about 20 per cent, which equates $2500 to $3200 per square metre."
Wilson says the biggest problem for agents at the moment is finding larger-scale spaces of 1000sqm or more to meet demand from bigger tenants.
"These have been hard to get for clients and we think long term that there will be a shortage of stock."
But Wilson doesn't expect to see plans for 30-storey office towers any time soon for the Gold Coast.
"I'd be surprised if we see another 20 or 30-storey office tower in the next decade," he says.
Moore says the tipping point for developer interest in the office market comes as vacancies fall below 10 per cent.
Both Moore and Wilson expect mixed-use developments will cater for some of the shortfall in key markets.
"National developers may consider office development in future as demand for quality office space improves," says Wilson.
"I think once 50 Cavill, Seabank and Corporate Centre fill up there will be confidence again for developer to build an office tower, particularly in Southport. But these are likely to be small-scale projects."
Broadbeach, on the other hand, is expected to remain tight with few mixed-use developments on the horizon, other than the planned twin-tower redevelopment of Niecon Plaza by George Raptis.
Get our daily business news
Sign up to our free email news updates.
Help us deliver quality journalism to you.
As a free and independent news site providing daily updates
during a period of unprecedented challenges for businesses everywhere
we call on your support