With Commonwealth Bank (ASX: CBA) and Westpac (ASX: WBC) alone accounting for a third of the combined market capitalisation of Sydney's Top 50 Companies, it should come as no surprise that there was very little change at the top of this list, regardless of the eventful year it has been for each business.
In fact, the top six remain in the exact same order as last year, but the sale of formerly 7th placed Sydney Airport has paved the way for QBE Insurance (ASX: QBE) which rose three spots even during a period of significant natural disasters. Meanwhile, logistics software group WiseTech – ranked 26th three years ago – continued its steady rise into 8th place.
Another business involved in supply chains, Brambles (ASX: BXB) cracked its way back into the Top 10 after a one-year hiatus.
The Top 10 listed here combined are worth more than $500 billion, which despite a slight drop on 2021 still represents almost exactly the same share of the Top 50's combined market capitalisation – 63 per cent.
---
1. Commonwealth Bank of Australia (CBA)

Financials
2021 rank: 1
Market Cap: $180.6b
FY22 revenue: $25.14b
FY22 profit: $9.67b
Listed: 1991
CEO: Matt Comyn
CEO salary: $6.98m
As Australia's largest home lender, Commonwealth Bank of Australia (ASX: CBA) arguably has to shoulder a big share of the economic pain confronting households should the Reserve Bank of Australia continue lifting its cash rate.
CEO Matt Comyn has already warned the bank is braced for an increase in mortgage arrears, prompting him to assure shareholders at this year's AGM that, just as the banking giant did during COVID, it will work with customers who are under financial stress to find solutions.
The CBA is responsible for one in four home loans written in Australia, giving it broad exposure to any significant mortgage stress should it emerge. With the bank's own forecasts that house prices will fall 15 per cent from their peak by mid-2023, a drop in equity of that scale won't leave much wiggle room for those who entered at the peak of the market and may be now looking to get off the property ladder. Some won't be able to do so without losing some skin.
New chairman Paul O'Malley offered a warning to shareholders at the AGM that interest rate increases will take their toll as fixed-rate terms expire and borrowers are forced into a higher variable rate. The issue is likely to become more acute in 2023.
Ironically, it is rising interest rates that are causing a headache for the CBA's investment in the buy-now-pay-later (BNPL) sector which is struggling to turn a profit across the board. Higher interest rates have taken the shine off the BNPL model this year and that's evident in the value of CBA's investment in Swedish fintech Klarna Bank which came back to earth in FY22.
CBA's stake in the company was listed as $403 million at the end of last financial year, down from $2.7 billion at the end of FY21. That's now less than the US$300 million (A$465 million) CBA paid for its holding.
The drop in value comes on the heels of another year of losses for Klarna and the BNPL sector generally, although CBA last year introduced its own BNPL offering StepPay for CBA credit and debit cardholders to keep its products abreast of industry trends.
But after another solid year for the property sector, CBA kept forging ahead in FY22 with cash earnings rising 11 per cent to $9.6 billion, although that hasn't stopped the bank's cost-cutting program that includes branch closures.
With further branch closures on the cards for CBA, and the big-four banks generally, CBA has been leaning on its technology-building venture x15, which it launched in early 2020, to seek out and invest in more digital solutions for customers. Among them is an investment in Payable, an open banking platform that fixes missed or late payments before they happen. CBA upped its total investment in Payable to $1.85 million in November last year.
Meanwhile, legacy issues from its former wealth management and insurance operations haven't been far from the headlines for CBA which continues to battle a raft of litigations from class actions and enforcements by regulators.
On that front, CBA had a notable win against ASIC in September after the Federal Court dismissed a $22 million civil action that alleged the bank had wronged its customers who had signed up to its Essential Super product.
The bank also reached agreement in November on a $50 million settlement for a class action brought by Slater and Gordon relating to consumer credit insurance that also resulted in separate settlements from ANZ Bank (ASX: ANZ) and Westpac (ASX: WBC).
---
2. Westpac Banking Corporation (WBC)

Banks
2021 rank: 2
Market Cap: $83.18b
FY22 revenue: $83.18b
FY22 profit: $5.9b
Listed: 1970
CEO: Peter King
CEO salary: $5.02m
Inflation might be hurting its customers alongside higher interest rates, but it's also caused some pain for Westpac Banking Corporation (ASX: WBC) which has had to temper its ambitious target of shaving its cost base to $8 billion by 2024.
Rising labour costs and the 'high inflation psychology' in the market have led CEO Peter King to revise the figure to $8.6 billion from the original target proposed early last year.
However, aggressive cost-cutting remains the mantra at Westpac this year as the company's ongoing business simplification process aims to bring costs down from the $12.7 billion recorded in FY20. Much of this is being achieved through the sale of businesses such as the Advance Asset Management division which was completed with Mercer Australia earlier this year.
It's an uphill battle if a recent analysis by Ernst & Young is any guide. The analysis says that 'although all the major banks are maintaining their focus on productivity and simplification initiatives, costs seem unlikely to fall further any time soon given wage and other cost inflation pressures'.
The 'shrink to grow' mentality led Australia's oldest bank (founded as the Bank of New South Wales in 1817) to close 119 branches nationally in FY22 – or one branch for every three days of the year.
Total branch closures are more than twice that number since January last year and the pace has accelerated this financial year with 72 branch closures announced in the first three months of FY23, with some rural centres left without a physical banking presence as a result.
While King says he appreciates the importance of face-to-face banking, which has pushed the bank to share Westpac customer services within its St George and Westpac branch network, the reality is that 90 per cent of Westpac transactions are conducted online or over the phone.
To fill the void, Westpac has focused on improving digital engagement through the roll-out of its new app for the group's 2.7 million consumer and 1.2 million business customers.
The bank has also launched a digital mortgage for some mortgage refinancing customers that it says will ultimately provide approvals in as little as 10 minutes. For business customers, Westpac has streamlined account updates and credit decision-making for business bankers.
The current pressures facing the banking industry, including investment in new technology to continue meeting customer expectations, underline the challenges ahead.
A minor consolation for the banking sector is the mixed performance by the neo-banks that have set out to challenge the banking status quo.
The much-vaunted newcomer Volt made the 'difficult decision' to close operations at the end of FY22 after hitting the market in 2017 with the confidence to tackle the might of Australia's big four banks. The closure followed the collapse of Xinja in 2020, highlighting the intensive capital requirements of the banking industry in Australia.
However, Judo Capital (ASX: JDO), which targets business banking, exceeded its prospectus forecasts in FY22.
---
3. Macquarie Group (MQG)

Financials
2021 rank: 4
Market Cap: $69.65b
1H22 revenue (operates on a March full year): $8.64b
1H22 profit (operates on a March full year): $2.29b
Listed: 2007
CEO: Shemara Wikramanayake
CEO salary: $25.82m
Macquarie Group (ASX: MQG) sees plenty of opportunities in renewables, leading the investment banking giant to ramp up its interests in the sector by setting aside a $30 billion war chest.
The company's Green Investment Group (GIG), which sits inside the $773 billion Macquarie Asset Management subsidiary, in November launched a new global battery storage platform, Eku Energy, which is aimed at consolidating the group's existing battery storage activities in the UK, Australia, Japan and Taiwan. The company has 190MWh of flexible storage capacity under construction in these regions and a further $2 billion development pipeline totalling more than 3GWh.
The Eku Energy launch comes on the heels of the group's September debut of Fleete, a new electric vehicle infrastructure business for operators of electric commercial vehicles. Fleet is a charging-as-service business that helps commercial fleet operators accelerate their transition to EVs.
It's a hedging play for Macquarie that has been ramping up investments in renewables over almost two decades, even though it retains significant investments in carbon-based energy. The group's gas and power investments performed strongly in the latest half year.
The group is now chaired by former Reserve Bank of Australia governor Glenn Stevens, whose inscrutable style kept the market guessing on the direction of interest rate movements during his tenure at the central bank. Stevens told his first Macquarie Group AGM in July of the need to remain alert to the risk of a recession.
However, a bumper FY22 for Macquarie Group was reflected in a record $123 million remuneration bill for the nine top executives at the renowned 'millionaire's factory'.
CEO Shemara Wikramanayake was again beaten by Nick O'Kane, the head of commodities and global markets, who received the lion's share of the total at $36.2 million. That was almost $10 million more than the previous year.
Wikramanayake was rewarded with a pay package totalling $25.8 million in FY22, up from $20.6 million a year earlier.
---
4. Woolworths (WOW)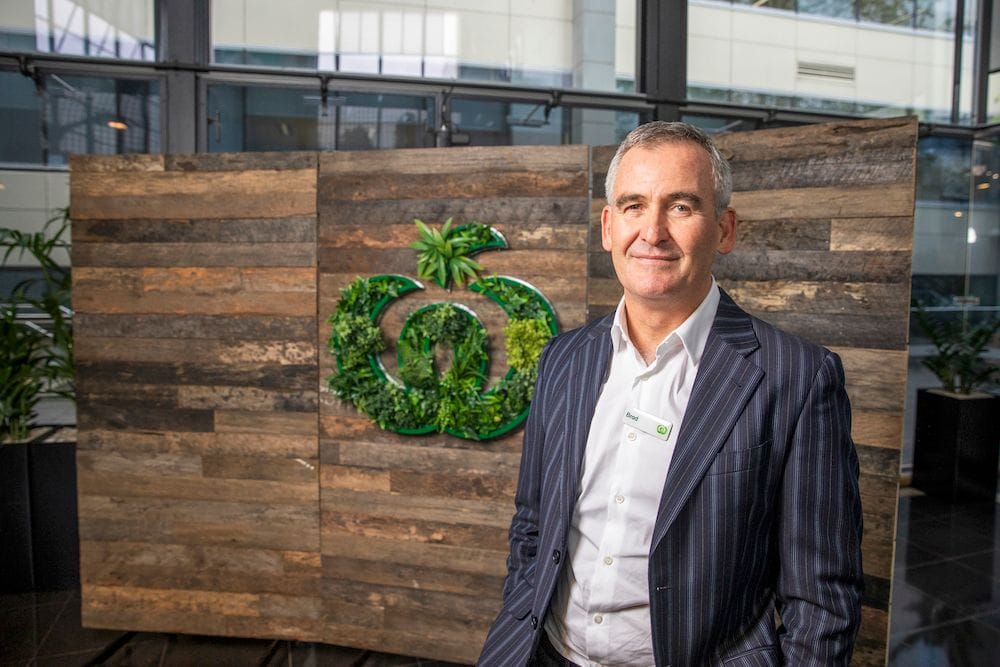 Consumer Staples
2021 rank: 3
Market Cap: $41.9b
FY22 revenue: $60.85b
FY22 profit: $1.55b
Listed: 1993
CEO: Brad Banducci
CEO salary: $7.55m
With Woolworths Group (ASX: WOW) at the coalface of food price inflation, the supermarket operator has noticed signs of changing consumer habits.
Anecdotal reports from senior management at Woolworths and Coles Group (ASX: COL) reveal that belt tightening by consumers has become more commonplace with customers choosing cheaper options to fill their grocery baskets.
That might explain why Woolworths' food sales were marginally lower in the first quarter of FY23 compared with a year earlier. Delving further into the numbers provides a broader picture of what may be driving a change in shopper behaviour.
With Woolworths' overall food prices up 7.3 per cent for the quarter, that should have benefitted total sales for the division rather than denting them. But while there was comparable transactions growth of 5.1 per cent, customers were buying fewer items - an average of 13 per cent less on each visit - than a year ago.
"We continue to see early signs of customer purchasing habits changing, but it remains unclear how much of this relates to cost-of-living pressures compared to COVID normalisation," says Woolworths CEO Brad Banducci in the company's FY23 first-quarter update.
This frugality is occurring despite national retail sales being broadly untouched by successive interest rate rises, with the September data from the Australian Bureau of Statistics showing strong year-on-year growth – mainly because the previous year's data was affected by lockdowns.
While the supply chain issues of the past two years have eased, Woolworths has warned that shortages of goods persist amid heavy rains on the eastern seaboard disrupting supply channels and the harvest and production of fruit and vegetables.
However, considering the challenges for Woolworths, Banducci remains cautiously optimistic. With the acquisition of PFD Food Services and Australia's largest data science company Quantium adding to FY22 revenue, Woolworths this year bolstered its e-commerce division with the $218 million acquisition of online retailer MyDeal.com.au (ASX: MYD), bringing the platform's 2.2 million customers into the fold.
The acquisition hit an early hiccup in October, shortly after the September acquisition, when Woolworths revealed a data breach had occurred at the new subsidiary. The breach exposed customer names, email addresses and phone numbers just weeks after cybercriminals hit Optus.
Ahead of the MyDeal acquisition, Woolworths snapped up digital out-of-home media company Shopper Media Group for $150 million, adding 2,000 screens to its growing advertising network.
The group also officially launched a new online shopping platform, Woolworths at Work, which specifically targets business consumers. The platform which has been in live beta stage since late 2020, allows Australian workplaces to shop online for fresh food, kitchen and cleaning supplies, and other essential products.
---
5. Goodman Group (GMG)

Real Estate
2021 rank: 5
Market Cap: $34.61b
FY22 revenue: $2.09b
FY22 profit: $3.41b
Listed: 2005
CEO: Greg Goodman
CEO salary: $15.77m
Goodman Group's (ASX: GPG) $73 billion commercial and industrial portfolio is a bellwether for the logistics sector and the rapid pace of yield growth achieved over the past year clearly reflects the strength of demand globally.
The North American market has been a solid performer for the founder-led group's logistics assets, where market rentals have surged 40 per cent. Australia and New Zealand have also delivered robust returns with rents up 20 per cent.
The momentum of the industrial property sector generated during the pandemic, especially in logistics, is reflected in the 98.7 per cent occupancy rate across the Goodman Group portfolio.
Goodman says demand is being driven by customers seeking 'greater productivity and sustainable solutions to improve their supply chain'.
This demand, combined with barriers to entry and supply restrictions within its markets, has led to a shortage of space upon which Goodman Group has been able to capitalise.
Goodman Group is expecting rental growth and inflation to support improved cash flows in the near term.
The shortage of supply in strategic urban locations has led the company to ramp up its development pipeline with work in progress now sitting at $13.6 billion – up 28 per cent from FY21.
While construction costs are broadly higher due to ongoing inflationary pressures, Goodman remains in the box seat with rental growth outpacing the increase in building costs.
Despite a volatile market environment, Goodman Group remains confident that it can leverage the positives supporting its market niche to deliver earnings per share growth of 11 per cent in FY23.
CEO Greg Goodman, when announcing the group's $3.6 billion statutory net profit for FY22 in August, noted the digital economy is 'growing alongside our customers' need for greater supply chain efficiency and sustainable properties close to consumers'.
As demand exceeds supply in the group's markets, Goodman is adopting a development-led growth strategy.
The group sees a focus on developments in key locations, combined with a strong balance sheet including gearing of 8.5 per cent, providing resilience amid the prevailing economic uncertainty.
Despite a solid result, institutional investors weren't happy with Goodman's remuneration report, with 29 per cent of the vote disapproving which gives the group a second strike after shareholders railed against executive salaries last year as well. The compulsory vote for a board spill was defeated at the AGM in November, but it highlights some disquiet among investors about the targets set for senior executives.
Greg Goodman's remuneration rose from $13.37 million in FY21 to $15.77 million in FY22.
---
6. Aristocrat Leisure (ALL)
Consumer Services
2021 rank: 6
Market Cap: $23.27b
FY22 revenue: $5.57b
FY22 profit: $948.5m
Listed: 1996
CEO: Trevor Croker
CEO salary: $2.85m
If a $4 billion takeover bid for UK gaming giant Playtech had succeeded, Aristocrat Leisure (ASX: ALL) could have bolstered its market capitalisation, but even a solid lift in FY22 earnings failed to buoy the company's shares to the highs of a year ago.
The failed bid for one of the world's largest online software gambling suppliers would have given Aristocrat a competitive edge in the growing US online gambling market in states where the practice is legal.
Aristocrat already generates most of its revenue from the US through the supply of poker machines to casinos and its games comprised 17 of the top 25 premium leased products in the North American market in FY22.
However, the group has been scaling up in the online space with i-Gaming – or online table and slot gaming – which is currently legal in six US states with more states expected to regulate over time.
Aristocrat Leisure has a five-year plan to target a significant share of the US i-Gaming market and a long-term plan to become the leading platform for the growing RMG (real money gambling – or online gambling) industry.
After Playtech shareholders – including former Playtech CEO Tom Hall - rejected the takeover offer, Aristocrat Leisure revealed it would ramp up existing plans to build its own RMG platform which it has been working on for more than a year.
Aristocrat CEO Trevor Croker says the company will look at select mergers, acquisitions, partnerships and talent acquisitions to accelerate the program.
Lower growth from Aristocrat's mobile-game developer Pixel United was a negative for the company in FY22, with the war in Ukraine not helping. Pixel had to relocate about three-quarters of its Ukrainian staff to elsewhere in the country or abroad due to the conflict.
Croker says a strong performance in Aristocrat Gaming 'more than offset headwinds in the Pixel United business', highlighting the diversification within the group. Croker is confident the company can maintain momentum that led to a 30 per cent increase in net profit after tax by 30 per cent in FY22 despite 'uncertain conditions' in FY23.
---
7. QBE Insurance Group (QBE)

Insurance
2021 rank: 10
Market Cap: $19.18b
1H22 revenue (operates on calendar year): $11.5b
1H22 profit (operates on calendar year): $151m
Listed: 1973
CEO: Andrew Horton
CEO salary: US$2.23 million
With the local market only accounting for a fifth of its gross written premium, QBE Insurance Group (ASX: QBE) has been less exposed than its domestic peers to the weather disasters that have plagued Australia in 2022, and its revenue surged in the first six months of the year.
While Insurance Group Australia (ASX: IAG) and Suncorp (ASX: SUN) overshot their natural perils or hazards allowances by a combined $455 million in FY22 due in part to destructive floods, QBE's catastrophe claims were down 2 per cent in the first half, even with the impacts of Storm Eunice in the UK and Europe.
Unlike the aforementioned competitors that are both smaller, QBE's full-year catastrophe allowance is less than $1 billion, while in the US – where the largest share of its premiums are earned – it has been introducing initiatives to de-risk its property catastrophe exposure.
"We have materially simplified the business and I am confident we have the right strategy and team in place to drive a sustained improvement in performance," CEO Andrew Horton said of the North American business in QBE's half-yearly results released in August.
"Despite the challenging operating backdrop, QBE demonstrated resilience in the period, with ongoing positive momentum across the business. We have made good early progress against our new strategic priorities, and our outlook for the remainder of the year remains positive," he said of operations overall.
QBE's focus in North America is to build its commercial, specialty and crop insurance portfolios, and due to a lack of alignment with this vision the group sold its California-headquartered Westwood Insurance Agency for $375 million.
Unloading that US-wide business which specialises in builder sourced homeowners' insurance delivered a "modest" post-tax accounting gain.
The main challenges faced by QBE have been related to investment market volatility including wider credit spreads and higher risk-free rates. This, combined with other issues in the United States and an Australian pricing review, prompted a 66 per cent year-on-year drop in profit in the June half.
"In Australia, as part of a broader industry review, QBE has identified instances where policy pricing promises were not fully delivered. $75 million before tax has been recorded for expected costs, and we are working promptly to remediate impacted customers," Horton said.
QBE has surpassed the 40:40 Vision for gender equality on boards with 44 per cent women, and is committed to net zero emissions across its global operations. It expects to achieve the latter across its underwriting and investment activities by 2050.
At the May AGM, QBE's shareholders overwhelmingly rejected a proposed amendment to the constitution to disclose medium and long-term targets for reducing investment and underwriting exposure to oil and gas assets.
"We believe that only adopting an exclusionary approach to all fossil fuel–related activity on a categorical basis does not represent an orderly or practical transition pathway," chairman Michael Wilkins AO said ahead of the AGM.
"We are moving towards a net-zero emissions economy but also have to balance the need for energy that is reliable, safely produced and affordable, as well as clean. As we are seeing play out globally, energy stability is a significant geopolitical challenge."
---
8. WiseTech Global (WTC)
Information Technology
2021 rank: 7
Market Cap: $18.95b
FY22 revenue: $632.2m
FY22 profit: $194.6m
Listed: 2016
CEO: Richard White
CEO salary: $1.09m
WiseTech Global (ASX: WTC) has edged slightly higher in this year's Sydney Top Companies list after bouncing off 12-month lows in June thanks to a better-than-expected earnings performance.
The move up for the logistics software developer from ninth position in 2021 was aided by the departure of Sydney Airport which was swallowed by the Sydney Aviation Alliance via a $23.6 billion bid earlier this year.
WiseTech Global is benefiting from the ongoing complexity of global supply chains by offering solutions that deliver efficiencies for global freight forwarders and logistics providers.
The founder-led company has also grown through acquisitions, including Swedish software company Inobiz and US-based Hazmatica in FY22. Acquisitions have played a significant role in WiseTech's growth since listing on the ASX in 2016.
Recent additions include UK-based Bolero, a provider of trade finance digitisation solutions which the company is integrating into its platform to enhance its capability in digital documentation.
WiseTech's strong performance over the past year came despite a slowing of merchandise trade volume growth in 2022. However, CEO Richard White says the forecasts are for volumes to pick up again in 2023 with global demand for goods running at 5 per cent above pre-COVID levels. He sees this driving further opportunities for WiseTech to replace in-house legacy systems for the logistics sector.
WiseTech's key business targets for its CargoWise software product are the top 25 global freight forwarders and top 200 global logistics providers. WiseTech's aim is to become the dominant operating system for the global logistics sector.
As the company's revenue grows, so does White's commitment to giving back to the technology sector that put the software billionaire on track to success. His aim is to support the growing need for STEM skills in Australia.
White has signed a five-year partnership agreement with Australian edtech charity Grok Academy that will see him contribute 1 per cent of WiseTech's pre-tax profits to Grok to transform the availability and quality of technical education in K-12 schools.
Through the initiative, the Grok Academy platform, including all of its school courses, resources and content, will be available free to every Australian student, teacher and parent from kindergarten to Year 12 from 2023.
"This partnership continues, enhances, and extends a long-term social impact program for WiseTech that tackles a critical societal and business challenge, building a strong science, technology, engineering, and mathematics (STEM) skills base in Australia, from primary school right through to tertiary education and beyond," says White, a University of Technology, Sydney graduate.
The WiseTech founder, who established the business in 1994, sees his company, along with other Australian technology firms, as long-term beneficiaries of this program.
---
9. Brambles (BXB)

Health Care Equipment & Services
2021 rank: 14
Market Cap: $16.7b
FY22 revenue: US$5.55b
FY22 profit: US$593.3m
Listed: 2006
CEO: Graham Chipchase
CEO salary: US$5.17m
After a strong performance in FY22 and a solid start to the current financial year, supply chain and logistics group Brambles (ASX: BXB) has hinted at a slowdown ahead as economic reality starts to bite.
Brambles has managed to keep revenue riding high through price increases amid a shortage of pallets this past year, but the group is now offering a cautious view ahead as the full impact of global interest rate increases take effect.
However, that hasn't prevented Brambles from moving into a top-10 position in this year's Sydney Top Companies list. Notably, it is the third company in the booming logistics sector, behind Goodman Group (ASX: GMG) and WiseTech (ASX: WTC), to be included among Sydney's biggest companies this year.
A surge in timber prices last year posed a major challenge for the group's prime CHEP pallet business, impacting both supply and price.
Pallet returns were also affected, exacerbated by the supply shortage, leading to more customers diverting the pallets to unauthorised uses. Although Brambles stepped up pallet recovery initiatives, refurbished existing pallets that would otherwise have been scrapped and invested in an additional eight million pallets, an overall undersupply led to constrained business growth during a period of peak demand.
To better confront the challenges facing the logistics sector, Brambles began implementing a strategic review in September last year that is largely progressing to plan.
Among the initiatives is a digital strategy that included the establishment this year of a digital hub, allowing the company to consolidate multiple data sources to a single system where it has been applying advanced analytics and machine learning. The program has seen Brambles deploy more than 250,000 smart pallets with autonomous tracking devices in 20 countries globally. The aim is to provide Brambles with a better understanding of the cost-to-serve and to drive asset efficiencies.
Brambles has to keep track of 350 million pallets globally to service more than 500,000 customers. A portion of that responsibility will however be de-risked by the end of the first quarter of calendar 2023 if all goes to plan.
The group seems to be hedging its bets after striking a deal in November to offload its CHEP China business to Loscam (Greater China) Holdings for an enterprise value of US$132.2 million; reducing some exposure to supply chain difficulties in China, but also opening up potential opportunities due to the way the partnership agreement is structured.
The deal will see Brambles retain a 20 per cent stake in that venture, which will create the largest pallet and automotive container pooler in Greater China, with a combined pool of over 20 million pallets and one million automotive containers and other crates, together with a nationwide network of service centres.
"With approximately 1 per cent of the 1.6 billion pallets in China pooled, there is an exceptional opportunity for growth which our jointly owned business can deliver to new and existing customers in this large and fast-growing market," CEO Graham Chipchase said at the time.
In Brambles' first-quarter update issued in October, Chipchase warned of softer conditions in the second half of FY23, although the group is still targeting revenue growth of between 7 and 10 per cent.
An economic downturn isn't fazing Chipcase too much. With more than 80 per cent of group sales revenue generated from the consumer staples sector, he says this underpins the resilience of the business during these times.
"We also know that there are still significant addressable opportunities in major regions to sustain growth over the long term," he told shareholders at the AGM in October. "In addition, once pallet availability improves, we have a new business pipeline that we can pursue to support growth in the short term."
---
10. Sonic Healthcare Limited (SHL)

Health Care Equipment & Services
2021 rank: 8
Market Cap: $15.47b
FY22 revenue: $15.47b
FY22 profit: $1.46b
Listed: 1987
CEO: Dr Colin Goldschmidt
CEO salary: $2.16m
Having made a fortune doing COVID-19 PCR testing in the seven countries it operates in, Sonic Healthcare (ASX: SHL) chalked up record revenue and earnings during FY22.
But with this form of COVID-19 testing becoming less common than before and with an abundance of at-home tests sitting in people's medicine cabinets, PCR testing is becoming less of a priority.
That's a reality that Sonic Healthcare is facing head on. The company recently posted some preliminary results for the four months to October 2022, which demonstrated that COVID-related revenue had fallen off.
In the four months to the end of October 2022, revenue from PCR testing was $280 million - 64.8 per cent less than the same time in 2021 when $795 million was brought in.
The company maintains a strong base though, with day-to-day revenue actually rising by 6.7 per cent in those four months to nearly $2.5 billion.
With these factors in play, Sonic has been looking for the next big thing, signing three major deals over the past 12 months with health-tech innovators.
The first was a joint venture with leading Australian healthcare AI company Harrison.ai, whereby the company took a 20 per cent stake in the firm as part of its $129 million Series B raise.
According to Sonic CEO Colin Goldschmidt, the deal was an 'exciting moment in Sonic Healthcare's progression as a healthcare company'.
"Harrison.ai is a smart, agile, and medically led company with a proven track record in the healthcare AI space," the CEO added.
Two weeks later, the company announced it had acquired the entirety of Dallas-based anatomical pathology company ProPath - with the deal described as 'a very significant step in the ongoing development of Sonic's AP and clinical laboratory operations in the US'.
Deal number three was made official on 2 December, which saw Sonic take a 19.99 per cent equity stake in gut health business Microba Life Sciences for $17.8 million.
The deal will see Sonic secure rights for microbiome testing distribution into seven countries, including Australia, Germany, the UK, Germany, Switzerland, New Zealand, Belgium and the US.
---
READ MORE
Market caps are based on the close of trade, 2 December 2022. This list was prepared with information provided by the ASX.
Never miss a Top Companies update or news story: Sign up to Business News Australia's free news updates
Follow us on Twitter, Facebook, LinkedIn and Instagram
Help us deliver quality journalism to you.
As a free and independent news site providing daily updates
during a period of unprecedented challenges for businesses everywhere
we call on your support