He's a race car-driving former builder from the Gold Coast, so when Kenny Habul talks about taking solar to the world and declares that traditional energy is dead, you could be excused for thinking the guy has been bumped off by a body double.

Habul is now the CEO and president of SunEnergy1 and even though he's built his business into one of the biggest renewable energy companies in North America, he's largely flown under the radar in the business world despite becoming a multi-millionaire many times over at just 43.

Now based in North Carolina, the energy entrepreneur was the guest speaker at Bond University's Business Leader's Forum, and he outlined plans to build the world's largest solar plant. Just 24 hours earlier, he was at the wheel of a Mercedes driving Mt Panorama at speeds of up to 300km an hour as part of a team that finished second at the Bathurst 1000.

His passion for motor racing now rivals his passion for solar, and Habul says he will meet with Prime Minister Malcolm Turnbull to discuss the "ridiculous" price of traditional energy and convince him that renewables as part of a long-term strategy is a "no-brainer".
Power prices 'astronomically high and make no sense'
"The current Australian Prime Minister has asked me to meet with him in a couple of weeks and just sort of talk about the general situation here in Australia and I'm not an expert at it, but I know the cost of power is astronomically high," says Habul.

"For a country that has a very high standard of living, stable economic situation and tremendous opportunities, it makes no sense at all for the price of power to be more than a banana republic.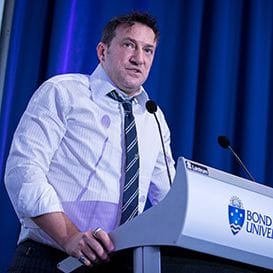 "So, I'm looking forward to speaking to the Prime Minister and hopefully understand a bit better why, particularly in Queensland, the rates are ridiculous. There's Third World countries that pay less for their power than Queensland. It makes no sense."

Habul graduated from Bond in 1994 with a law degree and he joined his brothers Reno and Sam to build luxury eco-friendly houses on the Gold Coast. They made a decent living and in 2005, Kenny Habul landed in Charlotte, North Carolina, two years later and was looking to build more eco-friendly houses in this part of the world.

After buying up property to develop, the GFC hit and his access to credit dried up pretty much overnight and this forced his switch to commercial and utility-scale installations. He also discovered the very generous tax incentives in North Carolina for solar investment and his company SunEnergy1 now builds some of the largest solar systems in the world.

SunEnergy1 has filed for approval to build the world's largest solar system in the US at 945 Megawatts on 2,225 hectares which is confirmation of the huge scale of the business.

"We have the largest genuine development pipeline of solar in the world at 10,000 Megawatts," says Habul.
Coal movement wields 'immense power'
"Our average deal size is $200 million and we are the largest purchaser of Caterpillar-tracked machines in the world five years in a row."

His company's rapid and impressive growth is set to hit a few hurdles under the Presidency of Donald Trump, a climate change denier who is beholden to the traditional energy movement which Habul says wields enormous power over both sides of politics in Washington DC.

"The oil and gas movement is so powerful. There are so many stakeholders in coal mines and natural gas production that you soon realise it is not all about what's best for the environment.

"It's not really a matter of in my opinion that Trump doesn't believe in climate change. I don't believe that. I think they know that (climate change is real). But their motivations are elsewhere.

"We've had to learn to work with that. Just a week or two ago Trump put a 30 per cent tariff on solar panels. We buy hundreds of millions of dollars-worth at a time. That's going to hurt us.

"We're going to continue but it's going to make our price go up and it's going to make it more difficult to us. What we're dealing with now in the US is tremendous power from the coal movement.

"They know this is the end and they've said 'we want four more years. Just give us four more years of sales and the whole thing can go to hell'.''
Traditional energy is 'finished'
As for the future, not surprisingly Habul says that despite their political and financial power, the big utilities that sell traditional power will not be around for much longer and cars will be electric, sooner rather than later.

"Our generation is the end of traditional energy. Coal in itself is finished. They're closing coal plants everywhere. Natural gas was the next best solution.

"Most coal plants in the US have been shut down and switched to natural gas. Solar is now cheaper than natural gas. And the latest advancements in solar cell technology put us at twice the output of the current panel in the next four years and at one-tenth of the cost.

"There is enough sunlight that hits the earth in one day to power the earth for a year. And we dig coal and we burn it. It's fundamentally wrong.

"Through my racing contacts I've been fortunate enough to know the CEO of Mercedes-Benz, the CEO of AMG. Every car they make is electric in five years. Everything is moving to batteries: semi-trailers, trains."


As for his motor racing career, Habul is more than just a keen amateur. He makes regular starts in the NASCAR Xfinity Series and the American Sportscar Championship and his personal collection includes more than 100 classic and modern vehicles.

His pride and joy is an Australian-born and bred Brock Commodore, which was the winning car at Bathurst in 1997. Habul went and worked for the legendary Peter Brock in the 1990's as he pursued his own motor racing career.

"Halfway through my degree I took a couple of semesters off, I moved to Melbourne and I worked with Peter Brock in 1992 and that was a great experience for me.

"I was there at that race in 1997 working for Peter Brock. That was a dream for me. My job was to clean the wheels. Don't look inside the car, don't look at anything. Just clean the wheels, mate."

"I chose that (the solar energy business) instead of motor-racing but I'm fortunate now to have one of the largest private companies in the world and I try to enjoy myself and go back to motor-racing. I miss it. I'm pretty competitive for my age."


Never miss a news update, subscribe here. Follow us on Facebook, LinkedIn, Instagram and Twitter.
Business News Australia
Get our daily business news
Sign up to our free email news updates.
Help us deliver quality journalism to you.
As a free and independent news site providing daily updates
during a period of unprecedented challenges for businesses everywhere
we call on your support