An Australian aerospace engineering start-up is partnering with the University of Sydney to build a zero emissions hypersonic spaceplane capable of deploying small satellites into low earth orbit.
Brisbane-based Hypersonix Launch Systems, which is aiming to provide sustainable and affordable access to space, will collaborate with University of Sydney's Sydney Manufacturing Hub (SMH) to research and manufacture components to aid the company's hypersonic vehicles and scramjets engine technologies.
SMH, led by the Professor of Materials Science and Engineering Simon Ringer, supports advanced capabilities in making and processing metals, ceramics and polymeric-based materials including 3D printing.
"This is right in the bullseye of where we want to be in terms of working with companies that have big aspirations in terms of the technology for sovereign capability around manufacturing here in Australia," Professor Ringer told Business News Australia.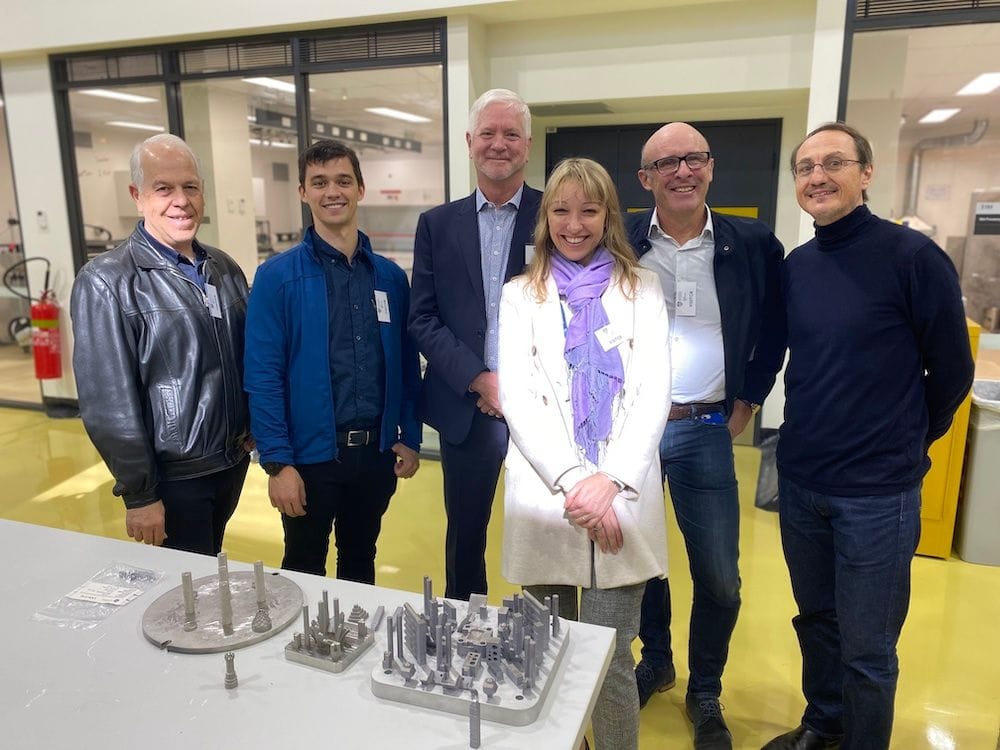 Founded in 2019, Hypersonix currently has a team of nearly 20 aerospace engineers and material specialists developing reusable scramjet engine technology for engines that are powered by sustainable green hydrogen fuel.
Dr Michael Smart, co-founder, CTO and head of R&D at Hypersonix, has spent his entire career developing hypersonic technology, in particular scramjets, including 10 years as a research scientist at the NASA Langley Research Centre in Virginia.
"A jet engine that's on any normal plane that you fly, between Sydney & Brisbane for example, has many sets of spinning blades," Dr Smart told Business News Australia.
"Basically, what it does is it uses oxygen from the air to burn with onboard fuel and generate thrust. That means the only propellant that the plane is carrying is fuel.
"A scramjet is a hypersonic version of that. Hypersonic means you are travelling more than five times the speed of sound, or more than 5000 km/hr. Jet engines don't work at hypersonic speed because the spinning blades would melt."
Hypersonix's new project is known as DART AE – the AE stands for 'additive engineering' - and involves manufacturing a hypersonic aircraft named DART.
Sydney University will aid Hypersonix in building almost all of the components of the hypersonic aircraft, which powers their scramjet engine, through additive engineering – otherwise known as 3D printing
Traditional materials used in the aircraft industry, like aluminium and plastic, are being phased out and will likely be replaced by the 3D printing process.
3D printing is not only cheaper but can also handle more complex components and designs. It also allows for new high-temperature materials as it is capable of operating at 1,500°C.
"This business of additive, being a totally new way of making solid state materials, it's got these two big kinds of disruptions embedded there," Professor Ringer explains.
"The other angle on this is that lets us make things from materials that we've never previously been able to work with. We're turning around and we're looking back at the periodic table and we're combining different elements that we simply weren't able to combine in conventional manufacturing."
Currently rockets carry about 60 per cent oxygen at take-off which creates lots of pollution, and Dr Smart believes the new scramjet technology will ultimately replace existing space rockets.
"They're just one-use, they're like lighting a match and throwing it away, they're just so old-fashioned, and so unnecessary," says Dr Smart.
"We see ourselves as not just cleaning up the stratosphere but cleaning up the ocean where all these rockets are being dumped.
"But also make it cheaper, cheaper for satellite operators to put their satellites into orbit, and also cheaper to replace them once they're finished their lives and bring the old fella down."
Dr Smart is excited the DART vehicle is an Australian design and is not reliant on any other country for any aspect of the manufacturing process – it is being fully built with Australian technologies.
"We're not just a Queensland company or a New South Wales company - we're an Australian company and we want to work with all the smartest people in Australia," Dr Smart added.
Hypersonix is also utilising existing technologies like hydrogen tanks that are used by the transport industry for buses.
"We will take a tank that's used for buses and we'll put it in our space vehicle," says Dr Smart.
"A lot of times when you go and buy it components that are space-related, you can add two zeros to the cost. We're not doing that - we're trying to do what's called 'new space' where we look at the automotive industry. You know, automotive history has tremendous standards, and has the technology that has to survive car crashes - so we want to make use of all that! And, it's also much cheaper as well, so that's a way of keeping our costs down.
"It's a really important thing for like small start-ups, like us, we just can't go and develop our own tank. No - that would cost tens of millions of dollars but we can just go and buy one for $20,000! Fantastic! And that's what we are aiming to do."
Hypersonix is currently working on the detailed design of the DART vehicle, known as the critical design review, having completed all the calculations and the design - the next goal is to start manufacturing.
Dr Smart hopes the designs will be ready by roughly April or May 2022 and the current plan is to fly DART during the first quarter of 2023.
Get our daily business news
Sign up to our free email news updates.
Help us deliver quality journalism to you.
As a free and independent news site providing daily updates
during a period of unprecedented challenges for businesses everywhere
we call on your support