IT'S one thing to design a clever home, but it's another thing entirely to design a unique one, especially on a smaller block.
Not only has Gold Coast Unique Homes managed to design a singular home which lives up to its namesake, the company has created a flexible display suited to the smaller scale.
Enter the Ormeau Project, a luxury yet low-maintenance four-bedroom home intended to maximise the use of a tight block.
Boasting an impressive 390m2 of living space, it's little wonder that the Ormeau home took out the 2016 Display Home over $501,000 Award, making the most of lots as small as 12.5m by 30m.
Unique Homes Director Jim Taylor says the Ormeau Project's charm and ingenuity lies in the construction of sight lines, complemented by the flooding of natural light.
"One of the issues with narrow blocks is that they tend to feel cramped, but this one has been specifically designed to try and overcome that feeling," says Taylor.
"The spaciousness you feel as you walk in the front door is enhanced by the clear sight lines straight through to the living areas, so it looks a lot bigger than it actually is."
The Ormeau Project is a two-storey home complete with a theatre, luxurious kitchen fitted out with high-end cooking facilities, large walk-in pantry, master bedroom with a full bathroom ensuite and ample backyard space for a pool or outdoor kitchen.
Taylor says the Ormeau Project home has been a popular seller for those who are looking to downsize in space, while still maintaining an element of extravagance.
"We've had a number of enquiries from people who are downsizing or selling their acreages because family members have moved on and they no longer need larger family homes," says Taylor.
"This home demonstrates the kind of lifestyle that can be enjoyed by families or empty-nesters seeking luxury on a small and low-maintenance block of land."
The Ormeau Project home encompasses several innovative design principles, including an open staircase and porcelain tile floors which add to the feeling of spaciousness.
"When you pull all of the different elements together, it represents quite an outstanding home," says Taylor.
"It is the culmination of several things which deliver a home that is right for the time."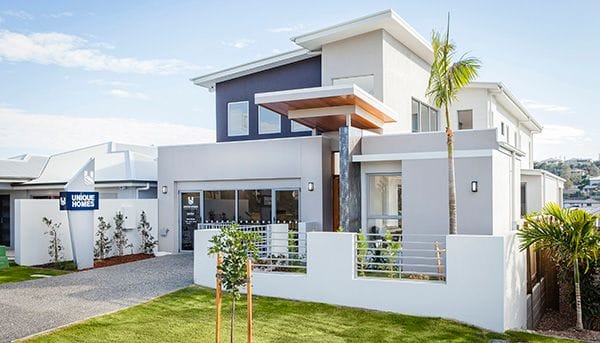 Get our daily business news
Sign up to our free email news updates.