"Although Australia is home to one of the world's fastest-growing vegan markets, we identified a gap in the market for brands offering quality vegan baked goods," says Jolly Miller Group CEO Simon Barbar.
Victorian cafe and patisserie owner The Jolly Miller Group has grown rapidly over the past year with 12 non-franchised outlets across the state, but it is one development in particular that could bring in more dough in future.
After receiving praise for introducing a dedicated vegan menu across its cafes, the family-owned chain now has additional funding and a crowdfunding raise planned to execute a more ambitious goal in the offing.
The Jolly Miller Group now plans to capitalise on the increasingly popular vegan lifestyle through the development of a dedicated range of plant-based wholesale products and ingredients.
Not only will its new vegan range be available to Australian consumers, but the company also expects to export to New Zealand, The United States, United Kingdom and Europe.
The group recently received financial backing from Melbourne-based Royce Stone Capital with a minimum commitment of $9 million in convertible notes over three years, open to sophisticated investors only.
$3.5 million of this commitment has already been underwritten, and The Jolly Miller Group is also turning to crowd-funding platform Birchal $1.5 million in return for customers to own a share in the whole company.
Under its wholesale brand Fig Food Co, which already services hundreds of cafés and restaurants, the company will spend close to half a million dollars on upgrading machinery and research and development.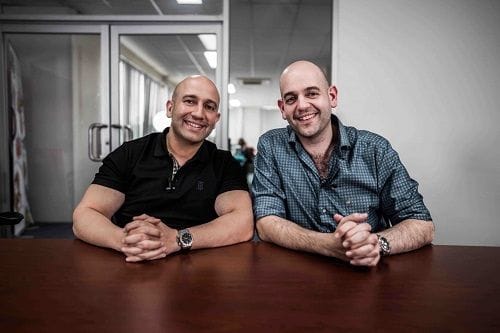 Simon and Rimon Barbar, whose family owns The Jolly Miller Group.
This will include the employment of a new product development team specialising in the creation of quality baked goods, including donuts, pies, cakes and pastries, all free from the use of animal products.
According to Google trends, Australia was the most popular for veganism in 2018, followed by the UK and New Zealand. In the US, the number of vegans grew by 600 per cent from nearly four million in 2014 to 19.6 million in 2017. In addition, the UK plant-based market was worth £443 million in 2018.
"Although Australia is home to one of the world's fastest-growing vegan markets, we identified a gap in the market for brands offering quality vegan baked goods," says The Jolly Miller Group CEO Simon Barbar.
"It is our focus to further pioneer the industry to ensure people can be free to make sustainably conscious decisions when it comes to their diet.
"We just don't want to have a range of vegan products, we are creating a dedicated vegan baked goods brand to push through omnichannel retail, locally and abroad."
Launched in the early 1990s in Gisborne, a country town 53 km north-west of Melbourne, The Jolly Miller was purchased by the Barbar family in the mid-2000s and has since morphed into an iconic hospitality brand among its loyal customers.
In the last financial year, The Jolly Group's revenue surpassed $16.9 million and ison track to hit its forecast turnover of $25.9 million for the current financial year.
"Evolving into the vegan sector was a natural progression for us and makes commercial sense when you look at the steep increase in plant-based diets on a global scale," says Barbar.
Never miss a news update, subscribe here. Follow us on Facebook, LinkedIn, Instagram and Twitter.
Business News Australia
Get our daily business news
Sign up to our free email news updates.