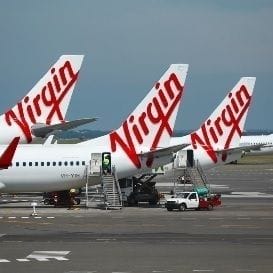 Listed airline Virgin Australia Group (ASX: VAH) will suspend all international operations from 30 March to 14 June as travel demand flatlines.
Virgin will also cut domestic capacity by 50 per cent until 14 June.
Both updates have effectively grounded the equivalent of 53 aircraft.
While all international Virgin flights will be suspended from 30 March, a number of services will end before then including:
Melbourne to Los Angeles services suspended from 20 March
Brisbane to Haneda services suspended from 29 March
Melbourne to Denpasar services suspended from 29 March
Until 29 March Virgin will operate a reduced international schedule to ensure Australians can make it home.
Virgin says it is working on a range of measures to address the impact of the cuts on its staff including the use of accrued annual leave, leave without pay, redeployment and, in some circumstances, redundancies.
"We have entered an unprecedented time in the global aviation industry, which has required us to take significant action to responsibly manage our business while balancing traveller demands and supporting the wellbeing of Australians," says Virgin Australia CEO and managing director Paul Scurrah.
"The Virgin Australia Group is focused on ensuring we manage the business through this difficult period and maintain a strong and competitive aviation industry in Australia for years to come."
Impacted guests who wish to change their travel with Virgin due to Covid-19 have a number of options:
Guests with new or existing domestic and international bookings through 30 June 2020 have the option to change their flight to a later date, and/or a different destination, without incurring a change fee.
Guests who no longer wish to travel can cancel their flight and retain the value of the booking as a travel credit
The Australian Competition and Consumer Commission (ACCC) has issued advice for consumers if their events, flights or travel servcies are cancelled because of the coronavirus pandemic.
"If events, flights or other travel services such as cruises are cancelled, the ACCC expects refunds or other remedy such as a credit note or voucher will be offered in most circumstances," says the ACCC.
"However, if the event, flight or travel service is cancelled due to government restrictions, consumer rights under the consumer guarantees may be impacted. In these situations consumers may be entitled to a refund under the terms and conditions of their ticket, or potentially may make a claim under a travel insurance policy."
"If a consumer chooses not to attend an event that is still going ahead or travel domestically due to coronavirus concerns, this may be treated as a 'change of mind'. The same applies to hotel room bookings. Consumers' rights to refunds in these circumstances will depend on the terms and conditions and any cancellation policy adopted by the business."
Updated at 8:58am AEDT on 18 March 2020.
---
Get our daily business news
Sign up to our free email news updates.