THE Gold Coast is back in the luxury apartment game in a big way, with Jewel developer Wanda Ridong this week staking its claim for a big chunk of the market.
The Chinese-backed developer has launched a new display centre in the heart of Surfers Paradise for the $1 billion project, which is under way despite Jewel's luxury apartments still to hit the market.
Unlike Soul, the last supertower to rise on the Gold Coast skyline and which spent two years in a pre-sale phase, Jewel is just months away from construction. This follows extensive site works which have created a massive hole in the ground along the Surfers Paradise foreshore.
"The tenders have just come back in and we are going through those at the moment, so in a couple of months we'll announce a successful builder," says Andrew Bampton, Jewel's director of sales and marketing.
"Wanda is self-funded and, with our joint-venture partners, we pushed the button (on this project) a long time ago and we are quite confident in the market," he says.
As for pricing, Wanda Ridong has yet to reveal how much it will cost to get a piece of Australia's largest beachfront resort development.
Average prices at Soul were about $1.5 million ahead of the property crash. Market observers say prices around this level are expected if the project is to stack up.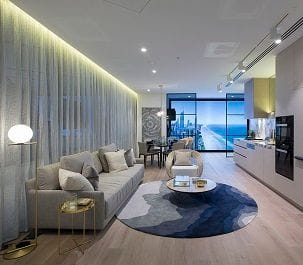 "Everyone wants to know and we expect that with this level of luxury they're not going to be $300,000 apartments," says Bampton. "We're confident we'll meet the market and the market will like our product."
Bampton says indicative interest in the project has been solid, particularly from domestic buyers.
Wanda Ridong has yet to launch the project internationally, although it is expecting around 30 per cent of sales to go to offshore buyers, particularly China. The global launch is expected in a couple of months.
"We've had great response locally," says Bampton.
"This has been closely watched by many people for several years. Even though we haven't had an official launch, we've had many inquiries and we have many expressions of interest. Today is our first official day open to the general public.
"People have been waiting for something of this calibre to come on the market before they move and Jewel is set apart from anything else.
"The Gold Coast has gone through rocky times over the last few years in relation to the property market. But this is the really the emergence (of the market) and people see Jewel as a catalyst and very unique in the property market."
Jewel, which is being developed on a 1.1ha site on Old Burleigh Road at the southern end of Surfers Paradise, will comprise 512 apartments across three towers.
"These on average are 10 per cent bigger than anything else in the market," says Bampton. "Our smallest apartment is nearly 80sqm."
A new six-star Wanda hotel, owned by the project's lead partner, which is the world's largest commercial real estate company, will anchor the project. The development also will feature a new signature Chinese restaurant in the tallest tower and offer 360-degree views of the Gold Coast.
"Wanda is not known in Australia at all, but in China it is seen as a high-end luxury brand," says Bampton. "In Australia we would consider it six-star and it is of a level of luxury and a very unique oriental experience that we haven't seen in Australia before."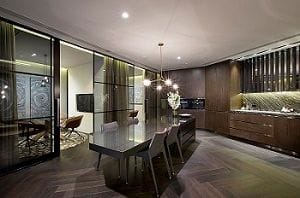 Bampton has also dismissed concerns that Chinese visitors would be unlikely to leave the confines of the resort, even though it is likely to cater to their every need, including a genuine Aussie beach experience with the resort offering a 130-metre frontage to the Surfers Paradise beachfront.
"They're here to enjoy the whole of the Gold Coast, the beaches rainforests and theme parks; I'm confident they'll venture out everywhere."
To bring the project to life, Wanda Ridong has taken a step up with its display centre, which the developer has named the Jewel Immersive Experience Centre.
"While there are elements of a traditional sales centre, such as the fully equipped kitchens or bedrooms, this immersive experience is much more than simply a display showroom," says Bampton.
"The centre showcases the stunning Jewel architecture and luxury fittings, and allows visitors to see, touch and absorb the beauty of Jewel and its environment from the inside out.
"An interactive model of Jewel's three stunning crystalline towers allows visitors to use the experience centre to explore each and every apartment in the development. You can examine the floor plans, call up artists impressions of the interiors, and even take in the view in each direction from each level.
"We have sought with this centre to recreate, as far as possible, the experience of luxury living right on the Gold Coast's world famous beachfront."
Jewel is expected to be completed in 2018.
Get our daily business news
Sign up to our free email news updates.