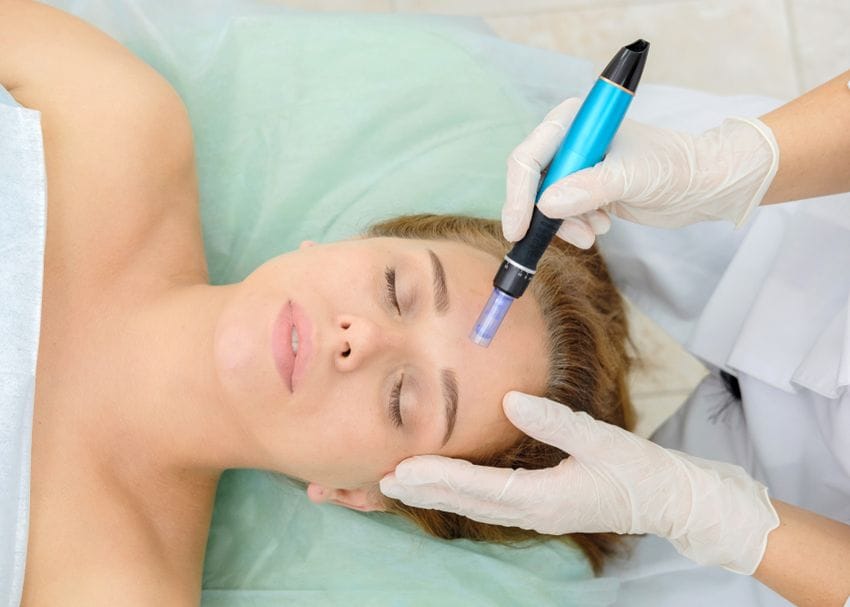 Five treatments to rejuvenate and brighten your skin without the hassle
Between working from home and Winter weather, our skin has seen better days.
But with Summer around the corner and life slowly going back to normal, it's almost time for a trip to the dermatologist to rejuvenate and brighten your skin.
Skincare clinics across the country are either continuing to operate, getting busier by the day or already taking bookings for life after lockdown. Whatever your situation, we've put together the top five skin treatments to rejuvenate your skin for your next visit.
Hydrafacial and LED
Dr Lanzer Skin Clinics swear by the benefits of combining a Hydrafacial and LED therapy.
The Hydrafacial treatment rejuvenates the skin in 30 minutes, improves the skin texture and appearance, brightens the skin and infuses it with active ingredients including hyaluronic acid, glycolic acid and salicylic acid.
The very popular relaxing and rejuvenating treatment is perfect for hydrating and cleansing the skin. The result is brighter, smoother, softer skin.
Fractional skin resurfacing
RF Fractional resurfacing is a safe and effective treatment to rejuvenate the skin.
RF Skin resurfacing treatment can help improve fine lines, wrinkles, skin texture, tone, scarring and stretch marks.
The procedure uses radio-frequency technology that heats the dermal tissue and creates tiny micro-wounds in the dermis while leaving the outer layer of the epidermis intact. When the dermis experiences trauma, the skin begins its natural healing response, increasing collagen production resulting in healthier, smoother, brighter skin.
Laser genesis
Known as the "Red Carpet Facial", laser genesis is a non-invasive treatment that stimulates collagen production and improves the microvasculature by gently improving unwanted scars and overall skin tone. The result is vibrant and healthy-looking skin.
The procedure combines heating of the microvasculature with gentle heating of the dermis, which stimulates collagen and elastin production in the dermis. Plus, it takes less than 30 minutes, is very relaxing and requires zero downtime with immediate results.
According to Dr Lanzer Skin Clinics, it's excellent for all skin types year-round.
Signature rejuvenation treatment
The signature rejuvenation treatment by Dr Lanzer is the ultimate facial to rejuvenate the skin whilst you relax.
The 90-minute bespoke treatment restores skin with three carefully trialled treatments. It starts with a HydraFacial for deep exfoliating, followed by Laser Genesis for rejuvenation, followed by a tailored LED light therapy with a hyaluronic mask and tailored skin booster, finished with a face massage.
It works to exfoliate, hydrate, rejuvenate, and calm. The skin treatment is great for all skin types and is very relaxing. Its purpose is to revitalise and improve your overall skin health in just 90 minutes.
At-home skincare routine
In addition to treatments with your dermatologist, upgrading your at-home skincare routine is another great way to rejuvenate your skin.
Consider products like a Vitamin C serum, an AHA Anti Aging Serum or a Vitamin A cream. All of these contain active ingredients that are proven to help brighten and reduce uneven skin tone, improve fine lines and reduce the signs of anti-aging.
In addition, Dr Lanzer's Skin Care also features a skin brightening pack that's perfect for upgrading your skincare routine and rejuvenating your skin. Our number one tip for looking after your skin in summer is an SPF.
Skin treatments don't have to be invasive to see results. With these five skin treatments, you can refresh and brighten your skin before going into Summer, or you can upgrade your at-home skincare routine to keep it bright and glowing.
More from Dr Lanzer Skin Clinics
Between working from home and Winter weather, our skin has seen better days. But with ...
Dr Lanzer Skin Clinics