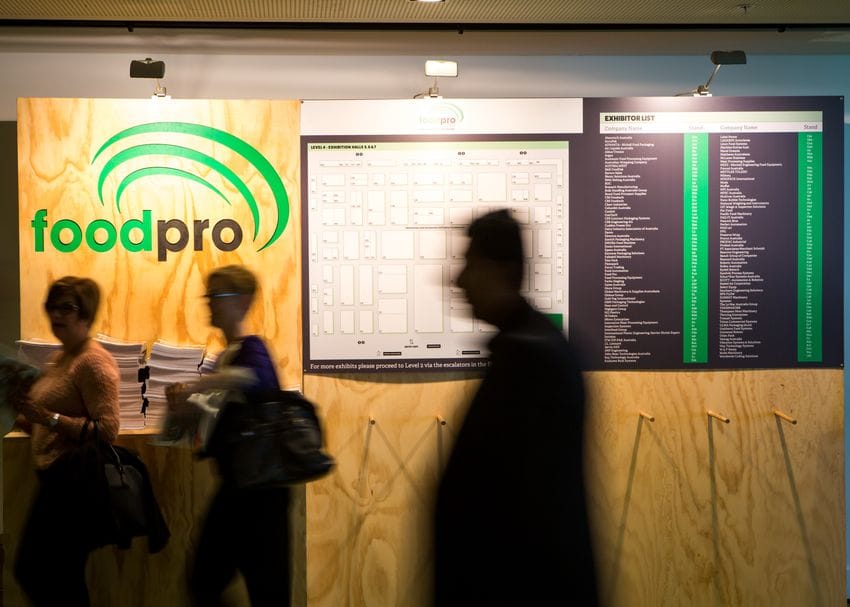 Foodpro, Australia's largest food manufacturing industry event, returns to Melbourne
Returning this year on 23 - 26 July at the Melbourne Convention and Exhibition Centre, foodpro is Australia's largest, longest running and most trusted food manufacturing industry event, having run for the last 50 years.
Last held in Sydney in 2017, foodpro will be the first major event in six years where food manufacturing industry professionals in procurement and purchasing can meet with innovators behind the products and technologies they are looking to invest in.
Supported by the Victorian Government
The Victorian Government is proud to be a major sponsor of foodpro 2023, supporting the event to showcase the very best in food manufacturing and innovation.
Victoria is Australia's food and beverage manufacturing powerhouse, with sales of over $40 billion in 2021-22, representing more than 30 per cent of the national revenue. The sector exports over $9 billion in manufactured food and beverage products each year - the most of any Australian state - and employs more than 76,000 people.
The Victorian Government's Made in Victoria 2030: Manufacturing Statement outlines a roadmap to ensure Victoria continues to be a place for advanced manufacturers to grow and thrive, including in key sectors such as food manufacturing.
Innovation on show
Machinery and equipment innovations, which have been released and refined over the past couple of years, will be showcased for the first time in Australia at foodpro 2023.
Foodpro 2023 is made up of eight zones, each dedicated to the various steps in the food manufacturing process, including Processing and Packaging; Ingredients: Food Science and Technology; Plant Equipment; Packaging Materials; Logistics and Handling; IT and Digital Factories; and Government and Business Services.
An exchange of ideas and a hub of education
Visitors to foodpro 2023 can hear from subject matter experts in dedicated educational zones.
The Smart Food Lounge, sponsored by Schneider Electric, will cover trends, technologies and solutions to support compliance and traceability whilst reducing waste and inefficiencies.
Featuring for the first time at foodpro 2023, this lounge-style theatre will host drop-in presentations focused on the theme of Smart Food, encompassing efficiency and sustainability of the food manufacturing supply chain.
The Product Innovation Stage, sponsored by Wiley, will showcase the latest product developments to support the evolving food manufacturing industry.
New for foodpro 2023, with a program packed full of next-generation solutions and product innovation, the Product Innovation Stage will cover topics such as Connected Packaging, Digitalisation and Functional Ingredients.
Foodpro is also partnering with the Annual Convention of the Australian Institute of Food Science and Technology to reveal the latest thinking in food technology and processing.

A chance to network with peers
At every edition of foodpro, the industry comes together to connect with industry leaders, meet new suppliers and catch up with peers over four days. foodpro is an ideal opportunity to make priceless connections with the brightest minds in food.
Visitors will use the Mosca Networking Bar as a networking hub on the show floor, to catch up over drinks, coffee, or a bite to eat.
Sponsored by Contech, the foodpro Celebration at THE LUME on Tuesday 25 July is an unmissable evening for all event participants to network and celebrate in an immersive sensory experience. This celebration is a new addition to the foodpro program aiming to provide visitors with a premium networking experience.
Foodpro 2023 event and product manager Felicity Parker said, "With a focus on efficiency and sustainability at this year's event, there are a host of new educational, experiential and networking features alongside an extensive mix of exhibiting suppliers," said Ms Parker.
"Food and beverage processing is Australia's largest manufacturing industry and is vitally important for our manufacturing future. Face-to-face interaction is the foundation of building strong relationships, and in-person events create the necessary push for business to happen and have significant ROI implications. We are looking forward to yet another hugely successful event."
More from Foodpro
Returning this year on 23 - 26 July at the Melbourne Convention and Exhibition Centre, ...
Foodpro