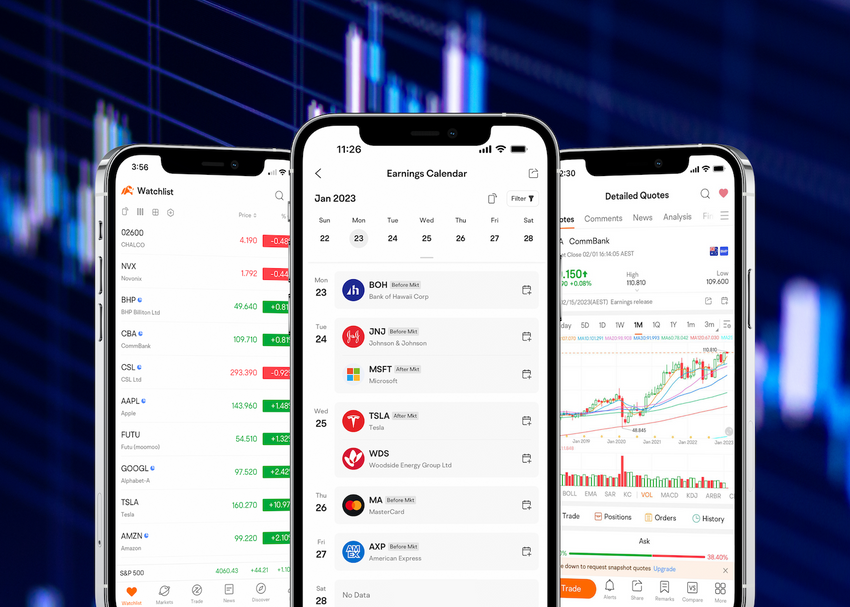 Make smarter investing decisions with an Earnings Calendar
With the US reporting season just around the corner, it pays to know when exactly to give your attention to the market.
Every quarter, publicly traded companies release earnings reports - scorecards of sorts that let investors know how firms have traded over the last four months.
While these financial reports can sneak up on investors, those who use one-stop trading platform moomoo - which has an in-built Earnings Calendar as a key feature – can stay on top of the latest market updates.
---
Meet the Earnings Calendar
Around the world, thousands of publicly traded companies release announcements to investors every day.
Some of these announcements contain crucial information that investors need to know, but there's plenty of clutter that the average trader can safely ignore.
What is important is a company's earnings report. Released quarterly, these documents let investors know key information about a firm's profitability, its earnings, revenue, and other matters that traders should read to guide their investment decisions.
Unless you're a day trader or a finance journalist, you're not likely going to have the time to check for reports daily - meaning you might miss out on this key information. It's also scattered and not well sorted according to individual traders' preferences.
However, moomoo has a solution in the form of its Earnings Calendar.
The customisable calendar allows users to track and follow earnings reports in the same app they do their trading of shares, meaning you'll never miss another opportunity.
The Calendar, accessible via a new shortcut added to the moomoo app, is viewable in horizontal or vertical layouts to satiate your preference, and stocks are displayed alongside company logos meaning you won't have to memorise any clumsy ticker abbreviations.
Further, popular stocks are displayed first by default, letting users know exactly what's hot and what's not.
Moomoo also empowers users to view more at a single glance by giving them the ability to replay the day's trades live to navigate a more selective market.
From there, use moomoo to turn overwhelmingly long and verbose reports into one page of charts, showing you a company's improvement on metrics such as earnings per share, gross margin and more.
Certain businesses release deeper metrics in their earnings reports - for example a car company like Tesla might detail the number of vehicles sold or produced during a quarter. Using artificial intelligence, moomoo grabs that data and plots it on an easy-to-read chart comparing like-for-like information to previous quarters.

What's moomoo?
Moomoo is an AI-powered trading platform that gives users access to more than 2,200 ASX stocks, 10,000-plus US stocks, 2,800 Hong Kong stocks and even EFTs.
With more than 19 million users globally, moomoo has won over users thanks to its professional-grade tools that let investors trade smarter, including the Earnings Calendar, algorithmic 'Similar Charts', Institutional Tracking that shows the position and investment info for 20,000-plus asset management companies, and more.
The platform enables you to take control of your portfolio and trade how you like, letting users jump in at just one share and no minimum spend per trade.
With these handy features, moomoo is on a mission to help investors navigate ever-changing market conditions by giving them access to important information.
How to get access to moomoo's Earnings Calendar
With its next-gen features and user-friendly design, moomoo is becoming the app of choice for investors worldwide.
To get started with moomoo, click here to start trading ASX, US and HK stocks, and navigate to the Earnings Calendar to ensure you're always up to date with the latest financial news and information.
Simply sign up via moomoo's application form, deposit any amount you like into your account, and start building your portfolio by trading on mobile or desktop.
You can read more about moomoo's product features in its global user report.
More from moomoo
As interest rates rise, many Australians are pointedly feeling the cost of living crisi...
moomoo
With the US reporting season just around the corner, it pays to know when exactly to gi...
moomoo