A $600,000 co-investment from the Federal Government is expected to put Brisbane-based needle-free vaccine technology manufacturer Vaxxas on a fast-track to commercialisation as it seeks to leave the traditional needle and syringe in the past.
Vaxxas, established in 2011 by University of Queensland's commercialisation arm UniQuest, will use the funds to launch Phase 2 clinical trials for its intradermal patch that can deliver a vaccine without the use of a needle, and improve its automation and manufacturing processes.
The company is also bringing Queensland medtech and product manufacturing companies along for the ride as it aims to disrupt the 170-year-old method of immunisation.
Speaking to Business News Australia, head of clinical operations and supply Charles Ross said the Advanced Manufacturing Growth Centre (AMGC) funds will be able to expand Vaxxas' manufacturing capabilities as it prepares to launch Phase 2 clinical trials of the potentially game-changing Queensland-grown technology.
"The process we've got at the moment, whilst being suitable for Phase One clinical studies, is a fairly manual process with not a great deal of automation to it," Ross said.
"This AMGC funding allows us to increase the level of automation, and increase the level of compliance of our processes. It also enables us to scale up our processes to be suitable for Phase Two manufacturing requirements."
Specifically, Ross says the funding will ramp up Vaxxas' manufacturing capacity - allowing the team to go from making 500 units of product per day to between 3,000 and 5,000.
However the road to commercialisation is a long one - Ross expects the first Therapeutic Goods Administration-approved (TGA) patch to become available in 2024.
That is likely going to be the company's alternative solution for delivering COVID-19 vaccines, administered with a micro-projection array (MAP).
"It's a small array, about a centimetre in diameter, and it's got about 2,000 solid micro projections on it," Ross explains.
"What we do is we take a vaccine and we coat very small volumes of vaccine onto those solid micro projections and then we encase it in an applicator. It's a very simple process to apply - you just peel off a foil lid, put it on the arm and those micro projections go in just under the skin - 150 microns deep.
"And then it deposits the vaccine just under the skin. That's one of our big advantages - you've got a very high density of small volume of vaccine in really close proximity to an area of your body which is really rich in immune cells."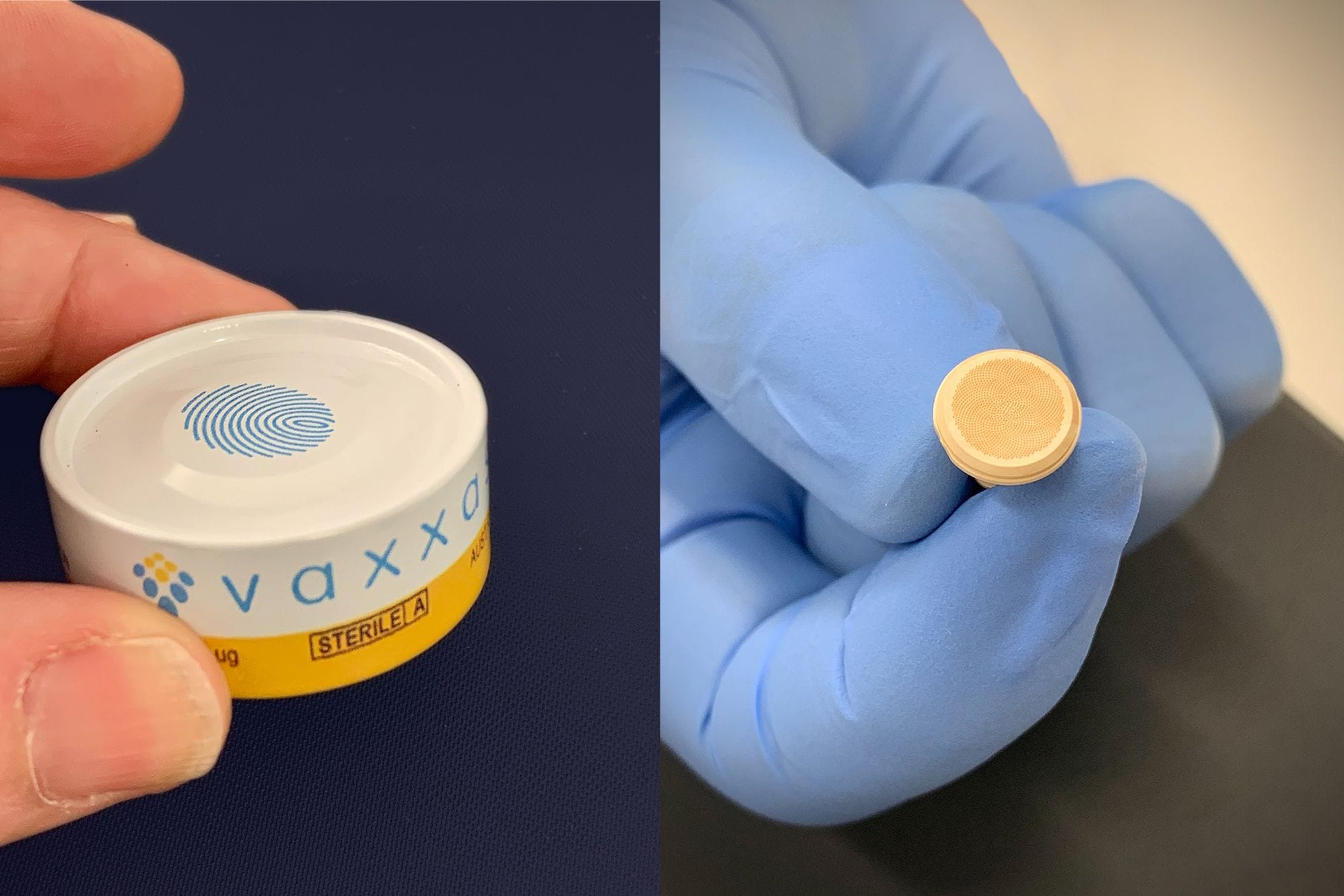 As such, Vaxxas claims patients get a better immune response because the vaccine is delivered straight into the lymphatic system.
In addition to the co-funding from AMGC, Vaxxas has the backing of some of the world's largest biopharmaceutical companies and philanthropists. Partners include US-based Merck, the US Biomedical Advanced Research and Development Authority and the Bill and Melinda Gates Foundation.
These partners are assisting Vaxxas through its clinical trials processes, investigating the efficacy of the company's intradermal patch for delivery of vaccines preventing seasonal influenza, measles, rubella and COVID-19.
Beyond being a saving grace for needle-phobes, Vaxxas hopes its product will solve the issue of cold storage which haunted the rollout of the multiple COVID-19 vaccines.
As it stands, vials of frozen COVID-19 vaccines need to be kept in below-freezing temperatures to remain effective, and even then have a shelf life of about two weeks.
Vaxxas' product meanwhile has been shown to stay potent for an entire year at 40 degrees Celsius.
"In cases like this pandemic, you not only need a good vaccine but you need a good vaccine delivery technology," Ross says.
"I think with these advantages - dose sparing transport outside of the cold chain, the ability for low-skilled administration or even self-administration - it'll be the preferred method of vaccination.
"I think we will significantly disrupt vaccination via needle and syringe."
Further, Ross says the intradermal patch will work out to be cheaper than the needle and syringe thanks to manufacturing processes which can make the MAP at "very high speeds".
"[We have] very simple stamping systems and very simple injection moulding, which allows us to ensure the cost of goods is going to be equivalent, if not less than, needle and syringe," says Ross.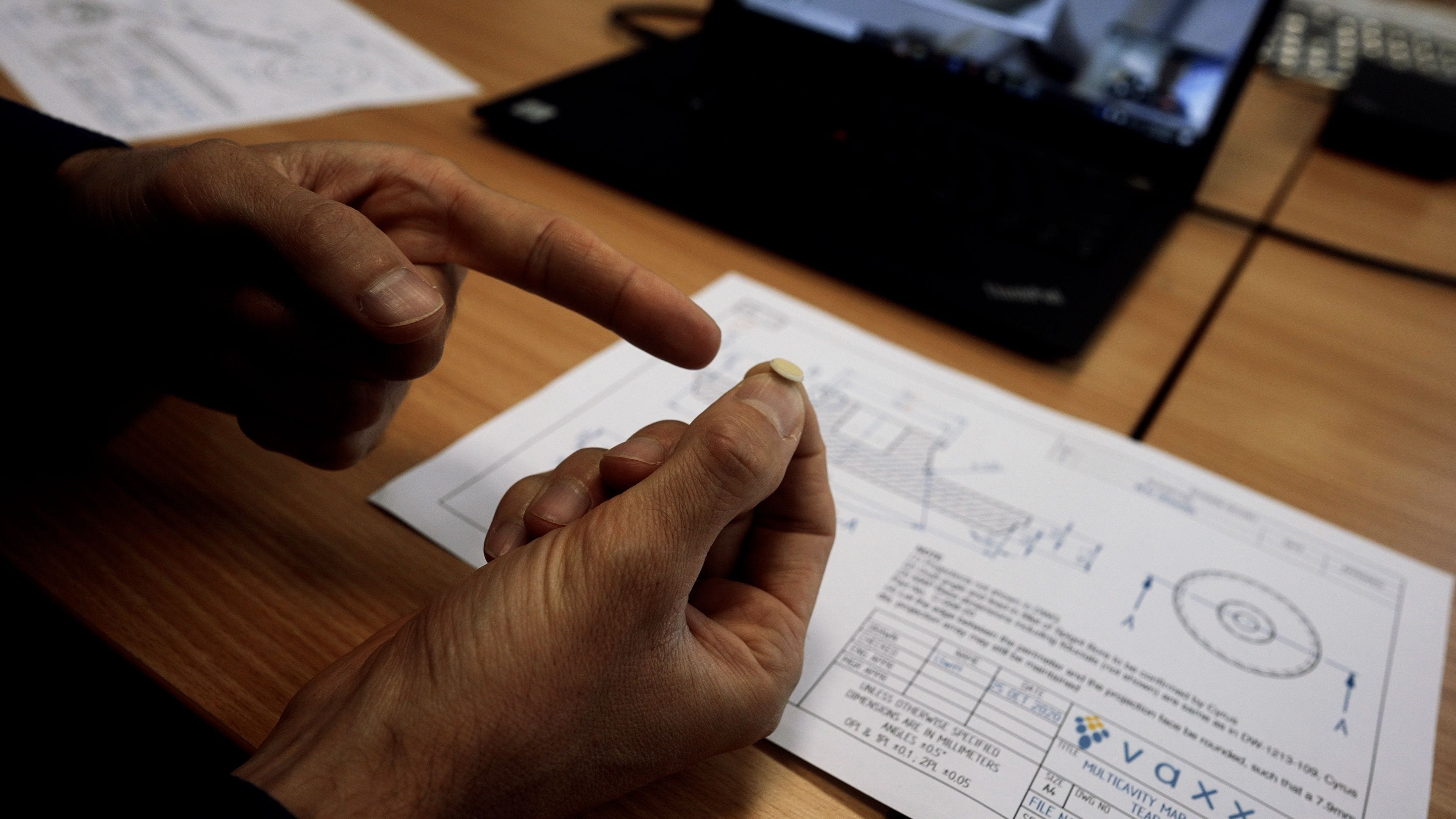 While Vaxxas was born out of a university commercialisation program, Queensland's private sector is certainly involved too - more-so with the receipt of AMGC funding.
Fortitude Valley-based Artificial intelligence and machine learning consultancy MaxKelsen is assisting with the integration of smart manufacturing processes and AI, and Virginia-based Aim Lab Automation Technologies is building the equipment and machinery powering that automation.
"We also have the Centre for Biopharmaceutical Excellence (CBE) to ensure everything we do is in compliance with the TGA's codes, because this is a pharmaceutical product we're making," Ross says.
Get our daily business news
Sign up to our free email news updates.
Help us deliver quality journalism to you.
As a free and independent news site providing daily updates
during a period of unprecedented challenges for businesses everywhere
we call on your support