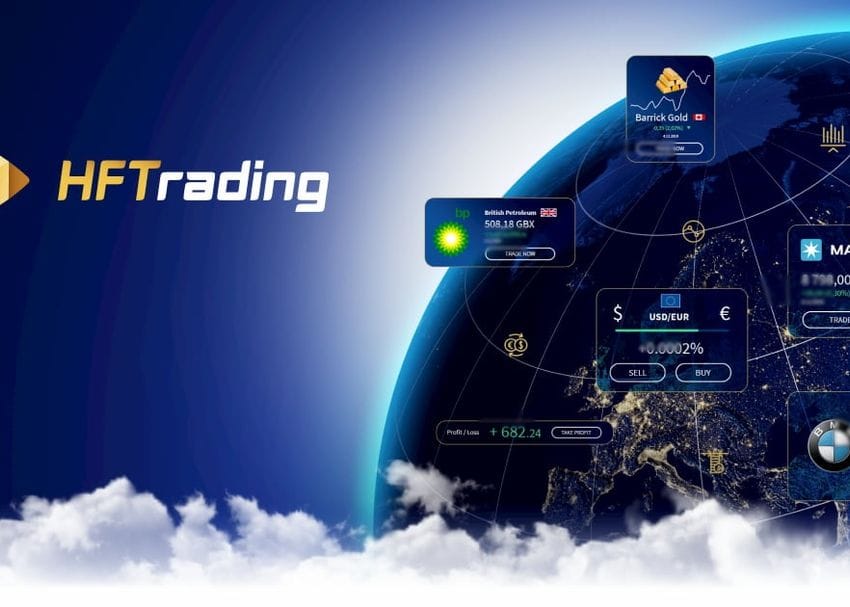 Broker HFTrading opens doors to CFDs
While some prefer to invest their money in stocks, bonds or property, others choose contracts for difference (CFDs) as a form of derivatives trading to speculate on the rises and falls of commodities. New Zealand-based HFTrading is a licensed financial services provider on both sides of the Tasman Sea, offering Australian investors the opportunity to trade in hundreds of different CFD markets.
The following content is commercial content supplied by HFTrading. CFDs carry risk and require technical expertise to fully understand. Business News Australia does not provide financial advice.
HFTrading's platform supports trading in over 300 CFDs in the forex, crypto, metals, indices, stocks, and commodities markets. In total, traders will have access to CFDs of FX pairs that cover major, minor, as well as cross-currencies. They will also have access to CFDs of commodities from metals, precious metals, softs, and energy. Additionally, the platform offers traders access to CFDs of stock indices representing the US, Europe, the UK, and the Asia Pacific markets.
With an account on HFTrading, traders can also access share CFDs, most of which are stocks on US exchanges, CFDs on crypto coins, that encompass regular and mini contracts against multiple currencies, and CFDs of exchange-traded funds (ETFs) based on the industrial, energy, and technology sectors.
Account types
With HFTrading, clients have the option to open three different types of accounts. The minimum amount for opening a live trading account is set at $250. Traders will be able to access over 300 CFDs, no matter the account type the pick.
The account types are designed to adequately meet the needs of all types of traders, whether they are experts or novices. Traders get access to a dedicated account manager, educational webinars, and much more. For novice traders, the Silver Account will adequately meet all their needs. With the Silver Account, the maximum leverage is set at 1:200.
More advanced traders can opt for the Gold Account. For the Gold Account, the maximum leverage is set at 1:400. There is also a swap discount of 25 per cent.
For truly professional traders with years of experience, the Platinum Account is a good option. It comes with heightened leverage. It is an account designed to make it as convenient as possible for experienced traders to make their trades. The maximum leverage for this account is set at 1:500 and there is a swap discount of 50 per cent.
The platform also allows users to open a demo account. A demo account is a great way for those new to online CFD trading to familiarize themselves with how the platforms work. It is also worth noting that the financial service provided does provide access to an Islamic (or swap free) trading account.
Supported platforms
MT4
HFTrading supports the MetaTrader platform. Traders use this popular platform globally. With MetaTrader, a trader can view important data such as price movements. They can also conduct an analysis of market changes, create and manipulate multiple bids, set up stop loss and take profit orders, and much more. Besides offering traders access to numerous trading tools, MT4 is also very secure. Traders can be assured that their details will not be lost to hackers at any time.
MT4 Web Trader
The Web Trader does not require any installations, downloads, or additional software. All that is needed is a stable internet connection and traders are set. The interface is simple to use, convenient, and user-friendly.
The Web Trader supports all functionality offered by MT4. Additionally, it supports cross-platform synchronization, which means it can be synched with other platforms on other devices. The execution speed is fast and there is access to various types of charts and a robust suite of analytical tools.
MT4 Mobile Platform
Traders using HFTrading will have access to a free mobile app, which they can use to access the full MT4 platform. The mobile app is highly efficient and offers all the functionality of the Web Trader. For those that are often on the go, the mobile app is a convenient way to access your account.
Deposits and withdrawals
To begin using HFTrading, traders need to deposit a minimum amount, which is $250. On the platform, traders will have access to numerous options with which to make deposits. These options include Bank transfers, Mastercard, Visa, Skrill, Neteller, and Maestro. There are no deposit fees charged to clients.
For withdrawals, the Company does not charge a withdrawal fee however some banks use intermediary banks that charge amount, which shall be borne by the client.. All withdrawal requests will be processed within 3 business days upon acceptance, however, withdrawals may be subject to additional processing time depending on circumstances including but not limited to third-party remitters, the banking institutions and the jurisdictions in question.
Fees and charges
The primary cost of the trader is the bid-ask spread. However, there are subsidiary costs in the form of fees. The primary fee is the swap fee, which is charged for all overnight positions.
On HFTrading, traders are charged a daily swap fee for all their open positions at midnight (GMT+3). For those with a Gold or Platinum account, there is a 25% and 50% discount respectively on the swap charges.
There is also inactivity and low activity fee that will apply to inactive accounts or accounts with low activity over a 60-day period or more.
Educational material
The trading platform features an education center where traders have access to a large collection of trading guides, videos, tutorials, articles, and many other educational resources. All of the educational material is designed to ensure that traders get the best trading experience possible while honing their trading skills and knowledge.
The educational material can be accessed via the mobile platform, which makes it easy to learn at the most convenient time. Various topics are covered including an introduction to the various markets, tutorials on the HFTrading platform, technical analysis, trading strategies, money management strategies, and much more.
Economic Calendar
The financial service provider also hosts an economic calendar on its website. It gives traders access to the latest news releases as well as the impact that they have on the various economies globally. Each release comes with a date and time as well as the previous impact, forecast impact, and actual impact. An economic calendar is a tool used by many traders as part of the fundamental analysis.
The platform also provides traders with an earnings report calendar that is sourced from Yahoo Finance. With it, traders can learn when companies will release their quarterly and annual earnings. The calendar will also show details on the latest EPS estimates and the conference call times.
Customer Support
On HFTrading, customer support is quite reliable. They can be accessed via live chat, email, and phone. Additionally, there is the option to fill out the Contact Us form. All support channels are available Monday to Friday
There is also the option to contact the management team via email if you are unhappy with the support team's responses.
The Trading Experience
HFTrading offers traders a simple and reliable trading experience. Traders will have access to over 300 CFDs of various asset classes via the MetaTrader4 trading platform across three different account types that give users the option for higher leverage.
Contributing to the great trading experience is the ability to trade on various devices including the web, desktop, and mobile. The educational section offers a lot of content that covers a wide range of topics. For both novice and experienced traders, the trading experience will be great.
Summary
In conclusion, HFTrading is amongst the popular trading platforms that offer access to MT4 for web, mobile, and desktop traders. With HFTrading, traders will get access to a wide array of educational material via online courses, tutorials, ebooks, webinars, and much more.
The platform provides its clients with an economic calendar, which is quite beneficial, especially for traders that use the fundamental analysis strategy. With all the information provided, even newbies will be able to hone their skills fast. They can then test their skills using a demo account before they get into live trading.
HFTrading is an innovative online financial service provider that takes you on a journey to the market peaks where you can see all of your trading dreams take shape. We constantly strive to make financial markets from around the world accessible to any client of any level of expertise, at any place and at any time.
More from HFTrading
While some prefer to invest their money in stocks, bonds or property, others choose c...
HFTrading