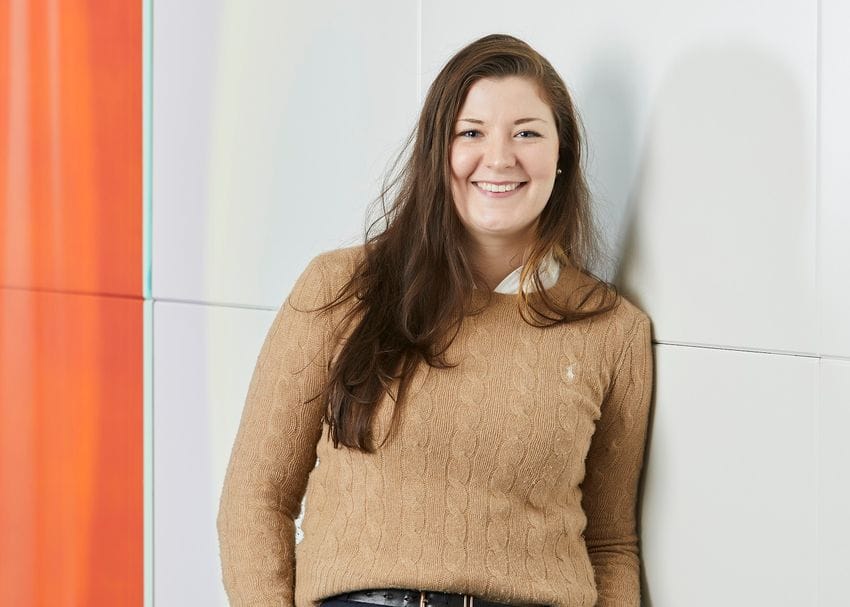 The cost of not communicating: How Whispir's tailored messaging tech lifts engagement
While it is common for businesses to haggle with suppliers over small price differences to save money over the longer term, the cost of not communicating effectively – be it financial, reputational, or cultural – is more often overlooked.
But in an age of digital overload and market disruptions that frequently lead to sporadic, improvised communications in response to urgent challenges, Software as a Service (SaaS) company Whispir (ASX: WSP) strives to give businesses more structure in their messaging, reflective of their values in a way that can also add value.
Whispir senior account executive Hilary Harrington (pictured) says clients from a range of industries and sizes, from startups to health services to retailers to government, are increasingly becoming cognisant of the benefits of automated communications solutions.
Nonetheless, many managers are so bogged down in the status quo of their operations that they don't realise the cost of poor communication, both externally and internally.
"Often we hear businesses talking about cost in a really narrow way, where they tell me they've spent weeks or months negotiating with some vendors over less than a cent per message," Harrington says.
"But what they should be talking about is the cost of not messaging at all, or not messaging in the right way."
She highlights appointment reminders as a simple example, aimed at avoiding no-shows or late-arrivals.
"Let's say an optometry chain decides to go with the cheapest provider, saving them $1,000 per month. If the messages are delayed or the content isn't great, they become obsolete," she says.
"It's the flow on effect that people forget, like the optometrist's hourly rate when they're sitting there with no patient, or the follow up appointment that wasn't booked and the pairs of glasses that weren't sold.
---
Click here to learn more about how Whispir's technology can be used in the webinar Right message, right channel: How communications software takes the guesswork out of engagement.
---
She says there are similar problems across most industries, with compounding costs that can flow through the supply chain.
"In the same vein for ICT, if you don't get a critical IT alert to the right person by the right channel, even if it's at 3am, their operations could be compromised," Harrington notes.
"Continuing along that line of thinking, one that's actually surprising is rostering across all industries – if you don't get your last-minute shift fill messages delivered, it could be that people can't get critical truck drivers, and then deliveries will be delayed by a day and the warehouse gets backed up."
Even though plenty of businesses have rostering tools, Harrington says when shifts aren't filled and it's urgent, people tend to revert to "just calling everyone".
"We see it at huge organisations. They just start ringing around, asking 'can you do it?' 'No.' 'Can you do it?' 'No.' Or they send an email out to everyone, and when one person replies and can do the shift, then they have to handle the replies from everyone else."
Communications to address pandemic pains and crises
These kinds of organisational problems have been exacerbated by the pandemic, with companies having to adapt their communications to suit a remote workforce and ever-changing regulations.
"Over the past two years you've probably had more messages than ever before, because businesses are constantly changing their opening hours, their operations, their requirements," she says.
"This means it's more important than ever to not just send out more messages and hope for the best, but to actually be more considered about what we're sending. How are we sending it? And what is the outcome we're trying to drive? And is this what will work best for the recipient as well?
"Whispir sends billions of messages every year, so we've learnt about what works and what doesn't. We work closely with our customers to share that expertise so they don't have to re-invent the wheel."
You don't have to look far to see how startups have proliferated and thrived throughout the pandemic, seizing on newfound opportunities and scaling up their workforces and customer bases substantially.
Whispir has also been able to tailor its offering to this business segment, finding a niche in a marketplace dominated by larger multinationals.
"What we find is the tools they [startups] start looking for to help them scale either do too much or too little," Harrington explains.
"Businesses are coming to us and looking for scalable solutions. They might not be ready to use multiple software vendors across their business such as HR, billing and marketing platforms, but they do want the ability to easily integrate these systems with their communications in the future."
"What we typically see is that businesses engage Whispir for a very specific problem, but over time they end up utilising the tool across their whole business."
Another common communication channel for businesses is mailing lists, but standard, static databases can often be littered with out-of-date information that hinder people from rapidly accessing specific groups with critical messaging.
This is one reason why Whispir's dynamic distribution lists function has gained popularity in recent years, allowing users to message a group of people based on any number of characteristics.
"An example is a business that used us when there was an emergency situation in the Melbourne CBD, and they were able to very quickly contact all of their staff that were logged as working in the Melbourne office or living in the CBD," she says.
"They could capture those responses within minutes, versus other businesses which were pretty much just scrambling, calling people all night. A static distribution list would have done nothing for them.
"Having a tool like a dynamic distribution list allows you to go what's the message, what's the very specific group of people that need this information, and how do we best bring that to their attention?"
The cost of lacking communication on workplace inclusivity
Not content to rest on its laurels, Whispir itself is constantly finessing innovative ways to harness the technology it sells, including in the more qualitative realm of culture.
"Whispir takes Diversity, Equity and Inclusion (DEI) very seriously. I'm in the DEI committee and we're constantly thinking of new ways to use our own tools to drive meaningful change." Harrington explains.
"It could be little things, like sending a text to all work-from-home employees to see how they're feeling, or to remind them of the Employee Assistance Programs available to them, or inviting people to vote for their preferred speaker for a PRIDE event."
At many companies a recruit will hear about diversity and inclusion initiatives, but if they're lucky they might get an update once a year. One way to improve engagement in this regard is to have monthly or quarterly messages to staff focusing on what has been achieved while providing options for anonymous feedback on a variety of matters.
Another form of automated communication that can be harnessed is a check-in about personal details, whereby staff can safely bring up significant changes in their lives, health or any number of life circumstances.
"People might want to self-nominate something that they may feel uncomfortable initiating communication on themselves, so it's beneficial to make a scheduled, regular effort to engage with people this way, particularly when they are working from home so much.
The Whispir executive says it is difficult to quantify the cost of poor employee communication, but emphasises the effects can be "devastating".
"Aside from the obvious financial and reputational costs for a business, ultimately the team that you put together are the heart of your business," she says.
"So if you're not supporting them even at a basic level with some of these DEI initiatives, you're really missing the mark.
"You can imagine you're going to have higher staff turnover and employees will be disengaged, which can lead to low performance – it is a really massive flow-on effect."
It is a human-focused approach that Harrington claims sets Whispir apart from traditional notions of automated communications being impersonal.
"I think there is a difference between robot-like automation and automation that transforms how you connect with people," she says.
"When we talk about automation, people often worry about seeming impersonal, but it doesn't have to be that way. When done right, automation can free up precious time so people can focus on the parts of their job that make the most impact.
"The name of the business is Whispir, and we keep that front of mind every day because a message is a really personal thing. It's not about blasting people with information; it's about making sure that what you do say is relevant, meaningful and impactful."
"I think there is a difference between automating generic messages and automating messages more broadly speaking. When we talk about automation, often people go straight to this feeling of a lack of personal touch and attention, but it doesn't have to be that way," she says.
Whispir is an all-in-one communications workflow platform that automates interactions between businesses and people, giving businesses the ability to improve their communication efficiency and reach through access to multi-channel, automated workflows, and actionable insights.
Businesses use Whispir's software to create interactive messaging that solves simple to complex communication obstacles. With unique solutions to complex issues, Whispir provides a dedicated team to help create the best solution for each business.
More from Whispir
As creatures of habit, most professionals tend to take a circumspect approach when offe...
Whispir
From capturing feedback early to providing messages with a higher rate of cut-through, ...
Whispir
While it is common for businesses to haggle with suppliers over small price differences...
Whispir