When Kjetil Hansen appeared on Shark Tank in 2017, his $1.2 million valuation suggestion for a bacon-flavoured seasoning was not to the taste of the seasoned investors, except Andrew Banks who backed the business Deliciou with some critical conditions around intellectual property.
At the time Janine Allis described Hansen's prediction of $25 million sales in the following financial year as "fanciful", and she was right.
However, driven by its plant-based chicken and a vegan cheese seasoning, Deliciou is finally hitting that figure in 2021 as a capital raising led by plant-based food investor Stray Dog Capital brings the funds needed to expand further in the US, rolling out across thousands of stores.
---
Home to the likes of Beyond Meat, Impossible Foods, Quorn Foods, Tofurky and more, the US plant-based meat market has delivered beefed up returns in recent years and fierce competition to match.
Yet somehow, against this challenging backdrop a 30-year-old Melbourne resident hailing from Norway has found shelf space for his vegetarian-tailored foods with one of the country's leading high-end retailers, Whole Foods Market.
The greatest irony is that Kjetil Hansen's entrepreneurial path began with an extraordinary love of bacon.
"I started Deliciou from my kitchen table in 2015. I created a bacon seasoning because I was a massive bacon lover - I just wanted my meals to taste like bacon," says Hansen, who at the time was studying a Master of Management at Melbourne University.
It wasn't until three years later, having studied issues around animal welfare, the environment and health, that Hansen adopted the plant-based diet of his customers. But in the beginning it was all about flavours and business opportunities for the "bored" student.
"I wanted to start something. I was working on this bacon seasoning recipe and I made a formulation that I thought was really delicious," says Hansen.
"Then I needed to validate whether I was crazy or not, so I printed out some surveys and I went down to my local supermarket with some samples.
"I was handing out surveys until the security guard threw me off the premises."
When Hansen got home he looked at the responses, scoring 9.5 out of 10 on average for the question 'Would you buy this product if it was available in the supermarket?'
"When I got that response I invested all my savings into a production batch, and then I dropped out of uni to start the company," says Hansen.
Deliciou has recently launched its plant-based chicken in Woolworths across Australia, while Hansen expects to have products in 70 per cent of Australian supermarket retail stores by August.
Five years ago though, the retailer response was all gristle.
"I tried to approach the big retailers but they didn't want to range the product, so I was just left with trying to find a way to sell it myself so I tried a few things," he says.
"One thing I did was I set up a market stall at the Queen Victoria Market where I was selling bacon-flavoured popcorn on weekends. I did that for six months, it didn't work.
"I also drove around trying to sell 10-packs of seasoning to IGAs and independent grocery stores, and I think I spent more money on fuel than what I earned."
The first solution to Hansen's woes was to go online, driving traffic to his website and sales through social media advertising and recipe videos.
"Through that I was taking orders from a trestle table in my apartment," he says.
"From there I grew the business from $300 a month in revenue to doing over a million dollars a month in revenue selling to over 100 countries, just shipping out of Australia."
It was not a growth rate that happened overnight. Hansen admits it was after his appearance on Shark Tank in 2017 that Deliciou started to gain traction in a meaningful way.
The experience was a wake-up call for him with the sharks pointing out, in colourful language, how beholden he was to his manufacturer who had control of intellectual property (IP).
He was offering a 25 per cent stake for $300,000, but the IP issue was a red flag for all the sharks except Andrew Banks, who offered to take a 45 per cent stake for the same price if Deliciou would claw back its recipe IP and have the bacon-flavoured seasoning proven as vegan-friendly.
The young entrepreneur eventually agreed to Banks' proposal for 44 per cent.
"The retailers started knocking on my door [in 2018], and then we got ranging with retailers not just in Australia but also with retailers overseas like Whole Foods Market in the United States," he says.
Sales accelerated during COVID-19, recording $1 million sales a month for the first time in 2020 and now Deliciou is tracking close to $2 million a month.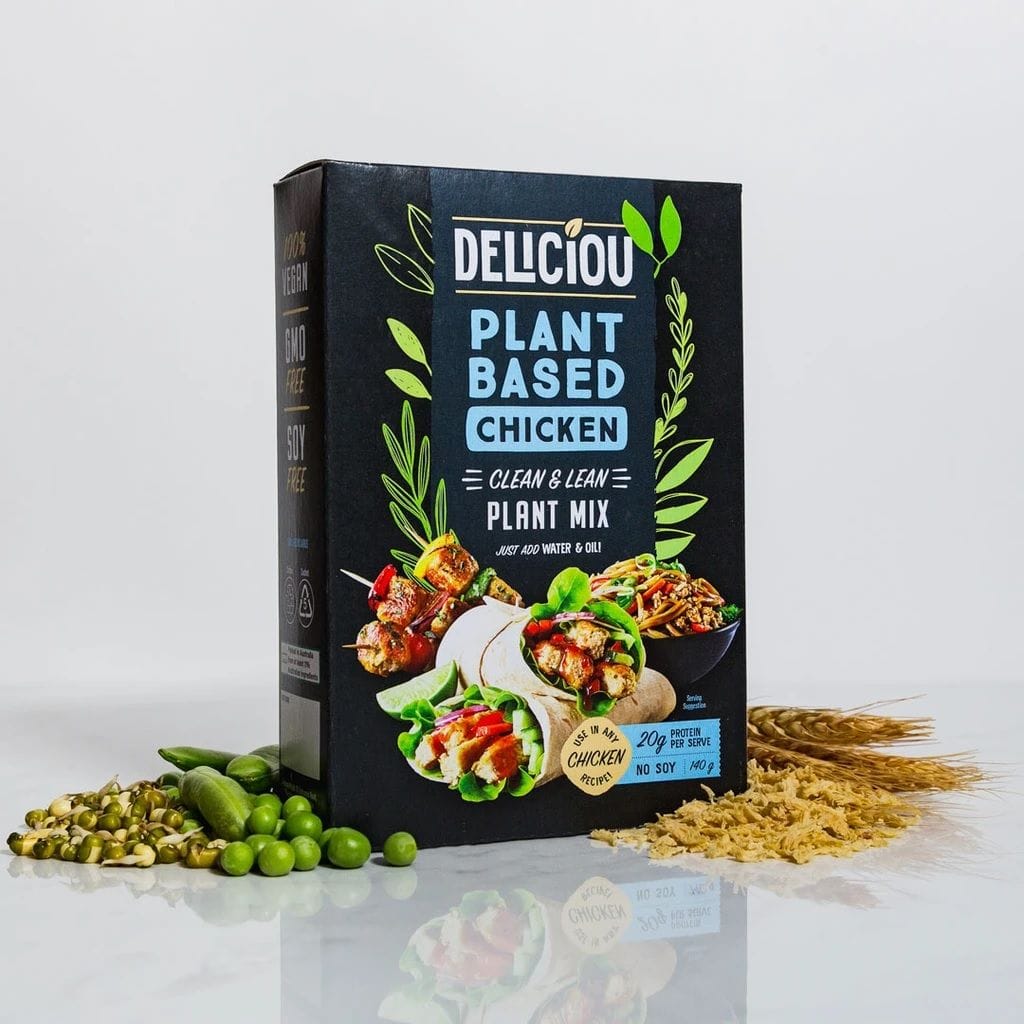 Capital raise brings fuel for growth
Deliciou's expansion plans, also contemplating growth in the European and Chinese markets, were given a boost recently through a capital raise led by US venture fund Stray Dog Capital, for an undisclosed sum but with a valuation of $65 million.
Aconex founders Leigh Jasper and Rob Phillpot also took part in the raise, as well as former McKinsey & Co managing partner Adam Lewis and former Blackmores Asia managing director Peter Osborne.
Aconex co-founder Rob Phillpot says Deliciou's quality ingredients allow the world to shift away from meat, even if it's just one meal at a time.
"With the international market growing rapidly and the shelf-stable product that can be shipped easily, Deliciou is well placed to be a major player in this revolution," says Phillpot.

Former McKinsey & Co managing partner Adam Lewis agrees.
"What makes Deliciou's approach unique is that it is not aiming at the 'burger' market in food service but in the home - helping every person make plant-based meals delicious and easy to prepare," says Lewis, who is now Deliciou chairman.
"Combine this with the shelf-stable nature of the product which opens up massive e-commerce potential and a globally-focused founder who is highly motivated and learning at an incredible rate and you've got a winning proposition."
"Deliciou's growth story to date has been extremely impressive as has been their ability to attract a deeply loyal consumer base that buys into the company's vision to make plant-based eating easy, healthy and delicious," adds Asia business advisor Peter Osborne.
Hansen says it is amazing to have investors of this calibre on board at the company, providing not just funds but greater expertise in food technology, digital technology and e-commerce.
"Stray Dog Capital is a fund that only invests in companies that are on a mission to to make a change in food systems, and this was their first investment in an Australian company. It's super exciting to have them on board and they're really helping us to scale in the US," he says.
"For me as a founder, I really benefit from having smart people like this with a lot of experience who can help to navigate the growth."
He says the capital raise will now help fuel international growth on a much larger scale.
"We are the first Australian plant-based meat company to successfully expand to the United States," he says.
"We will be rolling out into thousands of retail stores beyond Whole Foods over the next year, and that investment we have received is going to fund inventory for that.
"Without the investment it wouldn't have been possible to fund that expansion, so it's been critical.
We are talking to lots of retailers all around the world, in China, in Europe, in Australia, in the US, everywhere.
Standing out from the crowd
Hansen explains all of Deliciou's products are manufactured in Melbourne with a rigorous approach to quality and recipe selection.
"All of the products that we've launched are about 1 per cent of all the products that we've developed, so we only launch stuff that we think is fantastic," he says.
"What we see a lot happening in the market now is that companies, they rush in with crappy products just because they want to be a part of the plant-based trend, and they are ruining their brands because their products are not good enough.
"Ultimately, what often happens is you get a new product into the stores and it sells well initially, but then the sales they drop quite quickly."
He says if a product doesn't impress consumers enough after their first purchase, there are no repeat sales.
"We've seen a lot of products have gone off the shelf after a few months because they're just not good enough. And we haven't had a single product that has gone off the shelf yet," he says.
The entrepreneur highlights the plant-based chicken is very popular and highly regarded by vegan influencers, and the vegan cheese seasoning is also a big seller.
"We use different ingredients for different products, because depending on what we want to replicate, we have to use different bases," he says.
"With the chicken we use wheat, mung bean and pea protein - the mix is very important actually, and those three plant protein powders yield a very good texture that replicates shredded chicken and it gives you a very high protein content."
He claims there's actually more protein in Deliciou's plant-based chicken than in real chicken.
"And there is no added salt and there is no added sugar, there are no added preservatives. If you compare it to real chicken, there is more protein, there is more iron, more vitamin B12, there is less fat, there is no cholesterol," he says.
"With the vegan cheese the base is on an almond meal and then we have a nutritional yeast powder, which gives you like an umami baseline and then there is some natural vegan cheese flavours which gives you like a bursting cheese flavour to top it up, as well as some vegetable powders."
Never miss a news update, subscribe here. Follow us on LinkedIn, Instagram and Twitter.
Business News Australia
Get our daily business news
Sign up to our free email news updates.