Resourceful, driven and imaginative are just a few words that describe the young business leaders in this list; creators who have made big bets on themselves to the benefit of society and those closest to them.
They create not just jobs (although combined they employ more than 10,000 people) but organisations - corporate organisms that grow, evolve, shape lives, reinvent industries and frequently spark spin-off enterprises with further impact in Australia and worldwide.
The vast majority started their entrepreneurial journeys with very little capital backing, but what they did have were great ideas and a desire to succeed that ultimately translated to organic growth or outside investment.
Quite often these businesses emerged as solutions to real problems faced by the entrepreneurs themselves. The trick then was working out how to develop and commercialise their visions; the kind of "I wish I had that idea" business models that sound straightforward in retrospect but are actually the result of painstaking efforts on paths littered with hurdles and distractions.
Australia's Top 100 Young Entrepreneurs have forged new companies across a diverse cross-section of industries including health, logistics, food manufacturing, e-commerce, digital marketing, fashion and tech in all its variations from Software as a Service (SaaS) to fintech.
In the past we've described the founders in this list as the country's business leaders of the future, which is true because their companies will likely continue to gain prominence and influence over the economy at large. And as age kicks in and their expertise grows, it will be unsurprising to see these entrepreneurs found ever larger companies in size and scope.
But as much as future prospects look bright, this list is also about the business leaders of today as the men and women featured have already made their mark. In financial terms that equates to almost $4 billion in annual revenue, but the inspiration they have brought, the values they have instilled and the new livelihoods they have built are intangible.
---
1. Mike Cannon Brookes (40) & Scott Farquhar (40)
Atlassian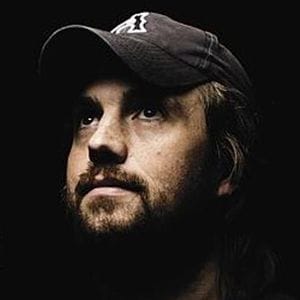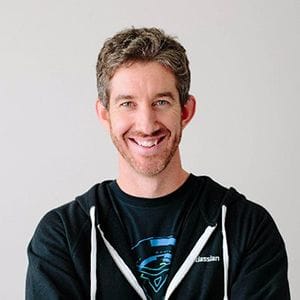 As the "accidental billionaires" who founded IT workflow software giant Atlassian, co-CEOs Mike Cannon-Brookes and Scott Farquhar have had a big year in 2019.
They will also both be 41 when our next list comes out, which means their number one spot will be up for grabs. By then it is anyone's guess as to how much more their Sydney-based, US-listed business will grow.
Atlassian shot past the US$1 billion revenue mark for the first time as its customer numbers surpassed 150,000, and Fortune Magazine rated the company as one of the world's top 100 places to work.
That revenue has come at a cost, or a net loss of $637.6 million to be precise, in 2019. But like so many rapid-riser unicorns in the tech space, Atlassian is more concerned with building itself a moat than reporting profit today.
Total revenue rose 36 per cent and subscription sales were up by more than half, but around 48 cents out of every dollar that comes in was reinvested back into R&D.
"For the past 17 years, Atlassian has helped unleash the potential of teams around the world. And we continue to invest with an eye towards the future," the co-founders said in Atlassian's annual report.
"It's this discipline and focus that provides us the tremendous opportunities we see ahead."
Just two years after the acquisition of Kanban-style project management tool Trello in 2017, that business hit a milestone of 50 million registered users in October, up from 19 million users when the company was acquired.
Cannon-Brookes had a prominent public persona in 2019 as well through his calls for action on climate change. It was also revealed that he was a top donor to the non-profit Climate200.
"We know that we have to do our bit to reduce our impact on the planet. If we don't, we're cooked," he said in a statement ahead of the UN climate action summit in September.
---
2. Ruslan Kogan (37)
Kogan.com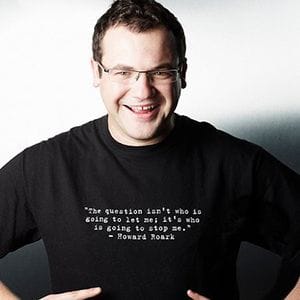 Christmas is getting closer for the founder of one of Australia's leading e-commerce empires, and the difference in fortunes for Kogan.com could not be starker.
This time last year Kogan had lost 70 per cent of their value down to $3.21, but over the course of 2019 they have steadily progressed towards the $7 mark.
On face value though, very little has changed for the company's earnings trend and level of traction. Just like in 2018, revenue and profit have seen strong growth and more platforms and products have been launched.
Following on from the release of Kogan Money Home Loans at the end of 2018, Kogan has launched five new products as well as the Kogan Marketplace in the current calendar year.
The group describes third-party reseller platform Kogan Marketplace as a transformational step. After only launching at the start of 2019, in October alone its gross sales grew to $9 million.
The team is aiming to integrate the platform with other platforms like Magento and Shopify in a bid to accelerate onboarding.
At the company's AGM last month (November), Ruslan Kogan highlighted gross sales exceeded half a billion dollars for the first time ever in FY19, along with 15.9 per cent growth in active customer numbers.
In the current financial year the company has also launched Kogan Money Super with Mercer, Kogan Mobile NZ with Vodafone and Kogan Money Credit Cards with Citi. This adds to the launch of Kogan Cars and Kogan Energy earlier in 2019.
"While the first four months of the financial year are exhibiting strong growth metrics, we know that the business end of the year is ahead of us with the Christmas trading period of November and December," Kogan said at the AGM.
"In the twelve months of FY19, more than 1.6 million people transacted with our retail websites," Kogan said at the AGM.
"While this is a great number and one of the most impressive in the industry, our business represents only around 2% of Australian online retail trade."
---
3. Nicholas Molnar (29)
Afterpay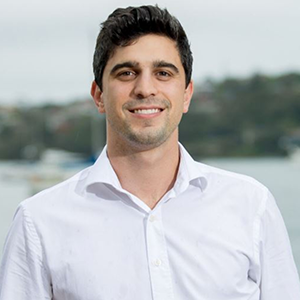 The buy-now pay-later (BNPL) sector is one of Australia's hottest industries right now with Afterpay perhaps its most emblematic brand, buoyed by strong demand but contending with regulators who are scrambling to adapt to the new business model.
More Australians are ditching credit cards in favour of BNPL services, with the flexibility of interest-free delayed repayments attracting the Millennial market in particular.
At the helm of this booming fintech moment is Nicholas Molnar, the 29-year-old wunderkind co-founder of ASX-listed Afterpay (ASX: APT).
Afterpay is the clear Australian leader in the BNPL market, and it is gaining serious momentum in the US market too while a UK launch earlier this year has also shown positive signs for growth.
But with success comes scrutiny, and Molnar faced plenty of that this year.
In June Afterpay was hit with an AUSTRAC investigation after the watchdog was concerned that the BNPL platform was breaching anti-money laundering laws.
Just three days later, Molnar and co-founder Anthony Eisen cashed out of the company to the tune of $103.5 million, irritating shareholders in the process.
The co-founders since confirmed their commitment to the business, promising to not sell any more of their own shares in the company during FY20.
In July, Molnar stepped down as CEO, replaced by Eisen, and into a new role as global chief revenue officer.
Come November and Afterpay was given the all clear by its auditor, which said that Afterpay was aligned with the anti-money laundering legislation.
With the AUSTRAC investigation in rear view, Afterpay was able to celebrate its many successes. Sure, a monumental partnership with eBay was big, but not $1 billion monthly sales big.
In just a short space of time Molnar has built Afterpay into a monolith of Australia's fintech world. The group finally hit the $1 billion in monthly sales in November, which was attributed to Black Friday and Cyber Monday sales, as well as a serious boost in customers using the BNPL platform.
---
4. Larry Diamond (37)
Zip Co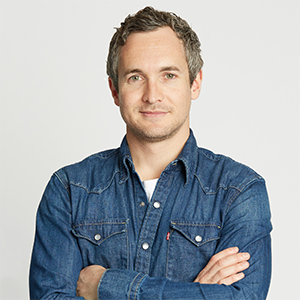 Healthy competition in any sector is only ever a good thing, and this rings particularly true for the buy-now pay-later (BNPL) world.
While not as gigantic as Afterpay (ASX: APT), Zip Co (ASX: Z1P) provides a neat benchmark for the sector to strive towards.
That isn't to understate the achievements of Zip Co co-founder Larry Diamond; they're certainly well on their way to hitting massive milestones and are undeniably one of the fastest rising companies in Australia's fintech sector.
While Afterpay has been busy consolidating the US BNPL market, Diamond has been nailing it at home and in other overseas regions through 2019.
In August Zip Co acquired New Zealand-based BNPL company PartPay, giving the group access to the New Zealand, UK, US and South African markets.
Less than a month later Zip Co acquired yet another New Zealand-based business. This time the group spent $8.8 million on acquiring Spotcap; a SME business loan provider.
More acquisitions appear to be on Diamond's horizon, with Zip Co recently announcing a $60 million capital raise to bolster the group's expansion into the UK.
The Sydney-headquartered company also intends to launch and accelerate the growth of Zip Biz, a BNPL solution for small businesses.
Diamond's track record wasn't totally sparkly clean in 2019 though; the business found itself embroiled in a trademark dispute in June.
Home loan provider Firstmac alleged that Zip Co infringed its trademark 'ZIP' which is registered in respect of 'financial affairs', specifically home loans.
If successful, Zip Co could be in a bit of hot water, especially considering how widespread its brand name has become in Australia.
---
5. Werner Liu (37) & Fung Lam (38)
New Aim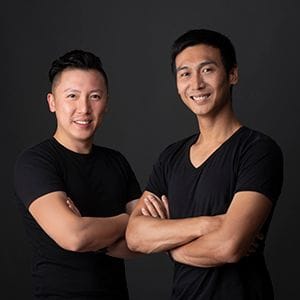 If a booming online marketplace already exists, why bother building a new one from scratch?
It is a view the likes of Ruslan Kogan would probably disagree with, but for Fung Lam and Werner Liu this mentality sparked Australia's biggest e-commerce player that few have ever heard of.
New Aim's Ozplaza.living is the country's biggest seller on platforms like eBay, Amazon, Catch, Kogan, MyDeal and Temple & Webster, using data to take a product-agnostic approach for optimising sales.
This strategy means that if the data dictates barstools and massage chairs are the way to go, then that's what New Aim puts in orders for.
"Based on data, we can sell anything. We know something even if we don't know why," says Liu.
"Now it's more than 20 per cent of households that already receive our items," adds Lam.
When New Aim started out 15 years ago the business model was as simple as buying products from existing well-known Australian retailers and selling online with a mark-up, but now the company is much more sophisticated with supply chain links to China.
The company is also Australia's biggest dropshipper, supplying products to hundreds of online sellers, as well as providing them with administration and logistical support.
---
6. Carlos Ferri (38)
Zapala Corp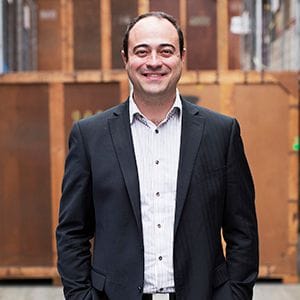 In the space of a decade Carlos Ferri has gone from being an international student who couldn't speak English to the leader of Zapala Corp, the umbrella company for an empire of high-growth businesses with a strong focus on servicing logistics.
The Brazilian-born entrepreneur now has more than 100 employees in Australia, Singapore and Brazil, and his businesses have partnered with the likes of Microsoft, Cisco, Apple, Coles and David Jones.
His most well-known business is Zapala Go, a software developer for the transport, logistics, freight forwarding and warehousing industries.
Ferri also has Zapala Fleet in the GPS space, supply chain management tool Shipeezi, and Zapala People specialising in HR software and labour hire. The latter is set to enter the U.S. and Brazilian markets to service the agricultural sector.
"Each company has its own challenges and each one competes in the same way - I try to focus on the industries where I can make money," he says.
Ferri also has his pet project Educafy giving international students a service he wishes was available when he arrived in Australia, helping them with challenges ranging from ABNS to health funds to bank accounts to universities.
---
7. Karl Brown (40)
InStyle Solar, Rokkit Performance Marketing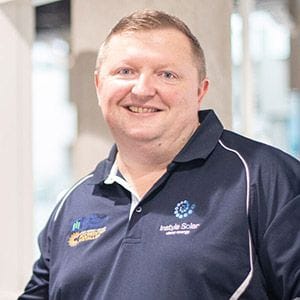 Since founding InStyle Solar with just $2,500 of capital behind him in 2012, Brown has gone on to build a formidable force in the world of solar panel retail and installation.
The company has been on a roll this year thanks to an Australian partnership with Costco, while the solar retailer took a step out of its comfort zone by moving into direct sourcing and opening up a 1,200sqm warehouse in Brisbane.
Brown's value proposition to customers is really quite straightforward - cut your electricity bill by installing panels, and using systematic financial analysis InStyle can calculate what the saving will be.
It's an idea that recently garnered support from rugby league legend Johnathan Thurston who is now InStyle's first official brand ambassador.
Last year Brown, along with Jonah Hicks and Tehbyn Nova from InStyle's marketing team, launched Rokkit Performance Marketing, a marketing solution with a 'pay per lead' approach that doesn't come with any management or set-up fees.
Growth has been exponential and the founders are bullish about Rokkit's trajectory, having also recently launched into Hawaii and the US mainland.
At the moment Rokkit only works in the niche markets of solar, electricity, insurance and home loans, but the plan is to expand into new areas in due course.
More recently, Brown has also co-founded a new business called HomeGuardian.ai with Kane Sajdak of BITS Technology Group and last year's Australian Young Entrepreneur of the Year Tomas Steenackers.
The HomeGuardian device uses sensors to monitor the interaction of objects and people within its surroundings, alerting carers or family members if a fall occurs.
---
8. Greg Moshal (36) & Beau Bertoli (36)
Prospa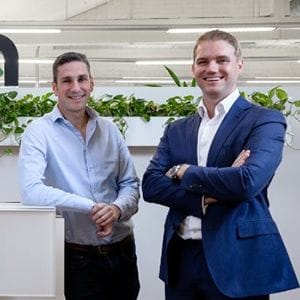 In the space of just seven years Greg Moshal (pictured) and Beau Bertoli have built Australia's leading online lender to small businesses, with their efforts culminating in an IPO to raise $109.6 million in June.
Making the most of rising trends towards convenience in the traditionally slow-moving lending sector, Prospa's applications only take 10 minutes and the company claims funds can be available within 24 hours.
"We started Prospa in 2012 because it was clear to us there had to be a better way," Moshal said in the company's prospectus pre-IPO.
"As small business owners, we'd experienced the frustration of missing opportunities because we couldn't access finance. We found the traditional system slow, cumbersome and disheartening."
"Prospa's success has been the result of a group of smart, talented and passionate people united around a common mission to keep small business moving."
Bertoli noted the financial services industry was undergoing rapid change, and Prospa's role in supporting small businesses was now even more vital.
"Through the launch of our new cash flow products and by entering into new geographies, we will be able to reach even more small businesses looking to grow and run their business and help them pay for goods and services, quickly and easily," Bertoli said.
It is a vision that resulted in a 58 per cent rise in Australian and New Zealand customer numbers in FY19 to surpass 20,000.
The end performance was a $24.7 million loss, but the board expects Prospa will be back in the profit zone this financial year.
---
9. Jeff Yu (38) & Anson Zhang (37)
One Stop Warehouse
Since Zhang and Yu switched from IT employment to renewable energy entrepreneurship in 2013, they've gone on to create Australia's largest solar panel distributor with a nationwide presence.
The company started out in Brisbane but has since moved its head office to Sydney, and growth has been exponential from day one.
As with growth in most industries, when you reach a certain size it becomes a challenge to keep up the pace, but Zhang and Yu got around this in 2016 by developing a free app system called Green Deal that makes it easier for installers to monitor the status of their jobs.
This addition has been a massive value-add for One Stop, but efforts didn't stop there to improve customer experience in order to boost sales.
Last year the company launched the startup Discover Energy with the goal of encouraging as many households as possible to reduce their reliance on the grid, firstly by helping them understand their consumption patterns and then getting the most out of their solar panels and batteries.
One Stop imports around 70 per cent of its solar panels from China with the remainder coming from Germany, Italy, the US and Korea.
---
10. Ben Bradshaw (37)
Disrupt Digital, SponsoredLinX, Get More Traffic, Search Marketing Experts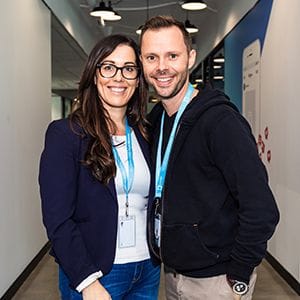 After making a name for himself improving the marketing performance of SMEs, Bradshaw recently launched his fourth agency Search Marketing Experts targeting medium-sized companies.
The digital guru has come a long way since creating SponsoredLinX with co-founder Shannah Whitford-Lowe in 2006, and has also recently set up the innovation hub Disrupt Labs which will act as an incubator for new ideas.
With innovations that remove laborious and time-intensive functions from marketing campaigns, Bradshaw's various platforms help clients improve lead generation and grow their customer bases in the process.
Disrupt Digital entered the New Zealand market 18 months ago and has successfully internationalised its systems. The plan is now to scale into Asia, in Malaysia and Indonesia along with a potential expansion into Japan.
Bradshaw also intends to make an acquisition within the next 18 months and believes the business will double in size within three years.
In a totally different industry, in 2018 Bradshaw set up Disrupt Music Group to assist artists globally with their songwriting and music production.
---
Click below for this year's top 100
Get our daily business news
Sign up to our free email news updates.
Help us deliver quality journalism to you.
As a free and independent news site providing daily updates
during a period of unprecedented challenges for businesses everywhere
we call on your support