Universal Store (ASX: UNI) CEO Alice Barbery says she has been described as "backwards, out of touch and even misguided" for her views on the importance of physical retail to drive growth, but what once felt like a lone voice during the pandemic hype of digitalisation has since been amplified.
"It's only recently that this long-touted 'bricks and mortar retail is going to die' kind of chat has been rethought and refocused," Barbery told a Queensland Business Breakfast organised by Morgans at the Brisbane Club yesterday.
"It's incredibly exciting to see people returning to CBDs. When we take shops away, people will stay home. When you reopen them, people do flock back," she said.
There is perhaps no city more emblematic of this revival than Australia's unwitting poster child of lockdowns - Melbourne, where Barbery says the company's Melbourne Central store is doing "extremely well".
Meanwhile, a pop-up store is opening on the major thoroughfare of Bourke Street in time for Christmas before a larger-scale fit-out takes place.
Barbery, who has been with the group since 2009 and led a management buyout ahead of its 2020 initial public offering (IPO), espouses a boutique level of customer service that avoids some of the mistakes she believes many clothing retailers are now making.
"We will never be a business that is devoid of team members. It's not a stack it high, watch it fly kind of retail environment," the Chicago native explained of the business, which just last week onboarded 600 Christmas casuals nationwide across its 78 stores.
"How many environments do you actually go into where you take off most of your clothes and put on someone else's clothes? It's a weird thing to do, but we do it all the time...you should not have to put your own clothes back on to go get another size.
"In the old department stores back when I was a kid, you got served. So we're bringing that level of service where someone will be there waiting to bring you the next size in an environment where you wouldn't necessarily think that's the case."
The group has expansion plans to get to 100 stores, and these ambitions will be bolstered by Universal's private label brand Perfect Stranger striving for a seven-store footprint by the end of the year - including its first physical presence outside Queensland in Warringah, Sydney - and more roll-outs in the works for Byron Bay-based THRILLS, recently acquired for $50 million.
Stock brokerage, wealth management and corporate advice firm Morgans, which hosted the event, is forecasting a combined total of 97 stores for the Universal group by June next year, rising to 113 by June 2025.
"We don't go out and say we're going to open 60," Barbery said. "If I find 12 great spaces, I'll take them on great deals. If I find four, I'll take four."
"We get around three lease terms out of every shop fit, so we like to get it right the first time. It's that 250-square-metre box that sits in the youth fashion run in the best centres - they don't always pop up every day, so we will wait them out."
Over the past 10 years the executive has been highlighting the social, socio economic and psychosocial benefits that physical marketplaces play in the broader community, but she still sees the benefit of having a digital offering. In its FY22 results, Universal Store notched 38.6 per cent year-on-year growth in online sales, lifting the category to around 17 per cent of total sales.
"The growing enthusiasm shoppers have for engaging digitally with our services and products is very important to the health of our business, but when I've been pushed to have a digital first strategy, I have countered with the position that I actually have a customer first strategy," she said.
"By having a customer first strategy, it means I won't miss what my customer is doing, how they are moving, how they are trending and how they are changing.
"It takes care of any sort of any in-built scotoma or in-built bias that you might have about how people should want to shop and you stay keenly attached to what they are actually doing."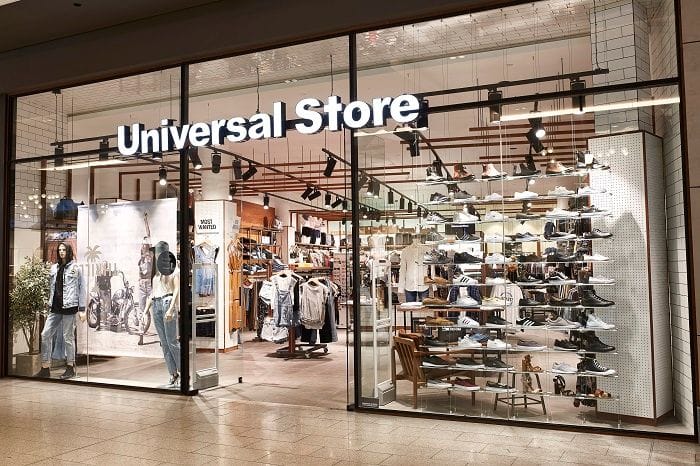 The empowering social impact of physical retail
In Barbery's view, if a purely digital online landscape materialised it would deprive society of a leading source of employment that has low barriers to entry, attracting a range of people who may have struggled to find jobs or sources of societal engagement otherwise.
"Beyond the truth that many people love the physical shopping experience, there are two other reasons that I'm incredibly passionate about bricks and mortar, and both are vital to the wellbeing of our long-term community," she told the business breakfast.
"These areas really lie in entry level employment opportunities and overall cultural health.
"When I think about employment opportunities, there are three main cohorts of people who typically work in bricks and mortar retail stores beyond those who choose the industry."
The first is those who are using retail work as a stepping stone, supporting themselves while they work towards a higher goal.
"Many of these people are students, or creatives, or they're looking for a secondary or supplementary income," she said.
"Secondly, there are those people who find themselves displaced from their previous life or occupation. Oftentimes, it can be a cohort of people who are plus-50 years, and have either been made redundant, or for whatever reason can no longer continue within that work stream they were already engaged in.
"The low barriers to entry for these people mean that they can take the skills that they currently have and apply them in meaningful and fulfilling manner. The employer gets a great skill set and the employee gains a sense of purpose, community, and earns an income."
The third cohort, which the CEO feels privileged to work with, are who she describes as the "vulnerable and the directionless".
"Retail is a catchment place for creative, interesting, vibrant, energetic kids who lack clear direction. Many of these young people didn't do that well in school, and therefore find a clear pathway didn't unfold for them," Barbery explained.
"Getting past the righteousness mindset or worthiness mindset that so many people have when they meet these young people, we have to understand this is a substantial percentage of our population who find themselves at 16, 17 and 18 years of age, lost about the next steps. And they think, 'I can always get a job in a shop'.
"Some of these kids come from great backgrounds, and are just what I call late bloomers. Other kids have stories so harrowing than I am in awe that they even find the strength to get out of bed in the morning."
She emphasised the most exciting reason that someone quits or reduces their hours at Universal Store is because they're either studying to get high school equivalency, or enrolling in TAFE or university.
"They have developed healthy self esteem working for us and they acknowledge that they are intelligent, they have more to contribute," she said.
"It's about 15 per cent of the people who work in the office have come from the shop floor. They've either studied or graduated into buying, merchandising, IT, human resources, and these people are my best ambassadors for why it's so much easier for Universal Store to hire than some of our competitors, because we absolutely embrace everybody who comes to apply.
"Yes, we give them very clear barriers, there are clear parameters of how they need to behave, but society isn't doing it anymore - schools aren't able to provide this anymore, and it's really fallen to the employer to help people transition more effectively into the workplace than I have ever seen in my 30 years."
The next logical step on this note is to give further opportunities to Aboriginal and Torres Strait Islander people, and Barbery mentioned she was working with a coach helping Universal Store navigate a Reconciliation Action Plan.
"My desire is to welcome more Aboriginal and Torres Strait Islanders to the retail space. There are far too many people lacking in this space, and this is a great, ideal opportunity," she said.
In terms of other pathways to make retail employment more accessible to a wider cross-section of society, Barbery said she was "nibbling at the edges" to persuade government to provide free English lessons to "help fast track new migrants into the community space and have more presence in our daily retail experience".
"We also need greater accessibility to community members with disabilities," she added.
"With retail rents at a premium creating accessible retail space is a challenge. If only we could get rents down per square meter, but that is probably another discussion for another day."
Get our daily business news
Sign up to our free email news updates.