As we head toward the tail end of the list, you'll likely see some familiar names.
The majority of these groups have fallen a few spots from last year but make no mistake; they're still forces to be reckoned with.
While their market caps might be lower than others, many are generating billions of dollars in revenue from international trade.
The new addition of Pro Medicus is a glowing recommendation for Australia's med-tech industry too.
31. Reliance Worldwide Corporation (RWC)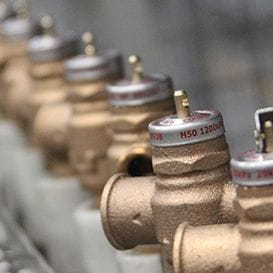 Industrials
Market Cap: $3.71b
FY19 revenue: $1.1b
FY19 profit: $133m
Listed: 2016
CEO: Heath Sharp
CEO salary: $3m
In existence since 1949, Reliance Worldwide has stood the test of time and is now the world's largest producer of push-to-connect (PTC) plumbing fittings and water control valves.
Founded in Brisbane but headquartered in Melbourne, the group is well known for its SharkBite brand of fittings and generates almost two thirds of its sales from the Americas.
The UK has also become an important growth driver since the 2018 acquisition of John Guest Holdings for $1.2 billion, which led to $300.8 million in net sales in FY19.
John Guest is known for its Speedfit technology that is has a wide range of applications not just plumbing but also for telecommunications connections and the automotive industry.
The UK-based business is expected to generate $30 million in ongoing annual synergies after this financial year is out, and is also growing sales in continental Europe.
"While 2019 was a record year for RWC we did face several headwinds," CEO Heath Sharp told the AGM in October.
"These included the Australian slowdown in new residential construction, the absence of a freeze in the Southern US, and Brexit uncertainty in the UK impacting demand in the latter part of the year.
"Some of the other factors we had to contend with included higher copper costs in the first half and increased tariffs on goods imported from China into the US."
The company's strong performance also led to Sharp receiving a 50 per cent boost to his remuneration in FY19.
---
32. Orora (ORA)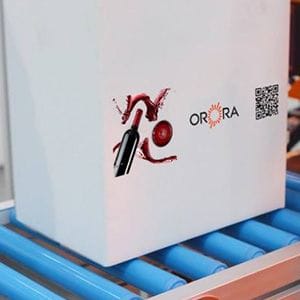 Materials/Packing
Market Cap: $3.63b
FY19 revenue: $4.76b
FY19 profit: $217m
Listed: 2013
CEO: Brian Lowe
CEO salary: $1.25m (base salary)
Packaging giant Orora is due to complete the $1.72 billion sale of its Australasian fibre business any day now, which will make it flush with cash as it fosters its North American and local beverage businesses.
Once the sale to Japan's Nippon Paper Industries is complete around $1.2 billion is set to be given back to shareholders.
The deal was an eventful start for CEO Brian Lowe in the top job after taking the reins in July, with the transaction representing an adjusted EBITDA multiple of 11.5x and a net gain of $225 million.
Once that fibre business is in new hands, Orora still expects to have sales of $3.4 billion and EBITDA around $350 million from the combination of its Australasian Beverage and North American businesses.
"Orora's strong cash flow capability, combined with the strength of its balance sheet, continues to provide the Company with capacity and flexibility to invest in innovation as well as organic and new growth opportunities that deliver long term, sustainable value," Lowe said on 12 February.
"In this regard and with the sale of the Australasian Fibre business now being close to completion, Orora has commenced a review of the strategy for the continuing businesses, including assessing growth options to leverage existing competitive positions and points of difference in key market segments."
Orora manufactures around 65 per cent of Australia's wine bottles and is Australasia's leading aluminium can manufacturer, while its Orora Visual (OV) product is in the top five of North America's point of purchase and display segment.
The company is also more than 14 months into its acquisitions of Texas-based businesses Pollock Packaging and Bronco Packaging Corporation transactions worth an estimated AUD$145 million.
Sustainable packaging will be a key priority for Orora's future as the public look to reduce their waste footprint.
"As consumers and businesses increasingly move towards more sustainable, recyclable options, Orora is well positioned to capitalise on this demand," Lowe said.
"Orora's major packaging products are all inherently recyclable. Orora's intent is to be at the front of the curve on sustainable initiatives and it will remain a priority area of focus and investment under my leadership."
The company had a difficult first half due to subdued economic conditions, particularly in North America, which led to a 13 per cent drop in net profit after tax (NPAT) to $76.6 million.
On 12 February the board of directors announced longstanding chairman Chris Roberts, who has been on the board since Orora's listing in 2013, would retire. His resignation was effective immediately and he was replaced by Rob Sindel, who has been on the board since March 2019.
---
33. Growthpoint Properties Australia (GOZ)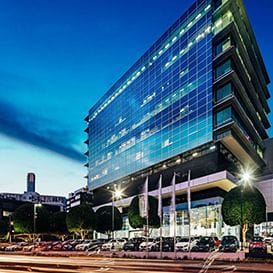 Real Estate
Market Cap: $3.33b
FY19 revenue: $492.9m
FY19 profit: $375.3m
Listed: 2007
MD: Timothy Collyer
MD salary: $2.18m
Property trust Growthpoint wasted no time using the windfall of a $173.6 million capital raising in mid-2019, splashing out $40 million on a warehouse on the outskirts of Melbourne.
In the past decade Growthpoint Properties Australia's free float has increased from 18 per cent to 38 per cent, putting more wealth in the hands of shareholders and increasing its portfolio value five-fold to more than $4 billion.
GOZ has undertaken reviews of retail property over the years but has concluded office and industrial properties are where the best returns are to be made, although Woolworths is its most significant tenant followed by the NSW Police.
Speaking at the AGM in November, managing director Timothy Collyer noted GOZ's portfolio was up 18.7 per cent on the back of strong valuations and $341 million worth of acquisitions in FY19.
He was referring specifically to a modern A-grade office building in West Perth that is leased to the Commonwealth Government, and an A-grade office building in the riverside Brisbane suburb of Newstead with Bank of Queensland as its major tenant.
"A significant consideration in purchasing these properties was their strong environmental credentials," Collyer said.
The company also has three development projects underway, including the office building development Botanicca 3 in Richmond, Melbourne which is due for completion this quarter, and a $54 million expansion of a Woolworths distribution centre in Gepps Cross, SA that will likely be ready in early 2021.
The third project at Broadmeadows in Melbourne's north is still in the planning stages, prompted by Woolworths' planned exit from the site.
In terms of leadership reshuffles, Jacqueline Jovanovski joined the company in August last year as both COO and company secretary.
---
34. Viva Energy Group (VEA)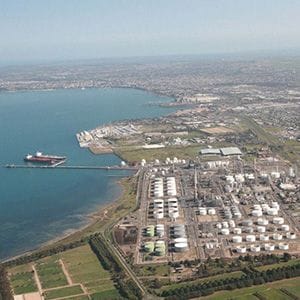 Real Estate
Market Cap: $3.30b
FY19 revenue: $860.8m
FY19 profit: $113.3m
Listed: 2018
CEO: Scott Wyatt
CEO salary: $5.84m
Oil refiner and marketer Viva Energy Group made a splash when it listed its property assets as a real estate investment trust (REIT) in 2016, but its own IPO in mid-2018 has not performed as strongly to date.
Oil price volatility and heightened competition have squeezed the business, with shares trending downwards over the past 18 months despite the recent positive news its Shell brand licence would be extended until the end of 2029.
In addition, the competition watchdog has decided not to oppose a Viva subsidiary's proposed buyout of the rest of Liberty Oil.
It all comes down to margins, which have slipped even though the company likely sold 4.3 per cent more petrol at 14,7000 litres in the 2019 calendar year.
Viva Energy is a tenant of the REIT's (trading as VVR) service stations, but it still owns more than a third of the issued shares in the trust and has benefited from an almost $700 million surge in its value over four years.
Combined, VEA and VVR have a market capitalisation of $5.41 billion.
At the time of writing there is speculation as to whether Charter Hall will seek to buy out the REIT. Elsewhere, Caltex appears to have taken a leaf out of Viva's playbook as it looks to launch an IPO for its convenience retail freehold sites.
---
35. Pro Medicus (PME)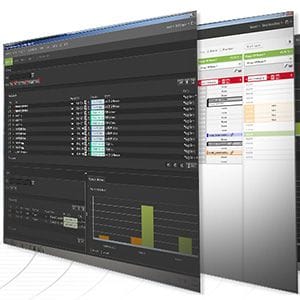 Health Care
Market Cap: $2.84b
FY19 revenue: $50.1m
FY19 profit: $19.1m
Listed: 2000
MD & CEO: Dr Sam Hupert
CEO Salary: $507,916
Richmond-based Pro Medicus has been on a roll in 2019, scoring three major deals with US hospitals and med-tech companies.
The company's success is largely off the back of its flagship technological achievement: Visage 7.
Mainly built for radiologists, Visage 7 is a 21st century high-speed viewer that allows clinicians to interpret scans of the body quickly, efficiently, and with higher degrees of accuracy.
The tech is particularly important in emergency room situations, where, for example, being able to interpret a brain scan of a stroke patient and present a diagnosis quickly could mean life or death for the patient.
In April the company scored a $14 million, seven-year deal with academic medical centre Duke Health, the largest health system in the state of North Carolina.
The deal will see Pro Medicus' Visage 7 medical imaging technology implemented across all of Duke's radiology departments.
The group signed a similar deal in November with The Ohio State University Wexler Medical Centre (OSUWMC).
Visage 7 will be utilised by OSUWMC over a period of five years, netting PME $5 million as a result.
Not one to shy away from new technological adaptations of its technology, Pro Medicus signed another deal in December with Palo Alto-based Nines.
Nines will use a version of Visage 7 on the Google Cloud Platform and will provide Nines with an "immensely scalable and highly optimised platform".
"Partnering with [Nines] will allow us to support their efforts to develop future products with our highly optimised Visage 7 cloud-based solution for on-demand reads," said PME CEO and co-founder Dr Sam Hupert.
While the group's tech is firmly in the future its board is anything but.
The company was repeatedly called out by the Australian Institute of Company Directors for having a male-only board during 2019.
At the time of writing the company still did not have a single female representative on its board of directors.
Pro Medicus kicked off FY20 with some solid first half results, reporting profit up 32.7 per cent to $12.1 million.
The company says its key contract wins over the first half contributed to revenue growth of 15.7 per cent to $29.3 million.
---
36. Premier Investments (PMV)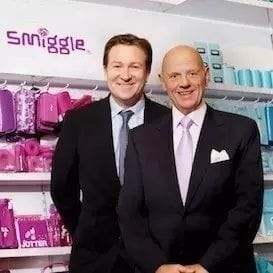 Consumer Discretionary/Retail
Market Cap: $3.24b
FY19 revenue: $167.3m
FY19 profit: $106.8m
Listed: 1987
CEO: Mark McInnes
CEO salary: $6.15m
The offline retail apocalypse is raining down heavy on many Australian companies, but the brands underneath the Premier Investments umbrella are staying dry.
Chaired by retail mogul Solomon Lew, Premier Investment manages successful retailers like The Just Group, Smiggle, Portmans, Just Jeans, Peter Alexander, Jay Jays, Jacquie E and Dotti.
It would be a sick twist of irony if Lew's stable of retailers were to go under considering he's spent the last two years on a campaign against legacy department store Myer (ASX: MYR), in which Premier has a significant stake.
Rather than struggling to stay afloat in an ever-changing retail environment, Premier Investments has been watching its numbers grow and grow.
The company recorded a 27.7 per cent increase in its NPAT to $177.6 million in FY19 backed by growth across its portfolio.
While success in Australia is one achievement Lew is surely proud of, success overseas is another kettle of fish.
The company's attempts to gain a foothold internationally have been successful thus far, with stationary brand recently launching in South Korea, the UAE, and Canada. Smiggle will also partner with Amazon Europe to sell into Germany, Spain, France and Italy.
The partnership with Amazon is a curious one but demonstrates Lew's awareness of the e-tail giant's dominance in this murky retail environment; one that is still ripe with opportunity for savvy retailers.
---
37. IRESS (IRE)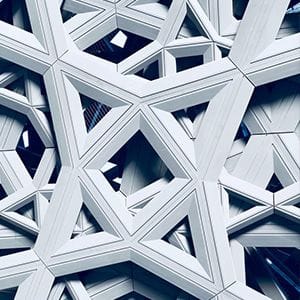 Diversified Financials/Financial Technology
Market Cap 2020: $2.49b
FY19 revenue: $508.9m
FY19 profit: $65.1m
Listed: 2000
MD & CEO: Andrew Walsh
CEO Salary: $1.8m
Fintech software company IRESS looked to consolidate its portfolio in 2019, branching out into new and exciting areas of technology to improve its services.
The group kicked off the year by partnering with neobank Volt to create a seamless experience for the bank's mortgage customers.
Volt now has access to IRESS' cloud-based MSO software program, allowing lenders to efficiently process mortgages with automated workflow processes cutting down on man-hours.
IRESS launched a new software program called Xplan Prime in the United Kingdom to meet the growing need for an efficient platform for financial advisers to deliver automated, simplified advice to customers.
The group also made two key acquisitions during the year.
The first was a ~$64 million purchase of international market data provider QuantHouse.
At the time Iress CEO Andrew Walsh said the company was "highly complementary and strategically aligned to IRESS' existing and future activities and to its international offering, including IRESS' increasing focus on data".
IRESS also dipped its toes into the world of blockchain with the acquisition of BC Gateways, a blockchain communication platform.
BC Gateways' platform allows data to be published and distributed in a timely, and trackable manner thanks to the blockchain technology it is built upon.
---
38. IOOF (IFL)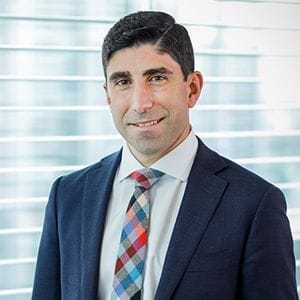 Financials/Investment Management & Advice
Market Cap: $2.46b
FY19 revenue: $1.06b
FY19 profit: $28.5m
Listed: 2003
CEO: Renato Mota
MD salary: $857,199
2019 kicked off with a bang as Kenneth Hayne released the widely anticipated Royal Commission into the financial services industry.
For IOOF this was a day management would rather forget; the financial services company was singled out for the part it played in the industry-plaguing fees for no service scandal.
It caused an earthquake in the Melbourne-based company, resulting in a series of board reshuffles and leadership spills as the company attempted to regain public trust.
The highest profile of these changes was the selection of a new CEO. This came in the form of a promotion from within, with IOOF selecting Renato Mota as its new CEO, which was described by chairman Allan Griffiths as "a new era" at the time.
Mota's appointment was not only in the wake of the Royal Commission findings, but an APRA investigation which resulted in the regulator aiming to ban five employees from running a superannuation fund.
These included the company's own managing director Chris Kelaher and chairman George Venardos, who both stepped down once the allegations were made.
Kelaher eventually left the company and was replaced by new non-executive director Andrew Bloore.
If you thought this was the extent of IOOF's woes, think again. The company also grappled with a class action filed against it by Quinn Emanuel Urqhart & Sullivan alleging that IOOF engaged in misleading or deceptive conduct resulting in shareholders paying an inflated price for shares.
The class action was a direct response to the findings uncovered during the Hayne Royal Commission.
IOOF did get hit where it hurts at the end of FY19, with its financial report displaying a glaring $182.7 million remediation cost provision following an in-house review into more than 1,200 instances of fees for no service conduct.
Structurally IOOF lost one element of its business but gained another (for a discount).
The group sold off private wealth manager Ord Minnett (which it held in partnership with JP Morgan) to a private consortium for $164 million. IOOF saw $115 million as part of the sale.
While IOOF said goodbye to Ord Minnett it welcomed a new business into the fold after acquiring ANZ's (ASX: ANZ) wealth pension and investments business OnePath.
IOOF nabbed OnePath for $825 million, revised down from the initially announced price of $950 million.
---
39. Nufarm (NUF)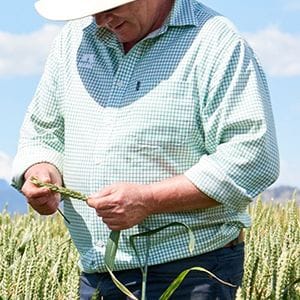 Materials/Chemical Manufacturers
Market Cap: $2.21b
FY19 revenue: $3.8b
FY19 profit: $38.3m
Listed: 1988
CEO & MD: Greg Hunt
CEO salary: $1.3m
On 19 March, 2019, a federal jury in San Francisco found US agricultural biotechnology giant Monsanto had substantially contributed to causing the cancer of a Californian man.
The product in question was the weed killer, Roundup, setting off a chain of events that sent ripples all the way to Australia, impacting agricultural chemical company Nufarm.
One of the key ingredients in Roundup is called glyphosate, an ingredient found in some of Nufarm's products.
The decision in the US caused Nufarm's shares to collapse almost instantly, seeing them drop 23 per cent on March 19, and then continue to fall until June 6, just days after Nufarm addressed the controversy.
"While there have not been any lawsuits against Nufarm in any jurisdiction in which it operates which relate to glyphosate-based herbicides and alleged impacts on human health, the corporate risk relating to glyphosate has increased, and Nufarm therefore considers that further market disclosure is appropriate," says Nufarm.
"Nufarm is satisfied that glyphosate is safe to use in accordance with label directions, including the appropriate safety directives as outlined in each product label."
Glyphosate appears to be a bit of a bogeyman for companies like Nufarm and Monsanto (now owned by Bayer in Germany), despite a number of major regulatory bodies, including the US Environmental Protection Agency, repeatedly finding them safe for use.
"Although Nufarm sales of glyphosate-based products have not been impacted to date, there is risk that future glyphosate sales around the world could be adversely impacted given both the intense legal and public pressure on this product," says Nufarm.
Glyphosate aside, Nufarm had a stellar FY19, turning its FY18 NPAT loss of $15.6 million into a profit of $38.3 million.
Going into FY20 the company's results will certainly be nudged along by its $1.188 billion sale of its South American business.
Nufarm sold the South American operations, which include crop protection and seed treatment operations in Brazil, Argentina, Colombia and Chile, to Japan's Sumitomo Chemical Company.
---
40. Vocus (VOC)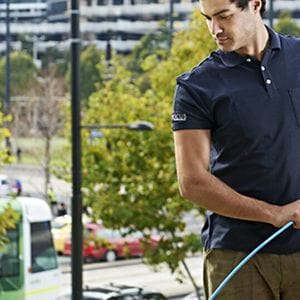 Telecommunication Services
Market Cap: $2.12b
FY19 Revenue: $1.9b
FY19 Profit: $105.5m
Listed: 1999
MD: Kevin Russell
CEO salary: $1.1m
Fielding the approaches of two potential suitors, settling a class action and going toe-to-toe with the NBN were all in a year's work for telecommunications company Vocus.
The group, which owns subsidiaries including iPrimus, Dodo, Slingshort, Orcon and ClubTelco, was a hot commodity for local and international suitors, keen for a slice of the Australian telecommunications industry.
But neither of these proposals were to bear fruit, leaving Vocus stranded at the altar.
The first was form Swedish company EQT whose $3.3 billion takeover offer was ditched post-due diligence sending Vocus' shares nosediving by 15 per cent.
AGL Energy (ASX: AGL) had a crack at acquiring Vocus for $3 billion soon after EQT, but walked away after just one week, with AGL managing director Brett Redman saying there would not be sufficient certainty that the deal would create value for shareholders.
Maybe 2020 is the year Vocus finds its perfect match?
The telco was thrust into the legal world as well this year when Slater & Gordon (ASX: SGH) launched a class action alleging Vocus misled shareholders back in 2016 regarding EBITDA guidance.
By the end of 2019 that case was all wrapped up when, two days before Christmas, Vocus announced it had settled the class action.
The settlement of the class action, which is without admission of any liability, saw Vocus pay $35 million to the class action group.
The NBN remains an issue for the company, with Vocus claiming NBN Co is "encroaching" into the domain of retail service providers (RSP) like itself.
Vocus said, in a submission to the government, that NBN Co's expansion of its channel partner program from an education program into a sales campaign was yet another example of NBN Co stepping on RSP's feet.
It wasn't all bad news for Vocus though, the group recently completed two Federal Government funded subsea cable systems; one that connects Sydney to Honiara and Port Moresby and a Solomon Islands Domestic Network system.
---
CLICK BELOW FOR THIS YEAR'S TOP 50

Market caps based on end of trading February 13, 2020
Help us deliver quality journalism to you.
As a free and independent news site providing daily updates
during a period of unprecedented challenges for businesses everywhere
we call on your support