When you take a look at the prototype for AEV Robotics' modular driverless vehicle it's hard not to see the future of transport.
But according to co-founder and CEO of AEV Julian Broadbent, that future isn't as far off as it might seem.
Melbourne-based AEV Robotics is currently in Las Vegas at the home of emerging tech: CES 2019.
The company is showcasing its unique modular autonomous vehicle solution which Broadbent describes as the app store for mobility and transport.
In a nutshell, AEV have developed a robotic base that is digitally controlled via a programmable interface. Each base is lightweight, electric, four-wheel steer and multidirectional.
On top of this base sits what AEV call a "pod". What's exciting about the pod system is the almost limitless potential of the technology.
The company, just three years old, has already conceptualised a variety of pods that could sit on top of the base ranging from people-moving spaces to delivery vans, grocery stores and medical assistance vehicles.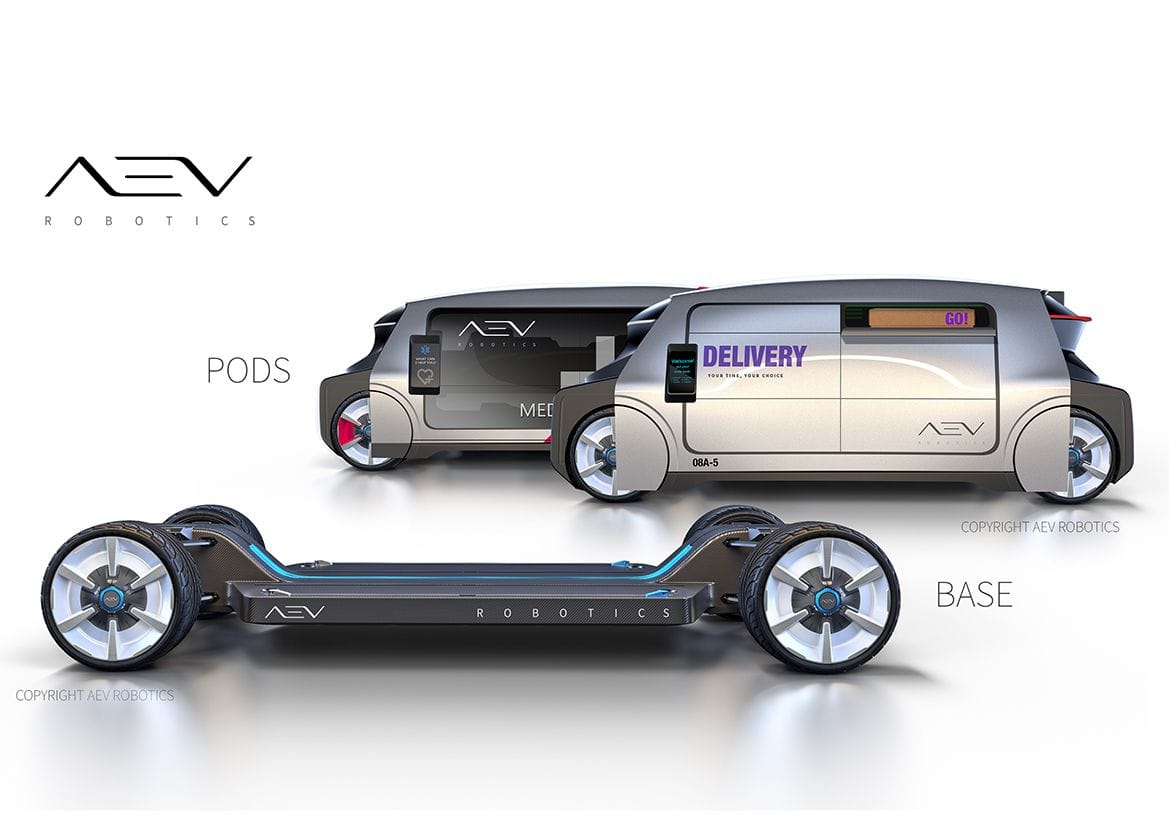 Broadbent says that instead of making traditional cars autonomous, AEV is rethinking what a vehicle can actually be.
"Instead of adding technology to upgrade traditional cars, we've started form a clean sheet and built a completely new type of vehicle," says Broadbent.
"There is an urgent need to rethink the way we move people, deliver goods and address on demand markets in cities."
The reaction from the masses at CES 2019 has been positive according to Broadbent who says they've been in contact with a number of major players looking to develop solutions to sit on top of AEV's robotic base.
"As a nice analogy, we kind of see the base as a bit like the Apple App store and the pods are a bit like a physical app," says Broadbent.
"The whole notion of a physical app is really starting to resonate with people here at CES; they're starting to get it."
"We can solve so many opportunities in urban environments for cities and these ideas are not necessarily created by us they're created by others. At CES we've had people asking to do things like mobile rest rooms, I've had people asking to use the base without a pod, it's just crazy what people are coming up with for their business and their city and their culture."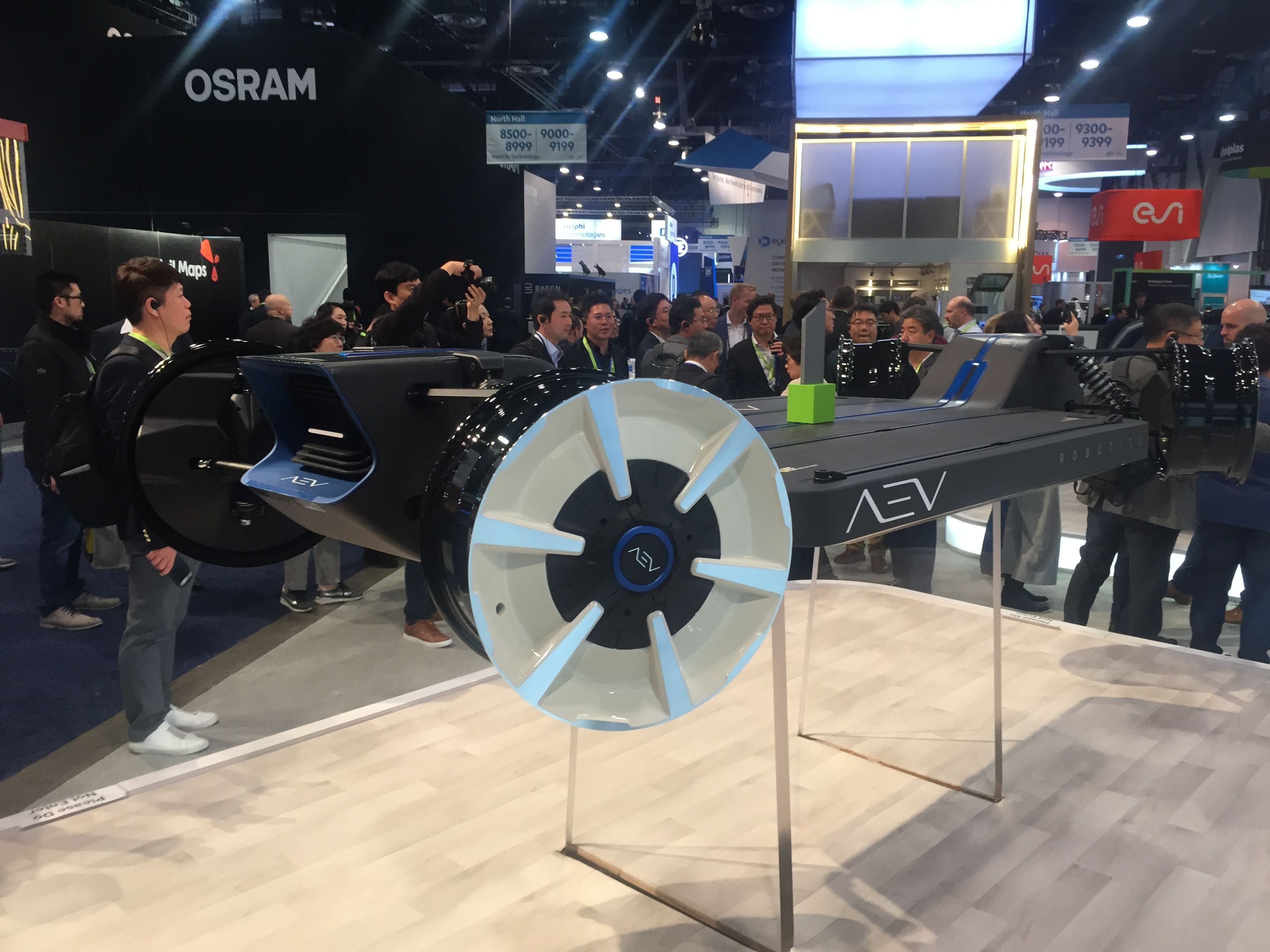 AEV Robotics' vehicle base at CES 2019 in Las Vegas
Co-founder Broadbent has a long history in the automotive space. He cut his teeth working as the chief mechanic for Australian V8 Supercar legend Mark Skaife before going on to work for major car makers in Australia and Detroit.
His experience working for startups led him to developing self-driving vehicles within the University of Sydney, but he says his desire to found AEV Robotics came about after becoming frustrated by the approach taken to automation by major carmakers and technology companies.
"I'd been in charge of global advance planning and I felt that there were just too many things happening from a mega trend point of view," says Broadbent.
"I also found it intriguing that Google didn't want to build its own car - this was before Apple had even tried - and I felt that we've got something to offer here and we believed that cities could be generally better."
But with his heart in the right place when it comes to a genuine desire to see cities become better, it is often a battle against regulation for AEV.
Whilst the product is basically ready to roll out in the USA and Europe, Australian regulation is holding the industry back according to Broadbent. The vehicles being developed by AEV are not your traditional cars; they only run at below 40kmph (to reduce the chances of human fatalities).
"Australia has not elected to follow Europe or the USA where it tends to borrow its typical motoring regulations from in the case of low speed vehicles," says Broadbent.
"Low speed vehicles are already legal in the USA, they have been since the late 90s. They can range from everything like petrol-driven vehicles down to a golf cart."
"It is fully legal in Tokyo also under their small vehicle body of legislation. The global markets are there for us, but Australia has limited opportunities. We're looking to export the technology."
Broadbent's excitement about being at CES, surrounded by so many innovative advancements in tech, is palpable. And whilst there might be some still doubting the driverless car revolution we've been promised, Broadbent says it is certainly on its way.
"I do feel that the rising tide is going to lift all boats to actually make mobility change," says Broadbent.
"It's not going to be just us, or Invidia or just be Hyundai or Tesla, it's going to be this whole industry."
"Some people don't think it will happen but sitting right here it's going to happen for sure."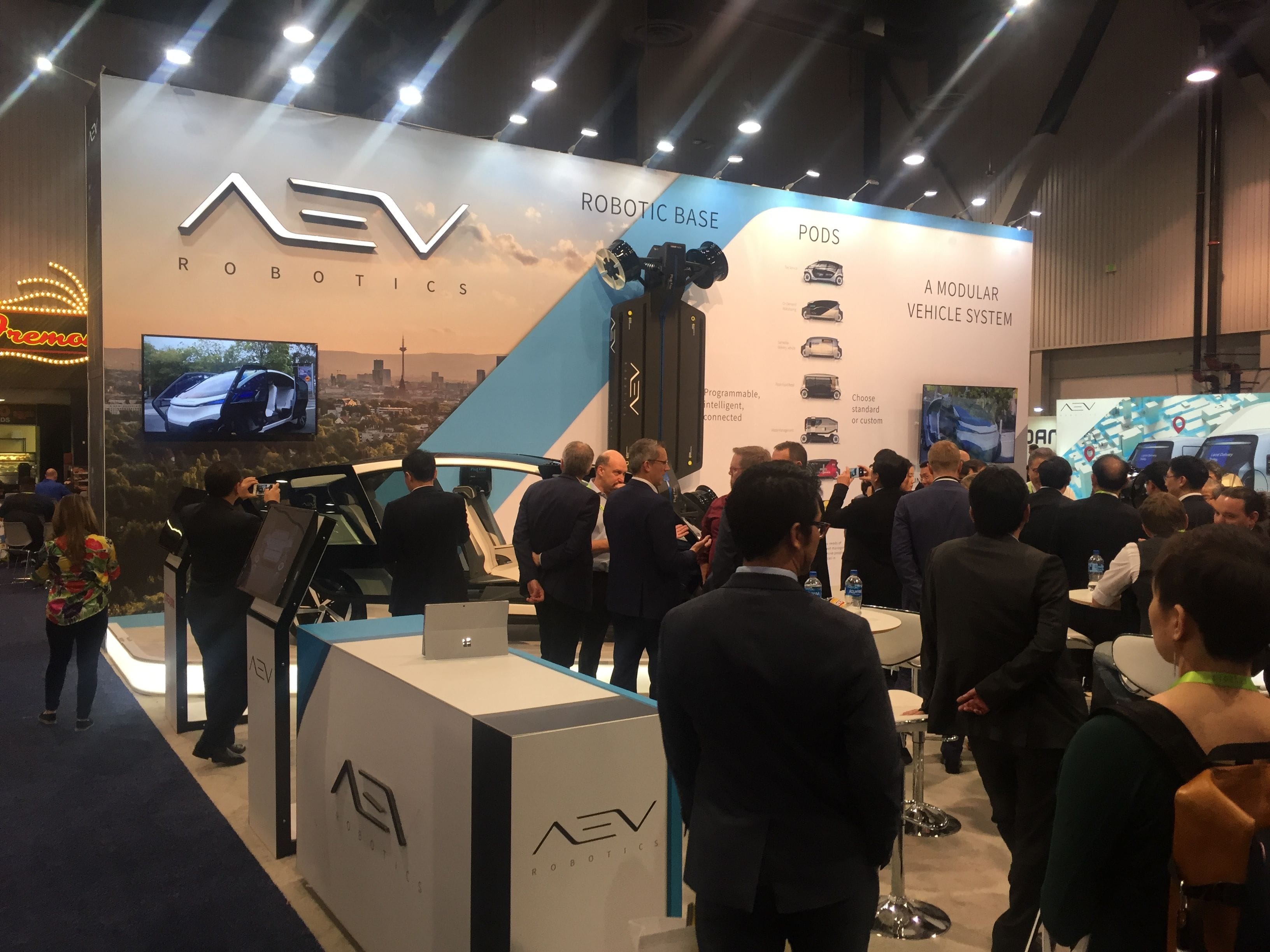 AEV Robotics' CES 2019 display
Never miss a news update, subscribe here. Follow us on Facebook, LinkedIn, Instagram and Twitter.
Business News Australia
Get our daily business news
Sign up to our free email news updates.
Help us deliver quality journalism to you.
As a free and independent news site providing daily updates
during a period of unprecedented challenges for businesses everywhere
we call on your support