A new technology released by Brisbane-based manufacturer Arrowes has the potential to save lives, taking significant risk out of deploying and picking up cones from roadway construction sites.
After three years of development at its facility in Brendale the company has today launched its automated cone truck (ACT), harnessing proprietary mechatronics to automatically achieve these tasks with a single operator rather than leaving two people exposed to live traffic.
With a capacity of 400 cones, the ACT can retrieve cones from both sides of the vehicle while driving forward or reversing, and is equipped to close over 9km of highway without stopping.
This is more than twice the capacity of most conventional cone trucks, deploying and setting the cones at one every five seconds with the ability to establish any set spacing.
Arrowes executive director Ken Ea says the company has invested hundreds of thousands of dollars annually in R&D, and recruited young talent from UQ and QUT who have worked tireless to deliver a game-changing innovation for efficiency and safety.
"The ACT is set to become the new norm for safe and efficient cone deployment and retrieval and is our most significant innovation to date," says Ea.
"Our focus and DNA are centred on pioneering and investing in technologies that can improve safety for the roading community. We have relentlessly questioned and explored numerous concepts to create new solutions that deliver tangible results from day one."
He claims that as far as far the company is aware, it is the only Australasian roading equipment manufacturer investing in R&D.
"We do this because we understand the risks associated with working in live traffic and know there must be better ways of keeping our people safe," he says.
Development of the ACT was in line with a five-year technology roadmap for Arrowes and followed its creation of the portable traffic signal system eSTOP, which has been recently recognised by Australian Asphalt Pavement Association (AAPA) members for the QLD safety initiative award.
Tests conducted by a tier one company show a reduction of near misses by 93 per cent, meaning the innovative product has already saved lives.
The development of that technology was inspired by the tragic death in 2013 of traffic controller Suzanne Caudell on Queensland's Bruce Highway, and her widower Colin's determined efforts to improve roading safety.
"No one should have to go through what I did on that devastating day. My wife felt unsafe doing the job, but no one listened," says Colin.
"I believe much more still needs to be done to protect the safety of road workers.
"Each year, according to Safe Work Australia and the Centre for Accident Research and Road Safety, an average 11 people die each year as a result of being struck by a vehicle or truck and 750 people are injured at road works each year in Queensland."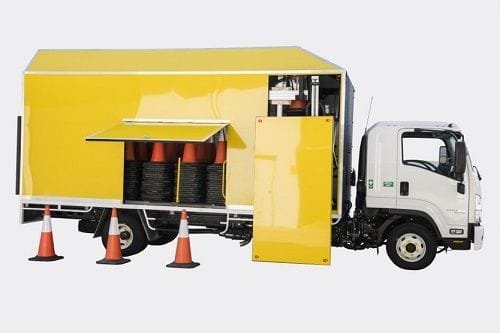 Colin Caudell says the problem is that people don't respect traffic controllers, with the vast majority (94 per cent) of motorists speeding on the approach and through road works and access work zones illegally.
"In fact, the last three traffic controllers that were killed in Queensland, were hit by vehicles speeding through road works," he says.
"To address this problem, we need to have traffic controllers out of harm's way. There is no need for workers to be placed in danger and the industry needs to address technology to make roading safer.
"I am proud of what Arrowes has achieved to bring about change in the safety of traffic controllers in this country."
Ea emphasises road construction and maintenance workers are still amongst the most likely to be involved in a workplace incident.
"This not only includes the immediate danger of being hit by a fatigued or careless driver, but also the long-term impact of repetitive, strenuous tasks," he says.
"The financial and emotional toll an incident can have on families, friends and colleagues can't be understated. In addition to the personal impact, road accidents translate directly to increased costs and delays in infrastructure projects."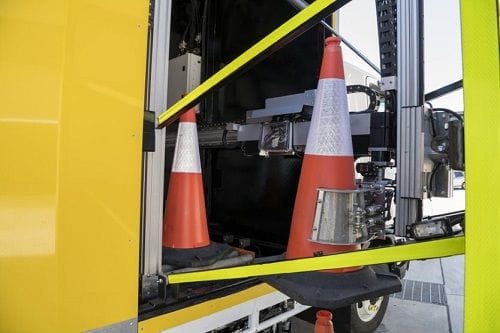 He says Arrowes created a road safety innovation hub in response to Colin's lobbying for the improvement of safety to protect road workers, giving the team its first insight into how real the risk to life truly is.
"We don't believe that high risk should be acceptable in the road construction industry, so we continuously strive to find new and better solutions to make roadwork sites a safer place to work."
Neil Scales, Director General at the Department of Transport and Main Roads, Queensland, commends Arrowes for its new automated cone truck, which will go a long way to improving the safety of workers responsible for deploying cones across the country.
"When road workers put cones out on the road and more importantly collect them at the end of the works, it is vital they are safe," he says.
"It is a priority that we keep up everybody's attention and focus on road safety.
"Any innovation that can help protect workers and everyone else on our roads, is welcomed by my department."
Never miss a news update, subscribe here. Follow us on Facebook, LinkedIn, Instagram and Twitter.
Business News Australia
Get our daily business news
Sign up to our free email news updates.
Help us deliver quality journalism to you.
As a free and independent news site providing daily updates
during a period of unprecedented challenges for businesses everywhere
we call on your support