"Zero fuel" is the translation from Italian for a Brisbane-based startup turning a new corner in the electric vehicle market, rolling out its range of moped scooters that can be charged in a standard 240-volt wall socket.
Not to be confused with the e-scooters commonly found on the pedestrian pavement, Benzina Zero's range of electric scooters are road-legal - less Lime, more Vespa - and are the result of four years of development from business partners Joe D'Ercole and Ben Silver.
The pair had previously worked together at the Australian arm of retail chain Scooterlife, which was led by D'Ercole and sold 18,000 units during their time with the group.
Having worked together for 20 years, and after Silver had put his sustainability values into practice living in an off-the-grid home in the countryside, the duo started discussing what the next big shift in transport might be to effect meaningful environmental change.
"We could start seeing a trend around electric vehicles, and it was our belief at that point in time [2018] that was where the next transition was going to occur, and the electrification of light vehicles like mopeds and scooters actually makes a lot of sense because they don't require a lot of a lot of energy to operate and they have the capacity to be easily recharged," Silver explains.
"It's not hyper power-intensive. You don't actually need to have huge amounts of battery life to support huge amounts of motor output. We thought, let's have something that's going to be comfortable to ride around on every day.
In collaboration with a factory in China but with Kelvin Grove-based Benzina Zero owning the intellectual property, three different models were developed: City which can reach 45km/h with a range of 80km; Sport which hits a top speed of 75km/h and has a range of 105km; and Duo, designed with racks that useful for personal use or delivery riding, reaching speeds of 65km/h with a range of up to 105km.
Silver notes the power consumption required for a bike that goes at 50km/h is vastly different to a bike that travels at 100km/h, and that has implications for design and charging.
"Its design is simple, and sometimes simplicity is timeless," he says.
"The iconic part of the Vespa is it was shaped in a certain way for certain reasons – it was shaped with beautiful panel sections on the back to cover the spare wheel and the motor.
"In the Duo we don't need to do that, so we can pare the design back and we can still create something that's iconic because the functionality of the vehicle matches the mechanical elements of the vehicle."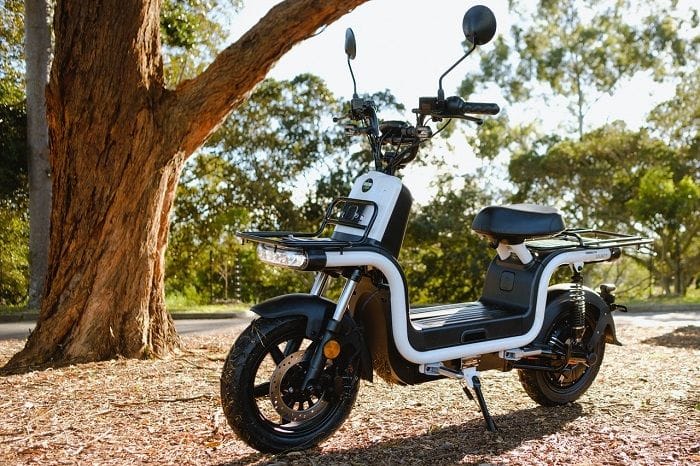 The entrepreneur says the first prototypes arrived in Australia in April 2021, followed by testing over a period of time, seasons and temperatures because "a lot of the time we see a lot of theoretical range projected by manufacturers and it sometimes is not especially as accurate as it should be".
Charging from zero to 100 per cent is estimated to take up to 3.5 hours depending on the model, although Silver notes there is an easy option to keep a spare battery that can be hot-swapped in 10 seconds; a key feature targeted at larger national and international fleet operators that have already started trials.
"Most people, just like they do with their mobile phone, will just plug it in overnight and in the morning it's ready to go. In fact, you can actually plug it in next to your mobile phone because you just need a 240 volt wall socket. You don't need any specific EV charging infrastructure," he says.
Privately-funded Benzina Zero currently has 12 staff spread across its operations in Australia and Italy, with the latter based out of Vasto in the Abruzzo region on the Adriatic Coast east of Rome.
"The Italians love the way they look," D'Ercole says.
"I was on a Duo in Italy in August and locals were literally flagging me down from the sidewalks and shouting out from balconies to ask me what it was and where they could buy one.
"People are telling us they love how practical they are, they are impressed with the quality of the scooters and how good they look."
Silver says Italy will serve as a launchpad into other European markets and discussions are already underway with potential dealership partners in other countries.
"In Europe we see two big things - one is they've really pivoted to the electrification of zero-emission vehicles very quickly, and the second thing is they have a very different culture around two wheels," he says.
"A Duo, which you can ride on a car license in Queensland, you can ride at 14 years old in Europe. They get two wheels – Italy's going to be our launchpad into Europe essentially."
A dealership approach is at the core of Benzina Zero's strategy both in Europe and Australia.
"There are a lot of businesses now that are going direct to consumers, but the big thing for us is we believe that the dealer is a facilitator - a really really important part of the process between a product and a customer," he says.
"It's nice that if someone has a problem they can go back to the people that are in their local area and they know that they've got the ability to help them out."
Here in Australia, the company will be making its formal domestic launch at EV Moto Brisbane in Capalaba, a business created by well-known multi-franchise car dealership Bartons.
"They are assembling a range of electric lifestyle products from mopeds and scooters like we sell electric golf carts...they're one of the biggest dealers that we have," he says.
"We think what Bartons are doing with EV Moto is a little bit revolutionary, and we're really excited to be able to support them."
In addition to the reduced carbon footprint versus conventional mopeds, the founders have also pledged that for each vehicle sale they will regenerate one square metre of Australian land to build a 'Benzina Zero forest'.
"Swapping a car for a Benzina Zero electric scooter means you can remove two tonnes of greenhouse gas emissions from our atmosphere every year," Silver says.
"We were the first electric vehicle manufacturer in the country to sign up to the B-cycle battery recharging program ahead of all the major players including four and two-wheel vehicles."
Get our daily business news
Sign up to our free email news updates.
Help us deliver quality journalism to you.
As a free and independent news site providing daily updates
during a period of unprecedented challenges for businesses everywhere
we call on your support