Australian CBD office vacancy rates have risen modestly in response to the COVID-19 pandemic, thanks to historicially high levels of occupancy in the months leading into the crisis.
According to research from the Property Council of Australia, Australian CBD office vacancy rates increased from 8 per cent to 9.2 per cent over the six months to July 2020, with flat tenant demand overall.
However, vacancy remains below its historic average, with the key Sydney and Melbourne CBDs sitting at less than six per cent.
Vacancies in other capital city markets are stable with Canberra at 10.1 per cent, Brisbane at 12.9 per cent, Adelaide at 14.2 per cent and Perth at 18.4 per cent.
Property Council chief executive Ken Morrison said the previous record low rates of vacancy in the biggest CBD office markets provided a strong buffer against the initial impact of COVID-19.
"The impact of COVID-19 on our CBDs and office markets is still at an early phase, but so far the pandemic has had only a modest impact on vacancy rates," says Morrison.
"Vacancy rates have increased over the past six months, but tenant demand has so far been flat, not falling, and overall vacancies are still below the historic average.
"It's a reminder that office markets have been resilient in the first stage of the pandemic, despite the fact that many office workers have spent months working from home."
The vacancy rate for the Sydney CBD was 5.6 per cent (up from 3.9 per cent in January) and the Melbourne CBD vacancy was 5.8 per cent (up from 3.2 per cent in January).
Melbourne CBD vacancy was most significantly impacted by a 4.6 per cent increase in additional office supply, while the Sydney CBD vacancy was most influenced by 1.2 per cent reduction in tenant demand.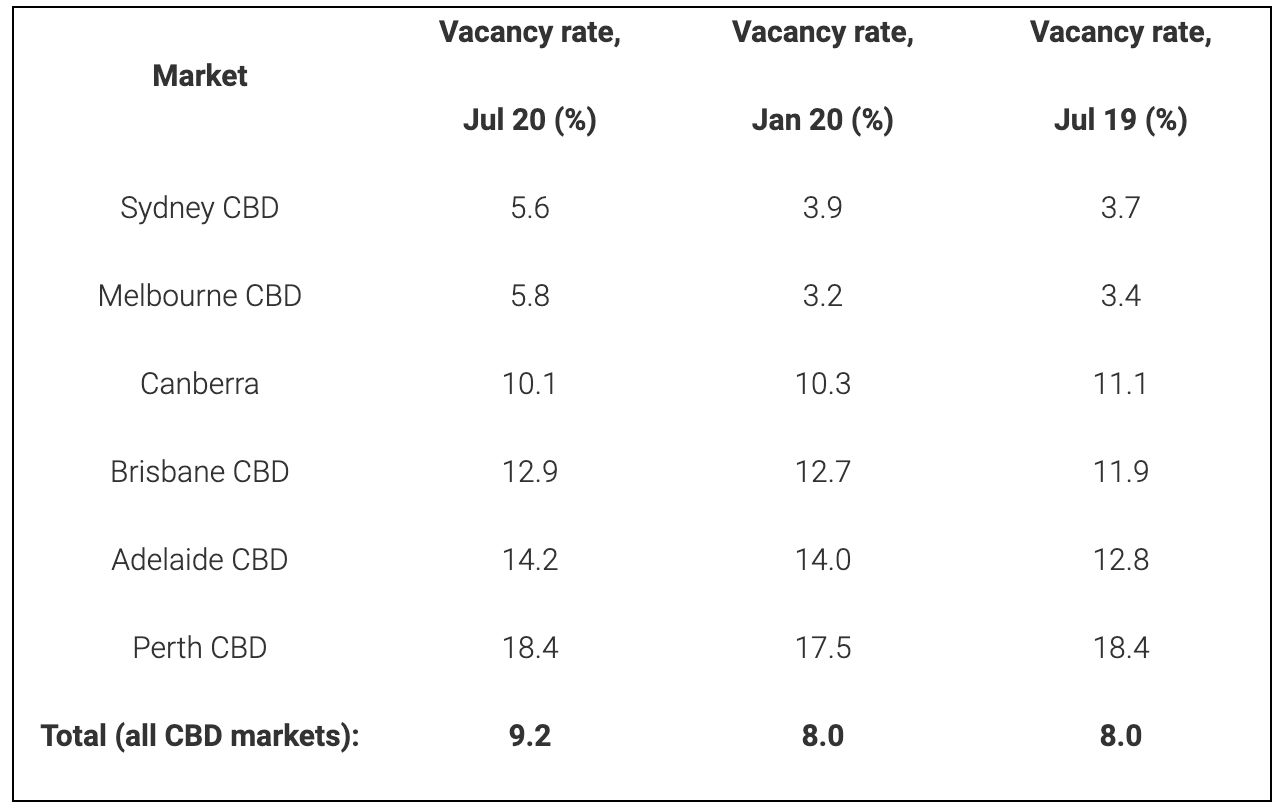 In the non-CBD markets a similar story played out, with vacancy rates increasing from 9.2 per cent to 10.3 per cent.
Though the COVID-19 pandemic forced many Australians to experience working from home for the first time, Morrison says this trend is temporary and unlikely to result in the forecast "end of the office".
"While there is plenty of commentary about the end of the office, the data doesn't suggest this and there is a long way to go as business works its way through the economic and social impacts of COVID-19," says Morrison.
Almost 400,000 square metres of new office space will come onto capital cities markets in the remainder of this year, with the Melbourne CBD will account for 48 per cent of this space, of which 82 per cent is already pre-committed.
In addition, the Property Council says almost 1.2 million sqm of office space will be supplied in CBD markets over the next two and a half years.
Vacancy low for premium space in Sydney
While the Sydney CBD recorded its lowest level of demand in 11 years for the six months to July 2020, vacancy generally remains tight for premium office space.
"Sydney's office market has traditionally been very tight and recorded some of its lowest vacancy rates in the past couple of years, which has put us in a better position to navigate the challenges of the COVID-19 pandemic being felt right across the property industry," says Property Council of Australia's NSW acting executive director Belinda Ngo.
"Tenant demand fell by 58,675 sqm over the six months with most of this occurring in B-grade office space, whereas there was slight positive demand for Premium space.
"We saw some new supply enter the Sydney CBD with more to come over the next two years. There is 117,161sqm of new stock due to enter the market in the second half of 2020, and a strong pipeline of new office stock planned for 2021and 2022."
Vacancy rises in Melbourne for the first time in four years
Melbourne's CBD office vacancy rate hit 5.8 per cent at the end of July, the first rise in four and a half years.
The Property Council says the increased rate is not due to falling demand, but a confirmation of significant developments opening.
"It is simply too soon to tell what the impact of the pandemic will be on the office market, but Melbourne started from a very strong position," says Property Council Victoria executive director Cressida Wall.
"Coming off the lowest vacancy rates in the city's history prior to the pandemic, it is likely that demand will remain strong, notwithstanding Melbourne's temporary shift to home-based working.
"While we all deal with this significant public health situation, it is not too early to put plans in place that reanimate the Melbourne CBD and provide a sense of safety and comfort for office employees when they return."
Adelaide hot property as the most "liveable" city
COVID-19 has only had a moderate impact on Adelaide's office market, with vacancy increasing marginally from 14 per cent to 14.2 per cent.
The city saw 11,530sqm of new commercial office space come online over this period. A-Grade office stock was the most popular asset class, with vacancy dropping from 11.3 per cent to 10.8 per cent in the six months to July 2020.
The Adelaide City Fringe also recorded an increase in vacancy from 14.2 per cent to 14.4 per cent, primarily due to negative demand.
"Adelaide has demonstrated over the past six months that it is a comparatively safe, healthy and resilient capital city, with a growing number of competitive national advantages," says Property Council SA executive director Daniel Gannon.
"When it comes to which capital is Australia's most liveable city at the moment, Adelaide wins hands down.
"Occupancy rates in the CBD are strong and increasing, businesses are building momentum and investors are still looking for reliable places to park capital."
Brisbane and Gold Coast in line with national trends
The CBD office markets in South East Queensland have remained stable during the COVID-19 pandemic period, with the impacts mirroring what's happening on a national scale.
Vacancy in Brisbane CBD increased from 12.7 to 12.9 percent over the past six months", says Property Council Queensland executive director Chris Mountford.
"It was a very similar story in the Brisbane fringe market with vacancy increasing from 13.6 to 14.2 percent.
On the Gold Coast vacancy increased marginally from 12.8 per cent to 13 per cent, driven by negative demand for space.
Perth market remains resilient
With Western Australia more or less isolated from the health crisis ongoing in Australia's eastern states Perth's office market has emerged relatively unscathed.
In Perth the overall vacancy rate for the six months to July 2020 was 18.4 per cent, in line with a year ago, and only slightly higher than the January 2020 vacancy rate of 17.5 per cent vacancy.
Property Council WA executive director Sandra Brewer said Perth's Premium and A-grade office continued to perform strongly but vacancies rose in the lower grades.
"Perth and Adelaide was the only capital cities in the country to report a reduction in space available for sublease," says Brewer.
"Perth's CBD market, which was thought to be on the cusp of a turnaround before the pandemic, has so far experienced relatively moderate effects. The industry will be monitoring tenant demand and sublease vacancy over the next six months as the economic impact of the pandemic plays out."
Updated at 12:08PM AEST on 13 August 2020.
Get our daily business news
Sign up to our free email news updates.
Help us deliver quality journalism to you.
As a free and independent news site providing daily updates
during a period of unprecedented challenges for businesses everywhere
we call on your support