A national partnership with Sydney-based fintech Slyp will see Chemist Warehouse transition away from paper receipts across its entire store network in an effort to improve its environmental footprint.
The collaboration will see Chemist Warehouse offer instead a fully-itemised smart receipt delivered directly to customer mobile devices, powered by Slyp's technology, for in-store purchases across all of its more than 460 stores.
Fintech Slyp was launched in partnership with National Australia Bank (ASX: NAB) in December 2020, and allows customers to receive smart receipts directly in their banking app in lieu of paper receipts.
Since launch, more than 120,000 users have signed up to start receiving smart receipts in the NAB app from more than 20 major retailers including General Pants Co, Harris Farm and Cue.
Currently Chemist Warehouse prints 2.2 million paper receipts across Australia every week, so the partnership will dramatically reduce the amount of paper waste generated by the company.
"As Australia's leading pharmacy retailer we strive to provide our customers with the latest in technological innovation to enhance their in-store experience and we're proud to be setting the standard when it comes to digitisation within the industry," Chemist Warehouse Group chairman and co-founder Jack Gance said.
"We're delighted to have launched Slyp Smart Receipts to improve our environmental footprint and simplify the checkout process for both our customers and our retailers.
"Intuitive and easily accessible, smart receipts are the next, logical step forward in the transformation of the retail experience and move towards a more sustainable in-store approach".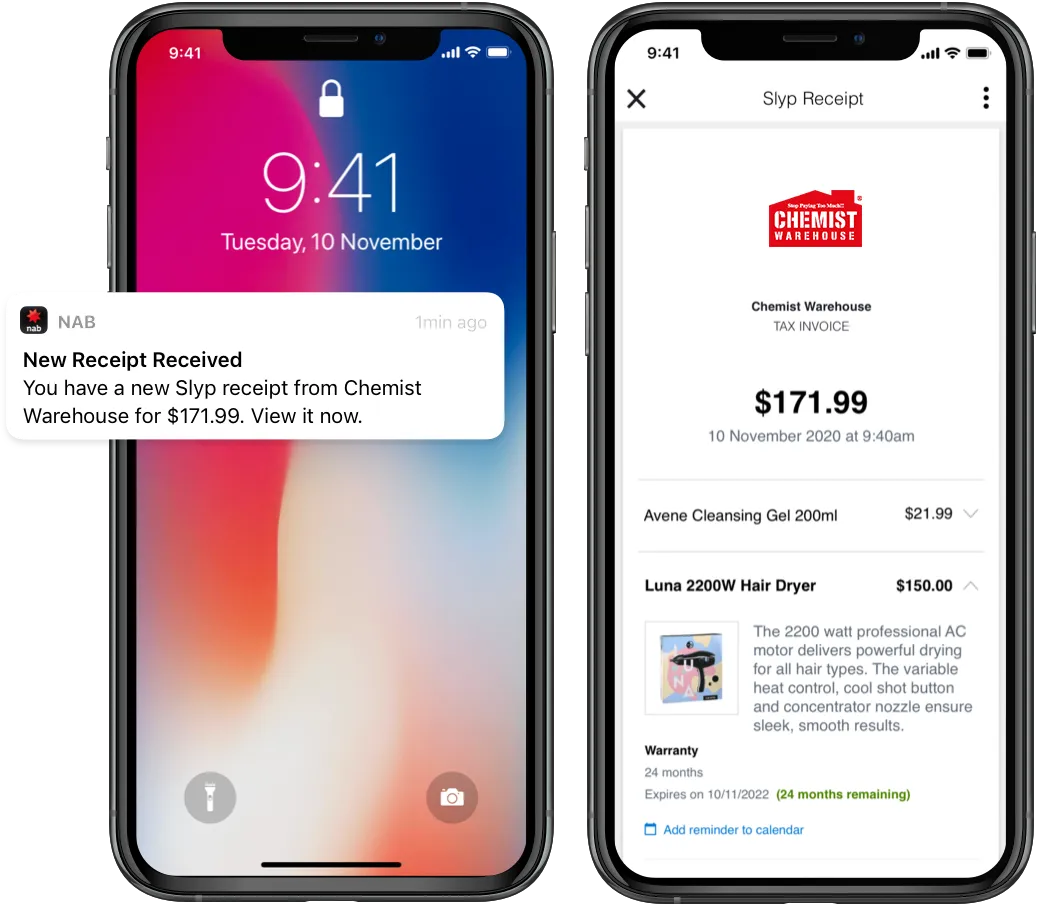 With further integrations currently in the works with other major and regional Australian banks, as well as Buy Now Pay Later (BNPL) providers, Slyp is planning to be in the hands of one in two Australians within the next 12 months, with the goal of reducing Australia's consumption of paper receipts drastically over the coming years.
"We're on a mission to eradicate paper receipts from the retail sector and make sure that by this time next year whether through their banking app, in-store or via their BNPL provider one in two Australians have access to the smart receipt experience," Slyp co-founder and CEO Paul Weingarth said.
"The retail sector has been calling for a smart alternative for years and the uptake we've seen in recent months tells us that both merchants and their customers firmly agree.
"With the backing of NAB, further support and integration with other major banks, and by partnering with leading retailers like Chemist Warehouse, we're on a path to transform the Australian retail sector, streamline the payments process and bring retailers closer to their customers while saving our environment from unnecessary destruction".
Get our daily business news
Sign up to our free email news updates.