"For someone to come in and try and replicate what we have, we estimate it'd take them well over 10 years to do, and it'd cost them well over $500 million. That gives us a really significant barrier to entry," says Cobram Estate Olives (ASX: CBO) joint CEO Sam Beaton.
Australia's largest olive oil producer has dipped into the life of a listed company today, as the cash-poor but local market-dominant Cobram Estate Olives (ASX: CBO) sets out to replicate its vertically integrated model in the US.
Founded in 1998 by Paul Riordan and Rob McGavin, who combined own almost a quarter of the business, Cobram produces around 71 per cent of Australia's olive oil crop with 2.4 million trees in the ground worldwide.
"We produce more olive oil this year than an entire country, so more than the entire production of France, more than Israel produced, more than the entire production of the USA," McGavin, who is now Cobram chair, told a Zoom conference this week.
Joint CEO Sam Beaton told the conference that in addition to its own Australian olive groves that are used in the company's Cobram Estate and Red Island brands, the group also markets 10 per cent of the balance of the domestic crop.
"This means that if consumers want to buy Australian extra virgin olive oil, they really have to purchase it through us," he said.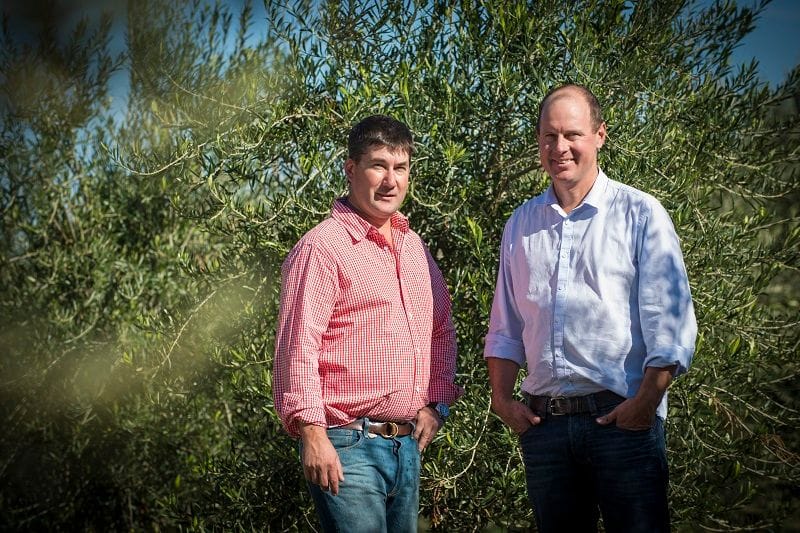 Cobram Estate Olives co-founders Paul Riordan and Rob McGavin
It was McGavin and Riordan whose vision put the Cobram wheels in motion, but the Cobram chair said that if he "wrote the first chapter," it was joint CEO Leandro Ravetti who "wrote the book".
Ravetti had worked at Argentina's National Institute of Agricultural Technology before moving to Australia to join Cobram in 2001. At that time, olive oil consumption per capita was slightly higher than one litre per person.
"Over the past 20 years that consumption more than doubled to about just a tick over two litres per capita, and the bulk of that growth was on the base of Australian extra virgin olive oil and Cobram Estate olive oil in particular, remembering there was hardly any production of domestic olive oil back in 2001," he said.
"Those two litres per capita is still a long way from the current consumption in other countries like Spain, Italy or Greece, with average consumptions at or above 10 litres per capita."
He noted Cobram had been conducting educational campaigns about olive oil usage, health attributes, its value and versatility for the past decade, which had played and would continue to play a "critical role" in driving more consumption.
Now the group aims to mimic that success in the United States, where it currently has 300 hectares of olive groves in California combined with similar vertically integrated systems to what it has in Australia.
Ravetti sees strong parallels between the two markets.
"In fact, the consumption of olive oil in the USA right at the moment is very much that of Australia 20 years ago, so it's just a tick over one litre per capita with a very, very small percentage – less than 5 per cent of the total consumption - in the USA actually coming from American oil," he said.
"That's why it is such a great opportunity to try to replicate what happened in Australia, but in a market that is seven to eight times larger than that of Australia."
Beaton said Cobram had olive oil groves, a processing plant, a storage facility, a bottling line, administration and a laboratory in California, and had also invested greatly in packaged goods distribution with a shift from its previous bulk oil model.
In the US the company sells both branded and private label olive oil nationwide to most major retailers including Safeway, Costco, Whole Foods and Walmart.
North American sales rose 39 per cent to an expected $41.4 million on a pro forma basis in FY21. This compares to a 7 per cent drop in sales to $101.1 million in Australia, keeping in mind olive trees naturally produce in biennial cycles of 'on' and 'off' years, with FY21 sales corresponding to the crop from a lower yielding FY20.
"It's really important to understand that we've invested well over $100 million into our USA business and started that from scratch," says Beaton.
"In the last three years we've really started getting traction with our sales. We're now selling over $35 million in packaged goods product, all extra virgin Californian olive oil.
"Importantly, we're at breakeven from that business perspective which is really pleasing."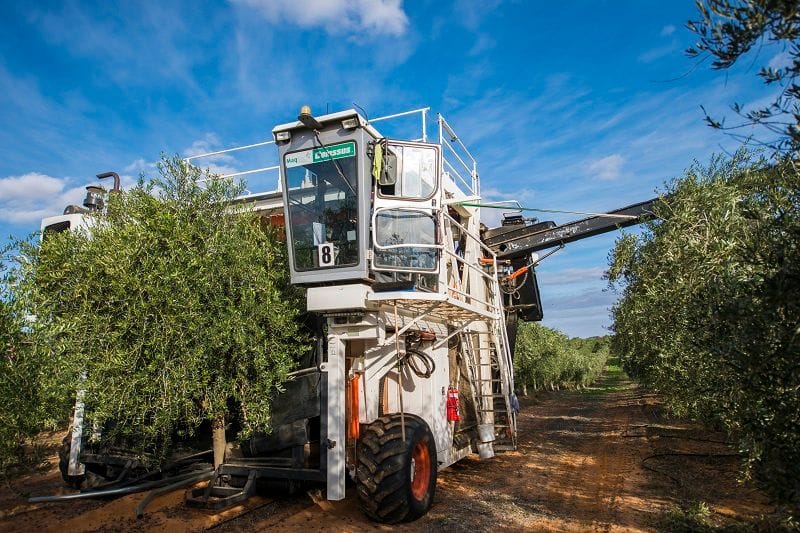 Cobram's aggressive investments take their toll on cash flow
Cobram, whose financials were audited by Deloitte as part of the listing, reports a forecast $500,000 pro forma EBITDA for the USA, up from an $8.1 million loss, along with a significant bounce in Australian pro forma EBITDA from $4.5 million in the red to $73.2 million in the black.
Meanwhile, the company's line of olive-based wellness products sold under the Wellgrove brand is running at an EBITDA loss of $5.3 million.
In statutory terms however, EBITDA is down across the board, and it appears the estimated net profit after tax of $33.6 million is largely the result of a significant uptick in the fair value of agricultural produce.
Cobram's cash levels were low at the end of 2020 at just $800,000, and only $10 million of its $143.5 million worth of debt facilities was undrawn. Despite its positive net profit result, net cash flow is set to be $2 million in the red.
No indicative share price was given in the prospectus offer as it was for a compliance listing, including the gifting of 65,000 shares to employees. CBO shares opened at $1.87 each and at the time of writing had fallen slightly to $1.82, equating to an estimated market capitalisation of $705 million.
Cobram's debt levels of $166.8 million are at a 2.5x multiple of projected EBITDA, but taking the average over two years – which McGavin recommended in the prospectus based on the biennial nature of yields – its debt is seven times EBITDA.
Can Cobram's quality reputation crush the competition in a market marred by adulteration?
Agribusiness in general requires patient capital, and Cobram's ambitions for growth and increased market penetration here, in the US and in other export markets are very aggressive, with 6,584 hectares in production in Australia and a further 300 hectares in California.
But the group also has plenty of land up its sleeve.
"In total, the Company owns 18,500 hectares of freehold farmland, of which 16,700 hectares is freehold farmland in central and northwest Victoria and southwest New South Wales," McGavin said in the prospectus.
"In taking a 'tree-totable' approach to olive growing and marketing, we manage all aspects of the olive life cycle and ensure that every bottle or tin of extra virgin olive oil we produce meets our high standards.
"We also own Australia's largest olive tree nursery, three olive oil mills, and two bottling and storage facilities."
He said the company was well positioned to capitalise on growing demand for clean, natural, functional foods, and leverage the group's expertise in olive growing and processing, and marketing for premium extra virgin olive oil.
Company executives also believe Cobram stands to benefit from its vertical integration and reputation, given the extra virgin olive oil industry globally has been plagued by adulteration. This is particularly well documented in the book 'Extra Virginity: The Sublime and Scandalous World of Olive Oil' by Tom Mueller.
"Extra virgin olive oil unfortunately, and olive oil in general, is one of the most adulterated products on earth, so if you don't know and trust the brand you're buying, you're sort of almost certainly getting ripped off," McGavin said in the Zoom conference.
"It doesn't make us proud. It makes us quite sad actually, but it gives us a competitive advantage when we're different and we've got such high-quality competitive pricing."
Ravetti explained that most of the world's olive oil-focused groves were small operations lacking in mechanisation, noting in the Mediterranean there were around 1.1 million growers producing on 1.1 million hectares.
"So that leads to a lack of investment in agricultural technology, a lack of mechanisation, and fundamentally also a lack of vertical integration," Ravetti said.
"Olive oil represents less than 2 per cent of the total fats and oils consumed in the world by volume, but more than 10 per cent by value."
Ravetti says it was this demand outstripping supply scenario that had led to adulteration practices in the industry, resulting in "mistrust for those big brands that certainly never owned a single olive tree".
"In a nutshell, the weaknesses of the industry created the opportunity for Cobram Estate Olives by being able to grow olives in a fully vertically integrated fashion at scale, at competitive prices, and with full traceability from tree to bottle," Ravetti said.
Get our daily business news
Sign up to our free email news updates.
Help us deliver quality journalism to you.
As a free and independent news site providing daily updates
during a period of unprecedented challenges for businesses everywhere
we call on your support