Bold risk takers leading ASX-listed companies are proven to be more financially successful, according to a report compiled by Australia's national science agency CSIRO.
The report Thriving Through Innovation: Lessons from the Top has been compiled in collaboration with the University of Queensland through a survey of innovation data from executives and senior leaders of ASX-listed companies.
Produced with a view to helping businesses navigate the fallout from COVID-19, the study used a statistical approach that linked the responses with the financial performance of the companies involved. It found four factors that drive success in business.
Corporate entrepreneurship was the most important, and this involves risk-taking behaviour, innovative thinking and proactiveness to be bold for innovation-driven growth.
Innovation novelty was also identified, and this means being first in the market with innovations that are new to the world or Australia.
If you're thinking of going it alone, the survey says the chances of success are not borne out in the statistics. The study says collaborative breadth is vital for success. This involves co-creating innovations with a range of collaborators including customers and research agencies.
Companies with so-called 'triple threats' were also identified as winners, meaning they are able to simultaneously introduce three kinds of innovation - to products, processes and business models - at the same time to fully unlock and protect value.
The CSIRO says these four factors combined can help companies launch successful new products, enter new markets and create new industries.
"When science solves a seemingly impossible problem, it can create a whole new market that didn't exist before and that grows the pie bigger for everyone," says CSIRO chief executive Dr Larry Marshall.
"Collaboration on science-driven innovation drives real economic growth, new jobs, and will grow us out of the COVID recession."
Associate Professor Tim Kastelle, director of entrepreneurship & innovation at the University of Queensland Business School, has a warning to big businesses where CEOs and senior leaders often declare the need for innovation.
"Most are unwilling to actually change the way their organisations think and act - and without changing behaviour, there's no change in outcomes," Kastelle says.
"This report does a terrific job of not just laying out why building an innovation capacity is so important, but also in illustrating how to go about changing the mindsets and behaviours that enable innovation."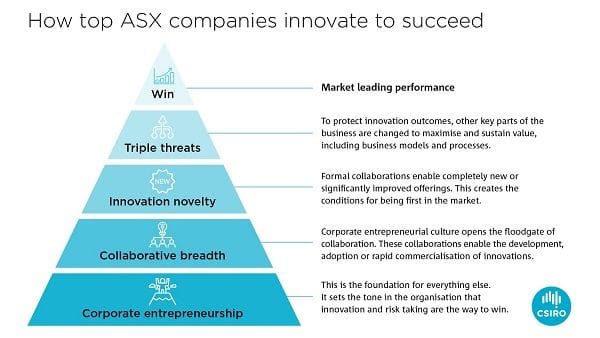 Dr Andrew Nash, the chief scientific officer of CSL (ASX: CSL), highlights how his company is driven by innovation, particularly in light of the biotech's efforts in producing a vaccine for COVID-19.
"In our business, if you're not innovating, you're managing your exit," Nash says.
"The role that science is playing in the battle against COVID-19 has demonstrated the importance of being able to respond quickly, to repurpose infrastructure and bring together collaborations in a way that addresses new challenges through novel solutions.
"We've been extremely heartened by the spirit of collaboration and openness that the pandemic has precipitated across industry and academia.
Phil Morle, partner at Main Sequence Ventures which manages the CSIRO Innovation Fund, says embracing innovation is vital amid ongoing economic uncertainty.
"The most innovative companies in the world have emerged from a creative, courageous surge that comes from times of struggle," Morle says.
"Our world now has many problems to solve. These problems lead to opportunities. It is a potent moment for business leaders to unlock entrepreneurial talent in their organisations, begin some unusual collaborations and watch the unexpected new sprouts of growth emerge."
Never miss a news update, subscribe here. Follow us on Facebook, LinkedIn, Instagram and Twitter.
Business News Australia
Help us deliver quality journalism to you.
As a free and independent news site providing daily updates
during a period of unprecedented challenges for businesses everywhere
we call on your support