DAMIAN Griffiths is so much more than Mr Doughnut Time.

The Brisbane entrepreneur and former immigration lawyer has spun a world of successful businesses, starting with backpacker accommodation 12 years ago.

His plans were soon upgraded as he travelled Europe and spotted a growing market for boutique, budget hotels. This sparked his creation of Limes Hotel, the first real rooftop bar in Brisbane.

...and then Alfred & Constance, Alfredo's Pizzeria, Kwan Brothers, Chester Street Bakery, Les Bubbles Steak & Frites Restaurant, Mister Fitz and Doughnut Time.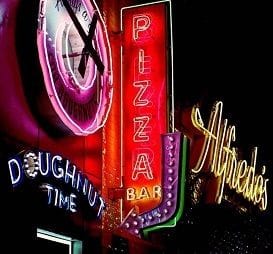 Just over a year old, Doughnut Time is already a fabled brand in the minds of young customers. Typically operating as a hole in the wall, it's standard for queues around the block and social media frenzies when Griffiths opens a new store. The brand was also sniffed out by Top Shop executives to be fixed into stores across Australia, taking the total Doughnut Time store count to 24.

Griffiths is working on a number of new projects at the moment, including a back street precinct in Brisbane and a bar-restaurant concept on the Gold Coast.

Recently, his hospitality group caught the eye of a larger retail group, again, which this time has taken partner in his company while Griffiths still retains all control.
What's the secret sauce to the serial entrepreneur's success?
Look for the holes in the market
Griffiths was shocked at the lack of late-night dining in Brisbane, where overseas visitors accustomed to eating late were faced with nothing but McDonald's or kebab shops after 9pm.

This sparked the creation of Alfred & Constance.

"There wasn't a hell of a lot around. Brisbane still felt like a country town that came alive on Friday and Saturday nights at the clubs.

"To address the gap, I came up with the idea of doing a multi-venue precinct: pub, beer garden, pizza shop, cocktail bar, Asian eatery. Put it all together and when you go and pitch something like that to a bank, they think you are nuts and just have too many things going on. But if you look at any successful venue that's been going for 100 years or more, they have a bottle shop, bar, pokies room and a nightclub upstairs."
Give customers an aspirational feast
Social media created Doughnut Time, believes Griffiths.

He recognised its initial target demographic of 18 to 25 year olds wanted a bite of a lifestyle, rather than a product as such. This was the making of Doughnut Time as a lifestyle brand.

"We took the proven concept of selling doughnuts and just created something new by touching an aspiration point for consumers. Our target market almost doesn't want to respect brands who are selling, but instead respects brands who are doing cool things. Sometimes the social stuff seems quite pointless, but it's all about getting customers to understand your brand.

"I have a lot of respect for PR and marketing. I really advise anyone in business or starting a business to have a PR strategy, particularly if you have a new concept. Sometimes, if you can't afford a PR agent, you can at least get advice off them. I think the whole way traditional media has gone, they are faced with cost cuts, so are relying on quality press releases."
Keep a maverick mentality
Griffiths started his first hospitality venture, Limes Hotel, in the midst of the GFC. On the surface, 'one of the worst times to start a business' since the Great Depression.

"But I've always had a maverick mentality. Particularly in hospitality, it can work to your advantage when things are uncertain economically because your competition level is a lot lower. I generally don't put my mind too much on politics, you just have to make your own call on things.

"The Alfred & Constance opportunity came about from a couple of rundown timber Queenslanders. We took off and started, then of course, the GFC hit. The banks basically pulled the funding. One of the partners in the project thought it would be best to sell one of the houses and keep the other. We overcame this somehow and created A&C, which is still a very eclectic operation.

"From that, we started a bakery [Chester Street], an opportunity presented to us by a guy who asked if we wanted to take it over as part of his retirement plan. We started this cake shop and making pastries for all our different businesses, and the doughnuts obviously became a business in their own right."

Want more tasty tips for hospitality success?
Get our daily business news
Sign up to our free email news updates.
Help us deliver quality journalism to you.
As a free and independent news site providing daily updates
during a period of unprecedented challenges for businesses everywhere
we call on your support