A Melbourne-based drone logistics company helping deliver critical medical supplies and pathology samples around the world has raised $16 million in a Series B funding round led by Main Sequence.
Swoop Aero's raise also received support from venture capital fund Giant Leap and the defence investment arm of the CIA In-Q-Tel, alongside returning investors Artesian and Folklore Ventures.
The capital injection will help the drone company scale its networks in Africa, Southeast Asia, Oceania and Europe, in addition to expanding its local manufacturing capabilities.
Swoop Aero CEO Eric Peck said he was aiming to scale the company's infrastructure "country by country" so that it can reach 1 billion people by 2030.
"We're thrilled to have the support of such exceptional VC funds as we expand our integrated logistics networks across the globe and look to scale these networks to stack and deliver services that will transform how the world moves," Peck added.
"Drone logistics is about more than delivery; it's about establishing a new infrastructure layer for society; an infrastructure layer which leverages the skies for movement of goods and delivery of services in a way that hasn't been possible in the past."
Founded in 2017, Swoop Aero's drone delivery service assists partners in government, agriculture, mining, healthcare, forestry and wildlife to achieve research outcomes, life-saving patrols or supply movement.
The recent raise will help Swoop Aero scale up production of its Kite aerostructure – which can transport up to 5kg of supplies – in Port Melbourne throughout 2022 and 2023. Manufactured by Quickstep Holdings Limited, the drone can fly 130km/h in 90 per cent of wind conditions with a 3kg payload.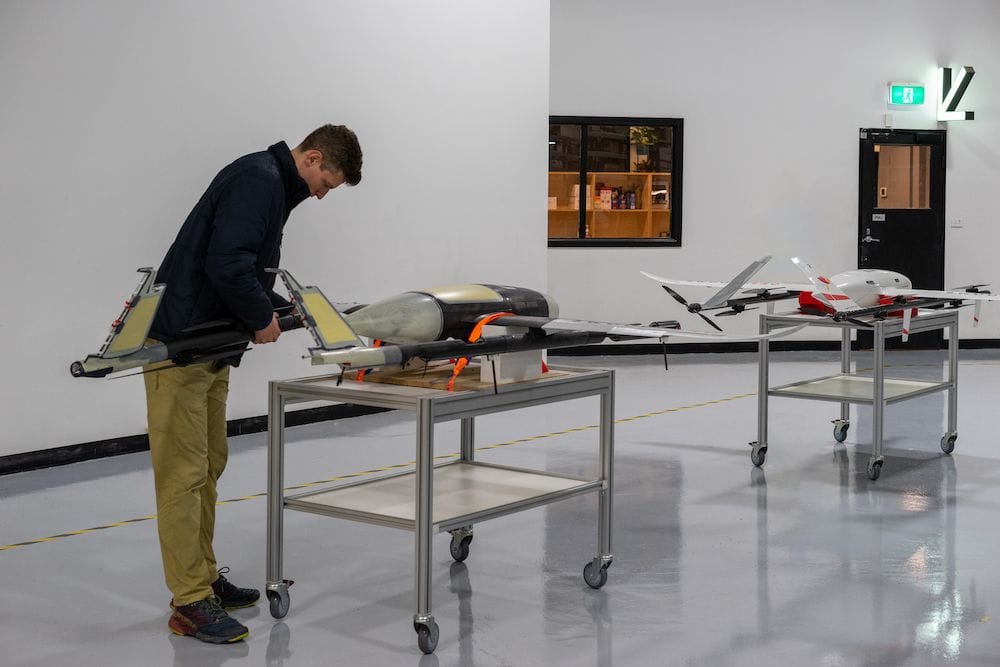 In partnership with US-based not-for-profit VillageReach, the company has been able to expand its network in Malawi and the Democratic Republic of Congo to improve the accessibility and availability of routine and emergency health supplies.
Swoop Aero also delivers vaccines in Vanuatu, where it has conducted more than 70 operational flights and transported 25kg+ of medical supplies. Using its drones, the company has made life-saving emergency deliveries of Oxytocin to mothers suffering from postpartum hemorrhaging.
In late 2020, the company conducted drone flights carrying 300 lab samples (140 COVID-19 samples and 160 Tuberculosis samples) for processing in Mozambique laboratories. Over a period of five days, approximately 100,000 people directly benefited from daily drone pick-ups of samples.
After a successful first phase, Swoop Aero launched its drones in three Mozambique provinces (Maputo, Sofala and Inhambane) last month to support the emergency transportation of COVID-19 tests, samples, results and vaccines, in addition to other highly infectious pathology samples.
In order to reach 1 billion people, Swoop Aero has also teamed up with the US Federal Aviation Authority (FAA) and the Australian Civil Aviation Safety Authority (CASA) to undertake a drone certification project that will see it become one of the world's first dual drone certified organisations.
"With over 15,000 successful flight operations across 12 different countries, advanced Australian manufacturing capabilities and Type Certification underway of our most advanced aircraft, the Kite, Swoop Aero will continue to rapidly scale networks across all environments to establish a new infrastructure layer in cities and regions alike," Peck said.
Swoop Aero has also been expanding its beyond visual line of sight (BVLOS) operations across a number of new verticals, including ship-to-shore operations for high-value goods and European postal deliveries. To date, the company has helped deliver an estimated 800,000 items by drone worldwide.
The announcement comes just two weeks after drone tech company Aerologix announced it raised $4.2 million to grow its staff headcount.
"After looking at many drone companies throughout the years, we are proud to back Swoop Aero for building a full aircraft operation system from the ground up to comply with civil aviation regulations around the world," Main Sequence partner Mike Nicholls said.
"Every time a Swoop aircraft takes off, it eliminates the cost, time and emissions needed to send a delivery by vehicle.
"Swoop Aero is leading the way, benchmarking the future of logistics technology and aviation, in turn making high impact, equitable and quality logistics networks a reality."
Get our daily business news
Sign up to our free email news updates.