Not even a global pandemic could stop the Gold Coast's most inspiring young business leaders from achieving success in 2020.
From fashion and fitness to marketing, manufacturing and medicine, each industry that makes the Gold Coast unique has been represented by its heroes in the 2020 Young Entrepreneur Awards.
We asked our entrants about the year that was, and how they managed to thrive during this unprecedented time.
While each answer was different, there appeared to be some common threads in how they answered the big question: do we dig in, or do we ride the wave?
Some decided to fight tooth-and nail and refused to let COVID-19 interfere with 'business as usual'. Others opted to seize unexpected opportunities that, in many ways, changed the course of their businesses forever.
The award winners this year are an almost equal reflection of both approaches, yet the Gold Coast Young Entrepreneur of the Year showed us how simply keeping calm and collected can be the best strategy in times of crisis.
That winner is Tammy Hembrow, the founder of Saski Collection and TammyFit.
---
Click here for a presentation of all the winners and finalists at the Gold Coast Young Entrepreneur Awards 2020.
---
Hembrow blitzes 2020
Tammy Hembrow is one of Australia's undisputed queens of social media with an Instagram follower count of 11.6 million alone.
This army of fans made her one of the top 10 most followed Australians on Instagram in 2020, alongside global megastars including Chris Hemsworth, Margot Robbie and Miranda Kerr.
While it's one thing to be Insta-famous, it's entirely another to leverage that success in the business world.
Through no small amount of determination, that's exactly what Tammy has done through her iconic fitness-come-fashion empire.
In a year when other clothing retailers tanked due to poor sales, Saski released multiple collections and each sold out almost instantly.
In a year when it seemed every gym owner, fitness enthusiast or health blogger released their own 'home-workout program', TammyFit blew hordes of new and old competitors out of the water with a doubled subscriber count.
But 2020 certainly wasn't without its hurdles. Saski lost its chance to appear at Miami Swim Week and grappled with a heavily impacted supply chain due to COVID-19.
When asked about overcoming these challenges, Hembrow's cool demeanour and water-off-a-duck's-back response is almost as unexpected as it is inspiring.
"Mostly the delays have been just annoying, and we had to cancel Miami Swim Week where we were going to have our first swim fashion show this year which was a bit frustrating because a lot of planning went into that," she says.
"We had to change some things around and move some collections because, obviously, there was big delays with getting some of our stock and samples but it's all worked out."
And so it has.
TammyFit recently released its inaugural 8-week challenge which attracted more than 2,000 participants globally.
Earlier this week Saski also dropped its long-awaited swimwear line and Tammy's fans dropped their jaws. In true Saski fashion, it sold out in minutes.
Tammy plans to keep the momentum for both businesses going in the year ahead.
"For TammyFit we just want to keep growing our subscribers and bringing in new features to the app," she says.
"With Saski Collection we're actually bringing out accessories like bags, socks and headbands, a lot more swimwear and also a lot more kids collections like 'mum and mini' collections."
Trailblazer Award winner a step closer to reaching the final frontier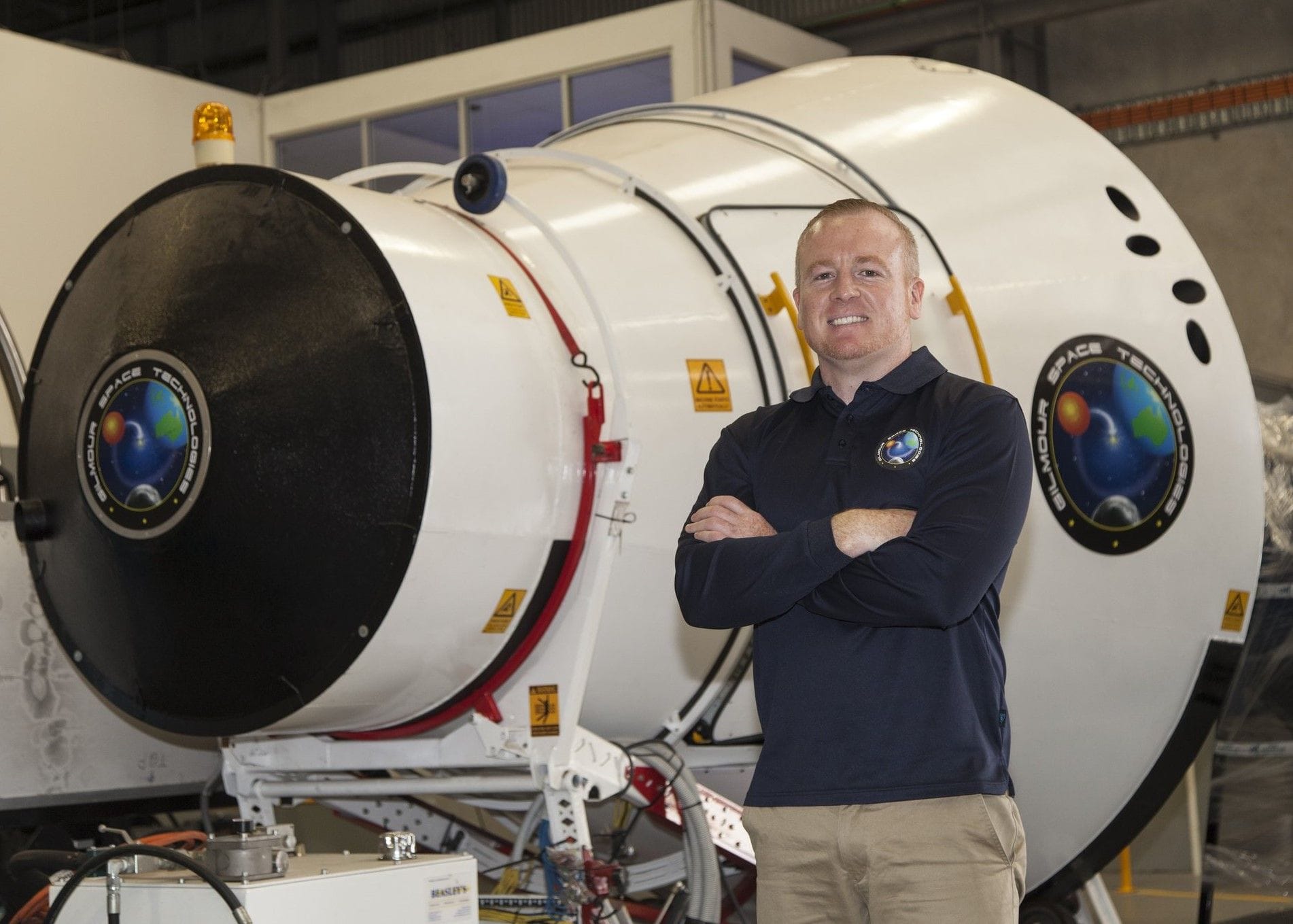 Space exploration and commercialisation are often associated with multi-billionaires and entrepreneurs like Elon Musk, Richard Branson or Jeff Bezos.
But in this tech-driven time where our need to connect is greater and launching satellites is cheaper, the moment is fast approaching when Aussie entrepreneurs like James Gilmour, the Gold Coast 2020 Trailblazer of the Year, will walk with the giants.
He co-founded Gilmour Space Technologies with his brother Adam, who recently became a voice for Australia's commercial space interests on a Four Corners episode entitled 'The new space age'.
"My brother and I have always been fascinated with space and space tech," says James Gilmour.
"After a 2009 September trip to the Kennedy Space Center in Florida, and witnessing first-hand the space renaissance led by people like Elon Musk and Richard Branson, it was time to make a play. So I quit my job as a business relationship manager at Dell and moved to Singapore to start the business with my brother."
Gilmour Space Technologies has since brought the operation back to home soil, developing rockets that are designed to launch small satellites into orbit.
While there is an extremely high demand for such launch vehicles worldwide, up until now their cost has been astronomical and their availability scarce.
"There is this problem launching satellites," explains Gilmour. "There are over 30,000 satellites which need be launched in the next decade to specific orbits and there is just not enough capacity to get them up into space."
"What we do at Gilmour is solve that problem, we are developing a launch vehicle to take 300 kg to low Earth orbit at a cost we believe will be consistently cheaper than all known competition."
According to Gilmour, the development cost for small launch vehicles has been above US$100 million in the recent past. Gilmour is on track to do it for $30 million.
Gilmour Space Tech has hit several major milestones this year, including signing agreements and statements of intent with the Australian Space Agency and the Departments of Defence, Science and Technology.
The company has also won key development grants and has grown its talent pool to 60 avid staff with aspirations that are quite literally out of this world.
Gilmour Space Technologies is now well poised to reach its lofty goal of becoming Australia's first multi-billion-dollar launch company.

Never miss a news update, subscribe here. Follow us on Facebook, LinkedIn, Instagram and Twitter.
Business News Australia
Help us deliver quality journalism to you.
As a free and independent news site providing daily updates
during a period of unprecedented challenges for businesses everywhere
we call on your support