Don't give up until you've touched prospects nine times.
Are you being unseen, unheard, unsold?
A touch is any way you reach out and say "Hey, I'm out here" and US-based expert sales trainer Jack Daly says most salespeople and organisations quit at five or fewer touches.
But, he says in his book Hyper Sales Growth, statistics show the magic number is nine. That's how many touches you need before someone knows that you exist.
So, buckle up for the long haul. You need to stop assuming people know you're there, and start concentrating on becoming a touch expert.
Step One:
Have a touch system at all. There are four databases of people for whom you need to build a touch system. The databases are prospects, customers, clients and "other" (those who don't fit into the first three buckets).
Step Two:
Put into the "other" database all the people who might recommend your product or services. Jack Daly calls these people "swim coaches" after his own swim coach recommended a bicycle shop that won Daly's business. The swim coach may receive nothing for the recommendation, but the bicycle shop has won a tonne of business from him.
Step Three:
Avoid these three common mistakes: Not touching prospects enough, stopping before the magic number nine, and focusing exclusively on your products and services. People don't want to be sold to.
Step Four:
Send them information about their industry. Touch them in ways that help them be better at their business. Touch them with general business ideas that you've gleaned from reading, seminars and workshops (email, drop off personally, or send via snail mail). Don't include a plug such as "Hey, by the way we're selling a new product" or "Look, we've got a great price on this." Let the provided information stand on its own.
Step Five:
Prioritise your time by breaking down each of your prospects, customers, and clients, into categories A, B, C, D. Those in the A category are those who deserve to be touched every day with something in some way. The B category gets touched once a week; C category once a month; D once a quarter.
Jack Daly says the touch system is another vehicle to increase your perceived value, and to help you differentiate yourself from the competition. And remember, it's not just companies that have perceived value. Individuals do too, he says, and so there's no reason to wait for your company to set up a touch system for you.
Want your sales team to attend the Jack Sales Winning Sales Strategies workshop? Suitable for CEOs, sales teams and sales managers, the explosive full-day workshop will be in Melbourne on July 22, 2019, Brisbane July 24, 2019 and Sydney July 26, 2019.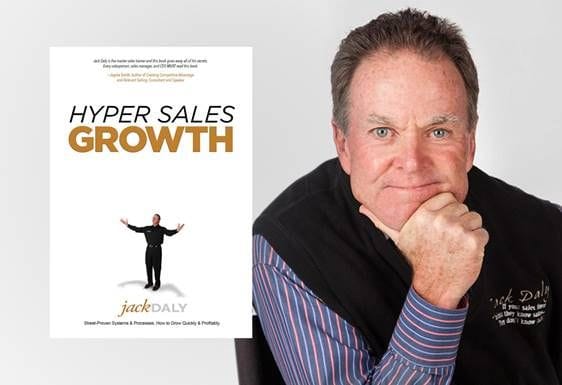 Never miss a news update, subscribe here. Follow us on Facebook, LinkedIn, Instagram and Twitter.
Business News Australia
Help us deliver quality journalism to you.
As a free and independent news site providing daily updates
during a period of unprecedented challenges for businesses everywhere
we call on your support