Australian kimchi producers are currently clamouring for supply of the fermented specialty's signature ingredient wombok, also known as Chinese cabbage, but Brisbane-based company Kehoe's Kitchen has the benefit of having a contract grower in the Lockyer Valley whose eight-week season has just begun.
This takes some of the sting out of a year when the company would have had to double its pricing to maintain minimum margins, but like so many food manufacturers Kehoe's has just been absorbing that cost.
After eight years manufacturing fermented foods that are now sold in more than 1,200 independent retail stores as well as select Woolworths outlets and a few trials with Coles, the company nonetheless has scale and a diversity of lines helping it ride out supply challenges for some ingredients.
Ahead of last week's Australian Organic Conference, co-founder Katrina Kehoe caught up with Business News Australia to discuss how Australia's first organic certified producer of fermented veggies was born.
---
It all started with a dietary diversion, a gut feeling and a Facebook page.
After putting her family on a modified paleo diet reinforced by fermented foods that assisted her with an illness, in 2013 Katrina set up a Kehoe's Kitchen Facebook page where she "copped a little bit of flak" from sharing photos of what she was feeding her kids.
"It was just a bit of teasing - people saying 'that looks like it would taste like cardboard' because it was not made with flour. Everything was sugar-free and grain-free," she said.
The page grew in popularity though, evolved into a website, and with her husband Brenden Kehoe, Katrina started drop-shipping fermentation equipment and blogging recipes.
"We imported a pallet of fermentation crocks, and they were fragile. We were selling them just via the website and they were getting broken by Australia Post, so we started doing market stalls as a way to educate people on fermented foods and sell that," Katrina said.
"The guy at Northey Street Organic Farmers Market here in Brisbane would only give us a fortnightly spot because we weren't an organic producer. He said if you start making sauerkraut we'll give you a weekly spot."
With an equipment resale business model in mind, Katrina was reluctant at first but eventually submitted to the sauerkraut stipulation.
"My first reaction was 'no way, that's not how I work, I'm not going to make that for everyone'. At the time my husband was about to take long service leave for three months so I could concentrate on writing a cookbook," she said.
"On the first day of leave I took him to lunch and pulled out some plans for converting the lower story of our house into a commercial kitchen – he said yes, and so we got to work and about a month later we started selling fermented foods and healing foods at the markets."
After six months of selling at markets with fermented vegetables from their Carina home, the husband-and-wife duo were supplying directly to around 25 retailers whose representatives had "hit us up at the market stall".
"Word got around and people weren't doing what we were doing," Katrina said.
"We had a number of employees working for us, including my parents, and Brenden. When he wasn't looking after the kids, he was running out and getting pallets of jars and cabbages for us and doing everything to support us as well, and of course doing the markets on the weekends."

Just before Kehoe's Kitchen reached its first anniversary it became Australia's first organic producer of its kind, prompting a fairly rapid scale-up.
"That was when we were still in the kitchen under our house. Then we leased a building and built our first off-site kitchen, a 300-square-metre warehouse," the co-founder said.
"We were only there a year-and-a-half before we took the unit next door and we put in a cold store and dedicated packing room in there, so we ended up with 750 square metres.
"The first facility away from home was in Murarrie in Brisbane, and almost three years ago we moved diagonally across the road to where we are now which is Goodman place, which is a massive facility with 2,200 square metres."

In the company's range that includes kimchi, sauerkraut, pickles, fermented dips, pastes and spreads, Katrina explained almost 100 per cent of ingredients were from Australia, with an emphasis on sourcing higher quality products that translate to quality wild ferments.
"It means you rely on the wild bacteria that's from the garden, that's on the vegetable from the soil from underground and above ground," she said.
"Underground you get microbes on beetroot and carrot, for example, and above ground you get different microbes on your wombok and your cabbage, so by doing wild fermentation we're just allowing those naturally occurring microbes to flourish and multiply in the right anaerobic environment, which is the fermentation tank."
She noted the company also does not use starter cultures which have become increasingly common in sauerkraut and kimchi manufacturing.
"People who sell starter culture for cheese, pepperoni, wine and beermaking have decided to sell it to the sauerkraut industry as well. And they tried to tell me it'll give me a more consistent ferment and a fast ferment," she said.
"It's not necessary. We've never used it for fermented vegetables, not since the early days in our house when we tried it just for our own eating.
"When you're doing it with milk, you're actually pasteurising the milk so it's dead and there are no microbes there. Whereas with sauerkraut, you're not pasteurising it, it's just all raw and fresh and it's covered in probiotics, so even if you add a sachet of probiotics, who says that's more than what's in the actual vegetables?"
She described fermenting vegetables as a "lost art" - one that Kehoe's Kitchen has been bringing back, although Katrina noted she had developed a lot of intellectual property (IP) along the way through experimentation.

"Because I was a structural engineer I feel that I have an advantage to other people in doing that. And I have a food background as well, so we've developed some pretty good methods and processes over the last 10 years," she said.
In that time the company has built the capacity to adapt to changing market conditions, including diversifying into new products in light of shortages in some crops.
"We've actually just started a white label product which is a lobok-based, or daikon-based product, in a meal kit at one of the major supermarkets - it's really good to diversify and have that, which is a root vegetable that's been less affected by the flooding," she said.
"There's not much wombok or cabbage around at the moment, so we're not chasing work at the moment. We're just keeping up with what's happening here.
"The price of wombok went to $88 a carton at the peak – we haven't bought any for a couple of weeks because we're just holding off...we're just praying the price will come down."
This refers to purchases on the spot market, but in the meantime the group does have its contract grower who is helping to fill the gap. The forecast is for a "tricky" year ahead for wombok as the vegetable is so fragile, but the drumhead cabbage used in sauerkraut has fared somewhat better and there are more supply options from interstate.
One factor that does help counteract these seasonal challenges is the storability of fermented products, although some customers demand a six-month minimum for the 'best before' date. Kehoe's Kitchen responds to these dynamics by offering free shipping incentives to customers who make orders for a one-tonne pallet.
"Because we use wholesalers to sell our products across Australia, we don't have direct contact with the retailers, but we get lists from them now and then - I believe we're at 1,200 independent retailers across Australia," she said.
"We're in a number of Woolworths stores in Queensland and New South Wales, and we're trialling some stores in Coles."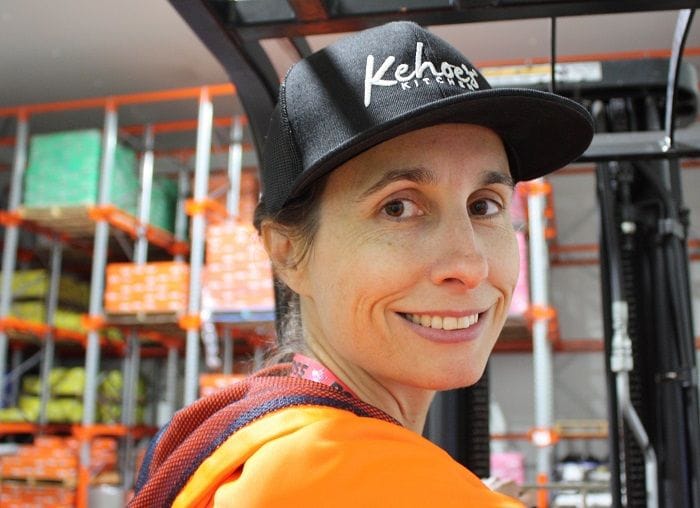 Whilst Katrina is not pushing too aggressively to get product into more stores, now that international airlines are operating more regularly the company is finally making export forays it had planned before the pandemic, with the first overseas shipment sent in late 2021.
"We're exporting to a couple of retailers in Hong Kong and in Singapore, and we've just registered in Indonesia; we were supposed to be selling in Indonesia this year but that's been delayed because of COVID," she said.
"We're doing some work with the Brisbane Economic Development Agency on connecting with the Malaysian market at the moment as well."
Trade Investment Queensland has also been helping Kehoe's Kitchen, introducing it to a retailer in Hong Kong, while export deals elsewhere have been more organic.
"Scoop Wholefoods came to us from Singapore, and other ones actually found us from our organic wholesalers who are exporting organic produce and other products," she said.
As a product that can be kept cool without perishing in a short space of time, it would make sense to export fermented vegetables via sea freight - a longer term goal once the company receives requests for larger orders.
"We've done a little bit of sea freight consolidated with other products that are going to Singapore, but everybody else has been air freight. Until they get bigger orders, it'll be air freight," Katrina said.
"It'll be sea freight eventually, but that'd be a pretty big first order."
Get our daily business news
Sign up to our free email news updates.
Help us deliver quality journalism to you.
As a free and independent news site providing daily updates
during a period of unprecedented challenges for businesses everywhere
we call on your support