The Federal Government has poured an additional $15 million into rocket manufacturer Gilmour Space's tank, with funds to go towards developing and launching a sovereign surveillance satellite for the Australian Defence Force.
The agreement comes just over a month after the Australian Space Manufacturing Network (ASMN) – led by Gilmour Space – was awarded a $52 million grant from the Federal Government to help build a facility for the construction of rockets and satellites.
Under the deal, the Gold Coast-based company will develop a prototype G-class satellite for Defence Space Command – which was formed four months ago to counter space threats - and launch it via a Gilmour Space-manufactured Eris rocket in 2023.
"This is a big milestone for an Australian-owned company that's working hard to develop sovereign space and launch capabilities for our civil, commercial and defence customers globally," Gilmour Space CEO Adam Gilmour said.
"We firmly believe that partnerships like this will help to grow future space and defence primes in Australia and lead to more capability for defence in the years ahead."
Defence Minister Peter Dutton said the satellite will be used "to counter threats" and assure the nation has "continued access to space-based intelligence, surveillance and reconnaissance."
"Defence is closely engaged with the Australian Space Agency and Australian industry to develop and supply sovereign space surveillance and mission system capabilities," Dutton said.
The government's defence force first established a partnership with Gilmour Space two years ago to jointly develop defence-related space tech, specifically targeting rocket motor-system components.
"Since that time, we have been testing materials and propulsion technologies – all with a view to developing a hybrid rocket to launch payloads and small satellites," Dutton said.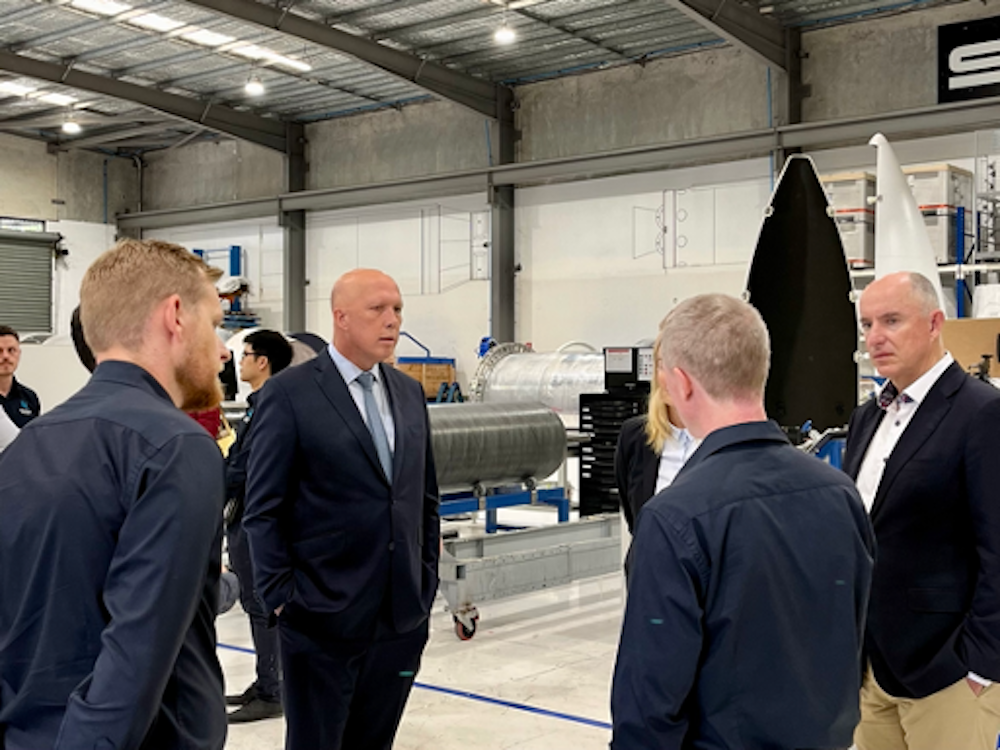 Founded in 2013, Gilmour Space has grown to become one of Australia's largest space companies - raising $87 million to date and managing 140 employees.
Today's announcement comes just a month after Gilmour Space agreed to work alongside Perth-based LatConnect60 (LC60) to launch a hyperspectral microsatellite into orbit – which would allow data harvesting for industries such as agriculture, forestry and mining.
The company has also previously entered into partnerships with Sydney-based Space Machines Company, electronic warfare sensor company DEWC Systems and US-based Momentus.
Minister for Employment, Workforce, Skills, Small and Family Business Stuart Robert said the company is a Queensland and Australian success story.
"This company launched Australia's first privately developed hybrid rocket and they are offering people with a wide background of skills in manufacturing, engineering and support roles the opportunity to launch their own career in space right here on the Gold Coast."
The Federal Government has committed $7 billion in space defence funding over the next decade to assist the development of space services and geospatial information.
Get our daily business news
Sign up to our free email news updates.