Following two successful years of scaling in Australia and New Zealand, Melbourne-based STRONG Pilates is looking to capture the attention of fitness enthusiasts in the UK market with the opening of three flagship studios across London slated for February 2023.
Founded by former F45 franchisees Michael Ramsey and Mark Armstrong, STRONG Pilates will open studios in the districts of Islington, Holborn and Fulham as part of its ambitions to have 100-plus locations operating across Australia, New Zealand and the UK within the next four years.
The fast-growing brand, which currently has 21 locations across Australia and New Zealand, is also looking to open locations in Canada, Singapore and the US next year.
Speaking with Business News Australia, Ramsey said the launch into the UK was happening a lot sooner than anticipated.
"It's surpassed all expectations. I'm amazed by the uptake and the communities we've been able to build in such a short period of time," said Ramsey, who won the Fitness category at the 2022 Australian Young Entrepreneur Awards over the weekend.
"It's a massive opportunity because there's a huge population in the UK and there's really nothing like STRONG. It looks like we'll be opening all three studios in February, so we're really going for it.
"I think we fit in a genre where we really have no competition yet we're competition to everyone. We're a standalone product that will go into quite an active market."
Founded in 2019, STRONG Pilates is a unique fitness studio that combines Pilates, high-intensity training (HIIT) and rowing, using what is called a 'Rowformer' machine. Each studio - which has between 15-20 Rowformer beds - combines strong controlled movements and bursts of fast movement to help fitness enthusiasts burn 800-plus calories in a single 45-minute session.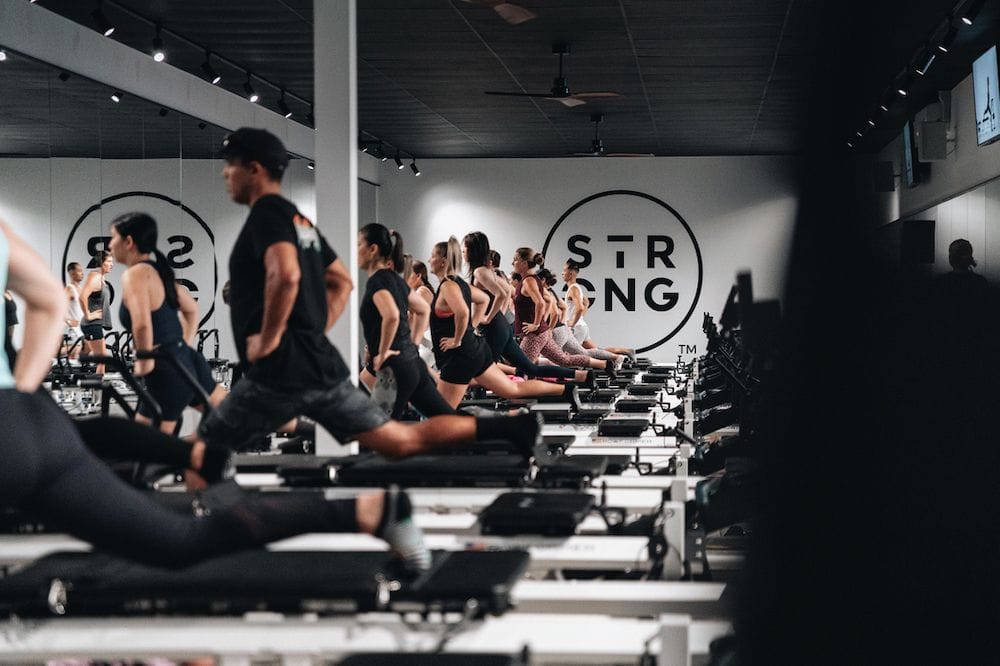 Ramsey and Armstrong sold six of their F45 studios to kick-start STRONG Pilates, as well as gain exclusive rights for the US-developed Rowformer - which initially applied to Australia, New Zealand and Asia but is now expanding even further.
"We're negotiating master franchises in Canada - which is almost done - and also Florida right now. We're definitely going global with it," said Ramsey.
"Everything else is designed in-house - all the programming, all the tech, the way the classes run. We've got a huge team of movement staff - exercise, physiotherapy, Pilates, strength and conditioning.
"We're probably one of the only fitness franchises to really grow substantially during COVID. It definitely made it difficult, but we still managed to open a Gold Coast location during Melbourne lockdowns. We were able to keep growing and going into markets that were relatively unaffected - like Adelaide, most of Queensland, Hobart and even scaling into New Zealand."
Two months ago, ClassPass – which is the largest health club aggregator globally – named Pilates as the fastest-growing genre in Australia and New Zealand, following a 250 per cent growth in Pilates class reservations over the last 12 months.
STRONG Pilates foray into the UK market is being led by former Australian international cricketer John Hastings, who is now the UK managing director of STRONG Pilates.
"We identified a gap in the international market for a fitness offering like STRONG Pilates, particularly given the rapid growth within the Pilates space," Hastings said.
"This is an opportunity to balance high intensity with controlled strength training - something the UK market has been demanding for some time now."
STRONG Pilates' UK expansion also received backing from serial entrepreneur and investor Matt Berriman. The sum Berriman invested is undisclosed.
"As an ex-elite athlete transitioning into business some 15 years ago, I saw the market opportunity for STRONG Pilates after their hyper-growth in Australia and UK's thirst for the offering," Berriman said.
"I have first-hand seen John build his franchises in Australia, so it was a great opportunity to not only back a fellow elite sportsman transitioning into business but also invest in a space where we can clearly see a mass need for high-quality, intense, but a low impact fitness experience."
Help us deliver quality journalism to you.
As a free and independent news site providing daily updates
during a period of unprecedented challenges for businesses everywhere
we call on your support