Potentially catching the remnants of the biotech sell-off from late 2021, the share price of ASX debutant Microba Life Sciences (ASX: MAP) took more than a 20 per cent nosedive on its first day of trading on Tuesday.
The Brisbane-based outfit's disappointing debut came after it successfully raised $30 million in its initial public offering (IPO), as it aims to capitalise and take advantage of a growing body of research demonstrating that the gut microbiome plays a central role in health and disease.
At pains to stress that the business doesn't consider itself a typical biotech company during a press conference announcing the listing on Wednesday, the message seems to have struck a chord with investors, with shares up 7 per cent to $0.38 per share at close on Wednesday.
The commercial-stage entity operates two revenue-generating services, microbiome testing and a data-driven drug discovery platform. Microba has sold 20,000 gut microbiome testing products to consumers and healthcare practitioners on a paid fee-for-service basis, for which the business charges around $90 per test and earns a 95 per cent margin.
Microba hopes to drive the discovery and development of novel therapeutics for major chronic diseases through this testing, with therapies currently being developed to address autoimmune, inflammatory, metabolic, mental health disorders and cancer immunotherapy.
"We have the world-leading technology for measuring the human gut microbiome, and we've demonstrated this technology is best in class. The technology enables us to deliver accurate and comprehensive microbiome testing services globally, together with our distribution partners, and also identify therapeutic leads from the microbiome," Microba CEO Luke Holtham Reid said.
"The reason why this technology is so important is that these organisms are absolutely critical for your health and in the development of disease, and there are now more than 100 clinical studies demonstrating that if we make changes to that community of organisms that live in your gut, we can change the course of chronic disease and outcomes.
"The opportunity that opens up, and the future that we see, is that microbiome therapies will be available to treat chronic diseases from autoimmune and inflammatory disorders through to mental health disorders. Microbiome testing will be available to match patients with the right treatment and to monitor health, much like a blood test does today."
Company Background
The origins of Microba date back to 2004 when co-founders Professors Gene Tyson and Phillip Hugenholtz published the first shotgun metagenomic study into a microbial community at the University of California, Berkeley.
In 2010, after a decade spent in the United States, both professors returned to Queensland and established a research centre for the microbiome at the University of Queensland. Remaining at the forefront of microbiome research and innovation, both professors are in the top per cent of cited researchers in the area.
In 2017, Microba was formed after the business acquired the intellectual property from the University of Queensland, which now forms the basis of the company's analysis platform. The gut-health business currently has 52 full-time employees, including 25 PhDs, giving the company significant technical know-how and deep commercialisation experience.
Professor Ian Frazer, a non-executive director at Microba, is one of the more high-profile members of the team. He is currently chair of the Australian Medical Research Advisory Board (AMRAB) and co-developed the successful first vaccine to prevent cervical cancer caused by the human papillomavirus (HPV).
Launching its first services and product in Australia in July 2018, Microba is now established to test products in New Zealand, the US, Switzerland, the UK, and the Gulf Cooperation Council countries.
During that time, the business has built up a sizeable proprietary microbiome databank that it hopes will drive therapeutic discovery. When the prospectus was released, it accounted for 160 billion fragments of DNA.
Microba's operations are principally based in Brisbane, which is the location of its head office and its state-of-the-art metagenomics sequencing laboratories located at the Translational Research Institute at the Princess Alexandra Hospital.
The company has a growing footprint in the United States with staff, directors and advisors based in New York, North Carolina, Pennsylvania and Baltimore.
What is microbiome
The microbiome is a vast community of trillions of microorganisms, including bacteria, viruses and fungi, that live in and on the human body. Ninety per cent of those microorganisms reside in the gastrointestinal tract, particularly in the large intestine, called the gut microbiome – which helps digest people's food and perform functions that support their health.
Over the past decade, more than 50,000 research studies have demonstrated that the gut microbiome plays a critical role in many aspects of human health and disease.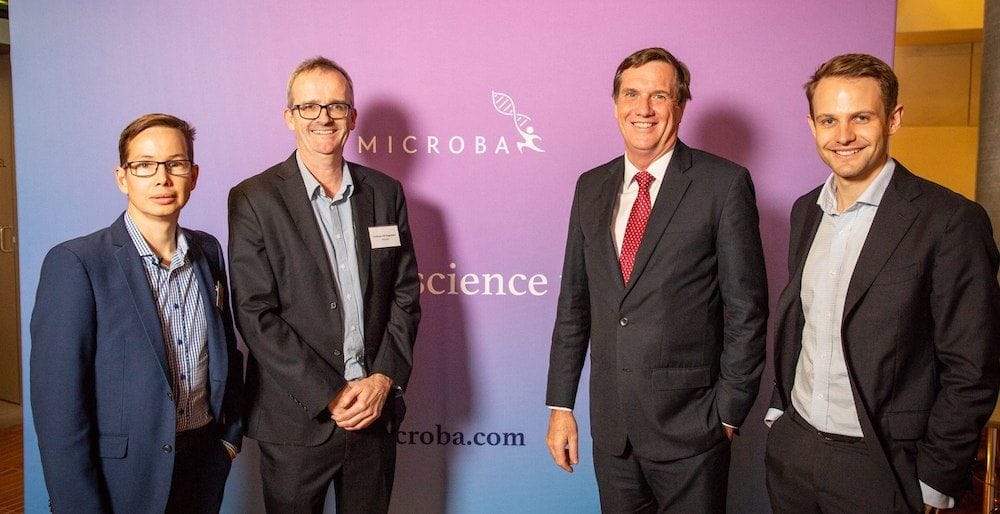 Risks
Microba raised $10 million in capital funding during a Series B round in July 2019, including investment from Alex Waislitz's Thorney Investments, Perennial Value and Sydney-based investment firm Alium.
With an offer price of $0.45 per share, valuing the company's market cap at $123 million, the Bill Gates-backed and NYSE-listed Ginko Bioworks was the cornerstone investor during the IPO round securing $5 million worth of shares. In addition, Ginko also signed on to a two-year drug development program for three autoimmune diseases.
The business has operated at a loss since its inception in January 2017. In the financial years ending 30 June 2018, 30 June 2019, 30 June 2020 and 30 June 2021, Microba had net losses of $0.78 million, $4.73 million, $6.65 million and $7.52 million, respectively.
In the half-year ended 31 December 2021, Microba recorded a net loss of $6.03 million after posting $2.2 million in revenue and strikingly included employee benefits expenses of $6.1 million.
Microba operates three complementary business pillars: microbiome services, databank and microbiome therapeutics, although it does not currently generate revenue from its microbiome therapeutics division. It uses distributors to provide microbiome testing services to healthcare practitioners and consumers.
To achieve commercial success, the business relies heavily on healthcare practitioners accepting the scientific validity and usefulness of its current and planned testing products. Called out as a risk in the IPO Prospectus, healthcare practitioners may be slow to adopt and recommend Microba products to their patients.
Opportunities
Establishing novel therapeutic assets for inflammatory bowel disease (IBD) and a repeatable therapeutic platform, the company hopes to generate financial returns through multiple drug development partnerships. Microba's strategy is to license or partner with large pharmaceutical companies early in clinical development in return for upfront, milestone and royalty payments.
The business is confident that the better acceptance of microbiome testing in clinical practice, demonstrating the gut microbiome's role in health and disease, will drive an improved evidence base that supports clinician decision-making and is a key growth area.
The business will also look to take advantage of the increased prevalence of chronic diseases that are expected to become more severe due to poor diet and lifestyle factors, including a rising occurrence of GI (Gastrointestinal Diseases) disorders including Crohn's disease, ulcerative Colitis and cancers.
Successful approval of microbiome-based therapeutics by the US Food and Drug Administration (FDA), European Medicines Agency (EMA), and the Australian Therapeutic Goods Administration (TGA) will also be a game-changer for the business.
In December 2021, the University of Newcastle (UON) confirmed it is working with Microba on a cognitive gut project with the Australian Department of Defence, exploring the relationship between warfighter cognitive performance and the composition of the microbiome.
The research team will apply the latest genetic testing techniques to determine the gut bacterial composition of many ADF personnel, who will also be assessed for a targeted set of health and performance attributes.
"We continue to build a world-leading human gut microbiome company, supported by partnerships and agreements with large, well-respected companies such as SYNLAB, Ginkgo Bioworks and Illumina," Microba's chairman Pasquale Rombola said.
"We have attracted these partners due to our world-leading technology, unique proprietary Databank and therapeutic assets. Our leading technology position and a growing number of international partnerships provides a strong platform for growth.
"We have received significant investor demand to continue building the premier global microbiome dataset and accelerating the discovery and development of new therapies. Microba will have a positive impact on human lives globally when we are successful in achieving our goals."
IPO Capital and future priorities
The most significant spend from the capital raised from the IPO will go towards data-driven drug discovery. $13.1 million, or 44 per cent, will help accelerate Microba's therapeutic programs in targeted disease states, including data-driven lead identification, isolation, preclinical experiments, disease models, advancement of artificial intelligence computational capabilities, regulatory affairs, manufacturing and clinical trials.
The second-largest share, $7.2 million or 24 per cent, will be used for global penetration and sales growth, on activities like partnership development activities in the US, EU, and other target markets, including business development, product management, implementation, support and education of partner sales representatives.
Looking to establish new distribution partner relationships, Microba is targeting distribution partners in the key regions of Canada, Germany, the United Kingdom, and Hong Kong.
"In the database today, from 15,000 samples, the business has more than 1.2 million microbial genomes matched with one and a half thousand health metadata points on each individual," said Holtham Reid.
"What that enables us to do is generate these very striking health and disease signatures, like depression, Parkinson's disease, obesity, and type two diabetes. The team can then dive into those signatures to define the key organisms that differentiate health and disease.
"We define them as high confidence therapeutic leads that we can then move throughout therapeutic platforms to develop these potent time value therapeutics, and we've established those leads now for 18 diseases and a focus on three key therapeutic programmes that we're executing today.
"Our strategy is to develop these potent therapeutics and the intellectual property packages that surround them, and then we transact the deals with major pharma companies."
The company's first phase 1B human clinical trial, which will be for inflammatory bowel disease (ulcerative colitis), is planned for December 2022. An immuno-oncology program was initiated in 2021 with leading cancer institutes across the United States and Australia. An autoimmune program was created in 2022 under an agreement with Ginkgo Bioworks.
Microba started the year announcing three deals with Ginkgo Bioworks, Nova Diagnostic and G42.
The business will see its new distribution partnerships in the US and the Middle East commence operations as it launches its product into the market and hopes to further expand into Europe together with partners SYNLAB.
"We are targeting the launch of the next generation of our healthcare testing product this year and are excited about what that's going to open up in terms of more ordering behaviour for existing customers, but opening up more practitioner customers as well - so really opening up the market with more utility from that testing service," said Holtham Reid, who holds a Biotechnology Degree from Flinders University and a PhD in Molecular Biology from the University of Adelaide.
"We also have that expanding pipeline of new potential distribution partners, which we're excited about and are progressing quickly through the pipeline.
"On the therapeutic side, we have our IBD programme with a range of major milestones, including completion of our pre-meeting with the FDA, completion of GMP manufacturing with our partners in Switzerland, achieving human ethics approval ready for that phase one trial and then initiation of that trial, and first dosing humans before the end of the year.
"We then have our cancer programme, where we hope to have initial data in hand to support the selection of our leads that we can then progress into preclinical experimentation and our autoimmune programme in partnership with New York Stock Exchange-listed Ginkgo Bioworks well and truly into motion executing that programme of works to discover those very important trends to address those three autoimmune conditions."
Microba announced that Professor Trent Munro will be joining the company as senior vice president of therapeutics yesterday. Professor Munro has over 25 years of research and development experience, including with multinational biopharmaceutical company Amgen.
Get our daily business news
Sign up to our free email news updates.
Help us deliver quality journalism to you.
As a free and independent news site providing daily updates
during a period of unprecedented challenges for businesses everywhere
we call on your support