For years, Dwayne Martens has made a living from peddling "weird and wonderful" fruits to anybody who will give him the time of day.
As the director of Amazonia, Martens now produces and sells a range of raw and organic food products including proteins, smoothie packs and medicines on a global scale.
However, almost a decade ago, you might have seen him eagerly marketing little-known exotic fruits from around the world to local cafés in Western Australia.
With only $3,000 in his pocket, Martens decided to take his first steps in business after falling in love with exotic foods during a long stint overseas.
"I was literally dirt broke. I had my inheritance from granddad and I had been travelling around the world," says Martens.
"When I was travelling, I read several mindset books and I was confident that I was going to get into business.
"So I bought some frozen stock, and I was trying to sell these exotic fruits that nobody at the time ever heard of, like caju fruit, guava and acai."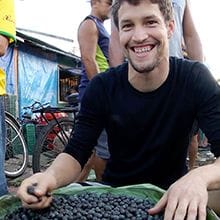 Martens' gamble first paid off when his acai products began to sell out, so he amended his strategy to build a more diverse profile.
He opened several portable juice bars and stalls to generate grassroots interest for his products at local markets and festivals, operating them up until his big break came with the freeze-dried version of his most popular product.
"I had my juice bars I wanted to be the next Boost and I had the acai component, the festivals and the market stalls. I just wanted to see what worked," says Martens.
"I felt that I needed to diversify, so I got my hands on the first ever freeze dried acai.
"At the time, there was a lot of talk about Acai and weight loss, and heaven behold it started to sell very well in the health food stores."
After that, Martens built the Amazonia brand from the Gold Coast with a factory in Brisbane, as business skyrocketed.
It was only two years before the company started turning over around $2 million in a single financial year.
Despite the fact Amazonia had blossomed into a true health food market darling with supply networks nationwide, the business couldn't manage to withstand the destructive power of mother nature.
The 2011 Brisbane floods swept away Amazonia's factory, leaving Martens without any salvageable product, a workforce or a business.
Where many would have thrown in the towel, he decided to go back to square one.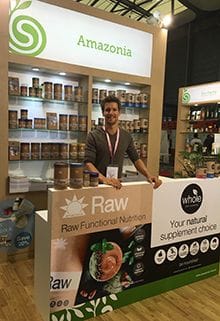 "I didn't have any systems or structure back then, and we lost a lot of money in the Brisbane floods it wiped everything out," says Martens.
"I had to start over, get the sneakers back on and get back on the road to begin again.
"It was really interesting, because after four years and getting to such a stage with a million-dollar company and thinking that it's just going to continue to grow that wasn't the case."
Following a disastrous 2011 Martens focused on the "slow build", reconstructing Amazonia from the ground up with a sharper focus and improved systems.
His resilience quickly paid off, with the Amazonia of today selling around 40 tonnes of frozen Acai per month to juice bars, cafes and restaurants around Australia.
Amazonia has also successfully branched into the supplement market, with most its revenue generated by goods including raw nutrition products and organic protein powders.
Looking back on his journey of building one of the most recognisable health food brands in the country, Martens believes open mindedness, persistence and understanding were the key ingredients to success.
"The biggest issue with a lot of entrepreneurs is that they don't get into the game at all, and I just got in the game," says Martens.
"Those weird and wonderful fruits, all they did was get me into the game."
In the year ahead, Martens plans to take the business global, and Amazonia is already taking its first steps in the European market.
In November last year, Martens was named the 2016 Gold Coast Young Entrepreneur of the Year.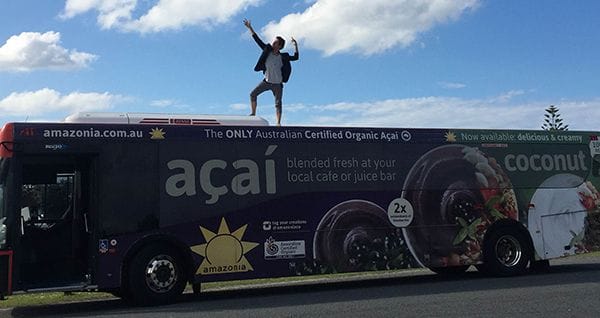 Get our daily business news
Sign up to our free email news updates.