Over the last 14 months FRANKiE4 Footwear has been overwhelmed. But co-founder Caroline McCulloch (pictured) swears it's been the good kind of overwhelming.
The last time we spoke to FRANKiE4 Footwear was in 2012 back then McCulloch and her husband Alan were selling five types of shoes.
But over the last 14 months the company has ordered more than 230,000 pairs of podiatrist approved, fashionable footwear.
Business News Australia spoke to Caroline about the last year of doing business, the current retail environment, and the future for the cult brand.
What has been some major highlights for the two of you over the past year?
Last month 12,053 women completed our survey; 96% said they would recommend FRANKiE4... that floored me. I was confident the percentage would be high, but 96% literally brought a tear to my eye.
On a business level, that makes me feel proud, that feels like a highlight.
In the last 14 months you've seen significant growth, what has been the main driver of that?
With over 15,000 verified buyer reviews we have received online we average a rating of 4.8 out of 5 stars, and with a very high 'customer repeat purchase' rate, I would have to credit the product itself as the main driver of our growth.
Our stockists and our online store are channels that have experienced growth.
The growth our online store is experiencing can feel at times daunting. To be honest, at times we have struggled to keep up with demand; our website crashes when more then 20,000 customers are on it, the customer service team get bombarded with calls and emails, and the warehouse try to keep up with picking and packing the orders. This area causes Al and I the most stress because we like to pride ourselves on excellent customer service. Maintaining that high level of customer service with a high rate of growth can feel like a juggling act but something we are prioritising.
Our focus and efforts are currently on improving the speed we can get stock to our valuable online customers. We've just re-structured our customer service team and employed additional staff. Our new upgraded website went live a few weeks ago so that's been a huge help already too. Our online store has been a huge driver of growth, and we know we must respect and nurture those online customers.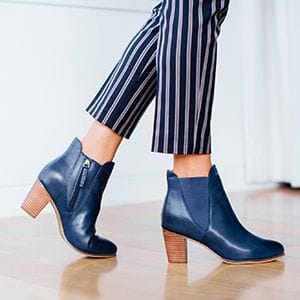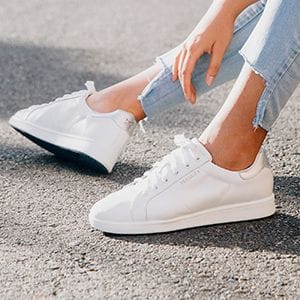 What is the niche that FRANKiE4 Footwear taps into and how did you settle into that groove?
I would say our niche is 'healthy fashion shoes'; we're providing women with a healthier option to the standard fashion shoe.
The longer we do it the more we understand what our customers want which directs our range development each season.
As long as we keep listening to our customers, keep wear testing our designs to ensure we never compromise on our standard of foot support and quality, we will keep in our groove!
Since we last spoke in 2012 I am sure the company has changed quite a lot what have been some major challenges for you during this time and how did you overcome them?
Cashflow was a massive challenge the first few years ... that use to keep me up at night for sure. The growth wasn't exciting because I was so worried we couldn't afford it. It's nice to be out of those woods now. We overcame the cashflow challenge by selling millions of dollar's worth of shoes with a healthy and growing EBITDA.
Retail is notoriously difficult in Australia right now what's your secret to cutting through the noise and succeeding?
I would say that living and breathing our industry for a good amount of time before we launched our label was incredibly useful. We have owned and operated our own footwear retail shoe stores since 2003.
I'm certainly not an overnight success, far from it. I've fitted and sold thousands of pairs of shoes to women before we started FRANKiE4. I've treated many patients and listened to their experience and feelings about comfort footwear long before we created FRANKiE4.
I then immersed myself into footwear development and footwear production since 2010, to better understand the capabilities, efficiencies and today's reality of footwear making.
All these things put Al and I in a position to make sound and sustainable business decisions without relying too much on the advice or influence of others.
What's next for FRANKiE4?
We've been working on something new that will launch in July this year. I'm really confident our customers will love it.
Watch this space.
What is your top tip for young entrepreneurs out there wanting to succeed?
Know who your customers are, listen to them, keep re-inventing, don't take short cuts, avoid making the same mistakes twice, build the best team you can, don't waste time, give back to a good cause when you can afford.
Never miss a news update, subscribe here. Follow us on Facebook, LinkedIn, Instagram and Twitter.
Business News Australia
Get our daily business news
Sign up to our free email news updates.
Help us deliver quality journalism to you.
As a free and independent news site providing daily updates
during a period of unprecedented challenges for businesses everywhere
we call on your support