The founder of a Sydney-based fashion label has come out on top in a trademark case against megastar Katy Perry, with the court handing Katie Taylor injunctive relief and damages following a 15-year legal battle between the pair.
As summed up by the first line of Federal Court's Justice Makovic in her judgment of Taylor v Killer Queen, 'this is a tale of two women, two teenage dreams and one name', and is the culmination of Taylor's long-term trademark dispute against the pop star.
The judgment documents the two very different careers of two women who happened to land on virtually identical names for their artistic endeavours at the tail end of the naughties, with Taylor naming her fashion brand Katie Perry and the pop star - whose real name is Katheryn Hudson - dubbing her solo pop project Katy Perry.
While the latter would go on to have a monumental career in the music industry, the former maintained modest success in Sydney with her line of boutique Australian-made garments.
Taylor, the registered owner of an Australian trade mark for the words 'KATIE PERRY', designed and sold clothes under the same name since about 2007.
She alleged the respondents, including Hudson's companies Killer Queen and Kitty Purry, imported for sale, distributed, advertised, promoted, marketed, offered for sale or supplied goods bearing the word mark 'KATY PERRY', thus infringing on the designer's mark.
Simultaneously, Hudson countersued Taylor seeking a cancellation of the brand's trademark on the grounds that the Katie Perry brand could mislead or confuse people into believing that the pop star was behind the Sydney-based boutique label.
Though Makovic ultimately found in favour of Taylor, a significant portion of the judgment was given to the historical context of the case which is sure to become a staple reference point for trademark law.
Taylor, a former David Jones employee who 'wanted to be a fashion designer since she was 11 years old', started her brand Katie Perry in 2007 with an ambition to design luxurious loungewear having spotted a 'niche market at the time for this type of garment'.
The Australian-made brand had a slow beginning in terms of securing customers, but the founder registered the business name Katie Perry in April 2007 and applied to register a trademark for her logo in September of the same year.
It wasn't until 2008 that she would seek to register a mark in relation to clothes which were the type of goods she intended to sell, and let the first registered mark lapse at the time. Further, it took the founder until 2009 to create a Facebook page for the brand.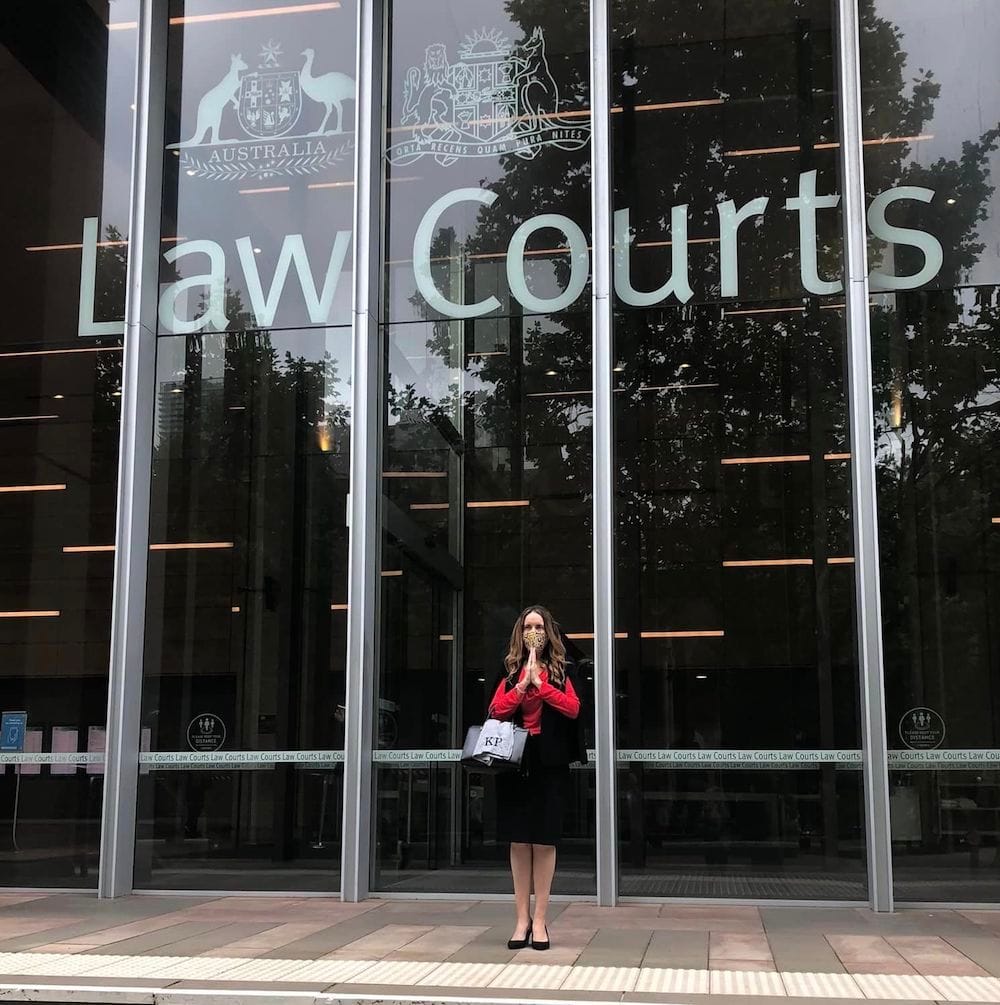 At the same time Hudson's career was just getting started. Though the singer had been working in the industry for a number of years prior and was represented by DMG since 2004 when she was about 19 years old, her breakout hit wouldn't come until much later.
Hudson took on the moniker of Katy Perry in 2002 when she moved to Los Angeles. Prior to that, she released music under the name Katy Hudson and had the single Trust in Me place number 17 on the Radio & Records Christian Rock Chart.
By 2005 Hudson was achieving little wins, primarily via the release of a song called Simple in 2005 which appeared on the soundtrack to the film Sisterhood of the Travelling Pants.
Eventually, Hudson left DMG to join Virgin in 2007 which was then owned by EMI. In the same year, her breakout single Ur So Gay went viral on MySpace, kickstarting a movement that would eventually go on to see her play the Super Bowl Half Time Show in 2015.
With the buzz of Ur So Gay behind her, the singer gained popularity internationally, including in Australia. By June 2008 she would release her second studio album One of the Boys which included megahits I Kissed A Girl, Hot n Cold, Thinking of You and Waking Up in Vegas.
The album received critical approval and media attention in Australia, and she would eventually embark on an international tour.
It was around this time that Hudson's managers began concocting ideas for merchandise, including KATY PERRY-branded t-shirts, booty shorts, sunglasses and even a replica doll of the singer which were all sold at her shows and online.
Prior to Hudson arriving in Australia, Makovic noted that the designer 'first heard of Ms Hudson in July 2008' when listening to the radio play I Kissed a Girl. Makovic said Taylor admitted she 'had not considered, or even thought about, Ms Hudson as a potential threat to her business'.
When planning Hudson's Australian tour, the singer's manager Steven Jensen became aware of Taylor's application for registration of her mark for clothes in Australia.
"Mr Jensen was concerned that Ms Taylor's purpose may have been to attempt to obtain a financial advantage from Ms Hudson who, at that time, was scheduled to be in Australia as part of her world concert tour in August 2009," Makovic said.
"In May 2009 Mr Jensen authorised the US lawyers for Ms Hudson, who acted on his instructions, to send a cease and desist letter to Ms Taylor in order to attempt to stop Ms Taylor's application for registration of the applicant's mark.
"Those lawyers, in turn, instructed Australian trade mark attorneys, Fisher Adams Kelly, to send the letter."
This letter was received by Taylor shortly after the launch of her showroom in June 2009.
"Taylor recalls that she cried upon reading the…letter. She feared that she was going to lose everything she had worked so hard to build," Makovic said.
"She had never received a letter in that form from lawyers before and she thought they were going to take everything from her."
In addition, Makovic noted that Taylor did not engage lawyers at the time because she was unable to afford one.
"Ms Taylor felt intimidated and distressed by the ordeal. The legal world was foreign to her and she found even speaking to a lawyer intimidating," Makovic said.
"She felt as though she was being bullied into signing everything away when she had not done anything wrong.
"She did not want to give up on her label, which she loved, and decided that she was not going to do so without a fight."
News of the situation eventually reached the press, leading to an article in The Australian detailing the legal threats and Taylor's predicament.
From here, a back-and-forth between the designer and the singer's lawyers ensued, and Hudson lodged an application for registration of 'KATY PERRY' as a trade mark in Australia and sold merchandise on her Australian tour. Come September, IP Australia rejected Hudson's registration on the basis that it closely resembled Taylor's. As such, the application was withdrawn.
Both women saw their careers progress, with Taylor designing a new logo and Hudson going on to become an iconic pop star.
Taylor would eventually move to Perth in 2012, but moved back to Sydney one year later where she opened up a shop in Paddington which was closed in 2015. One year later she reopened a showroom in Glenmore Road, Paddington which closed in 2020 due to pandemic restrictions leading the entrepreneur to focus on her e-commerce site.
At the same time, Hudson's own moves into the world of fashion became more pronounced and far beyond simple band merch; she now sells designer handbags and shoes.
Taylor would only seek to launch legal proceedings in October 2019 against the singer more recently after discovering the concept of litigation funding.
"Once she was aware of this information Ms Taylor was determined to sue Ms Hudson for trademark infringement, provided she would be able to secure an agreement with a litigation funder," Makovic said.
"It took some time for Ms Taylor to secure litigation funding. Ultimately LCM Operations Pty Ltd was identified as a firm prepared to fund the litigation."
This long-term rift eventually led to Makovic's decision to injunct Kitty Purry to restrain it from continuing to engage in infringing conduct.
The Justice also found that Taylor was entitled to additional damages as 'their action was deliberate in the sense that they did not let the fact of the applicant's mark stand in their way, but proceeded notwithstanding that obstacle'.
"They were prepared to, and did, take a risk," Makovic said.
"Knowing their conduct was infringing conduct, they engaged in what can only be described as a 'calculated disregard of [Ms Taylor's] rights'.
"I am persuaded that the respondents' infringing conduct was such as to attract an award of additional damages in relation to the infringing conduct that has been established."
Further, all of Hudson's counter-claims were dismissed by Makovic and the proceeding will be listed for case management hearings for the making of Makovic's orders.
Get our daily business news
Sign up to our free email news updates.
Help us deliver quality journalism to you.
As a free and independent news site providing daily updates
during a period of unprecedented challenges for businesses everywhere
we call on your support