A staunch believer in the anti-inflammatory properties of the native Australian plant Kunzea ambigua, otherwise known as 'Tick Bush', Hayden Brass founded Zea in 2016 to develop products that could manage muscle soreness.
Since launching, the brand has debuted a range of products from Kunzea – which Brass claims not only helps reduce joint and nerve pain, but can also be used to make oils, honey and sprays.
Speaking to Business News Australia, the entrepreneur shared how he was determined to see the company blossom overseas after recently raising $940,000 on equity crowdfunding platform Birchal.
---
As a young teenager, Hayden Brass familiarised himself with the Kunzea plant while working alongside his parents at Launceston's Saturday markets.
With locals claiming it to be a 'wonder oil', the plant piqued his curiosity in the following years and led him to research its medical potential.
After finishing university where he studied commerce and marketing, his interest would kick into high gear as he spent time with compounding pharmacists and TGA consultants to formulate a Kunzea pain relief cream over the course of a year.
Since the product was launched in 2017, it can be found in almost 400 stockists across Australia.
"I saw this [plant] and thought: I can really see the potential with this product and one day make it a global brand," Brass told Business News Australia
"I was always in the mindset I'd run my own business in some capacity.
"I really put my heart and all my energy into this business - to create something that we're all proud of."
While the pain relief cream has become Zea's bestseller, the company has also diversified into Kunzea essential oils, honey and cooling sprays.
In the last 12 months, the family-owned business has made $4 million in sales. Brass notes that the vast majority comes from the Zea Relief brand, while the other three - Zea Gourmet, Zea Essentials and Zea Active - contribute approximately 15 per cent.
"At the moment we're in talks with a couple of national distributors in Australia to grow our pharmacy and special health store footprint even more," he added.
"Even with COVID-19, we grew in 2020 to 2021 by 400 per cent in wholesale."
Brass said that while many buyers are from his home state, Zea is also gaining traction in Australia's east coast and regional areas.
To ensure he has enough Kunzea available for production, the founder works closely with Tasmanian farmers, who can harvest the plant two times per year. The medium-sized shrub is also found in the eastern coastal regions of Victoria and southern New South Wales.
Brass said while the plant has been "predominantly wild harvested" up until now, the method has been quickly changing.
"In the last 24 months, [farmers have] established plantations for the plant as it becomes more mainstream. It's also to have a consistent capacity for the oil," he said.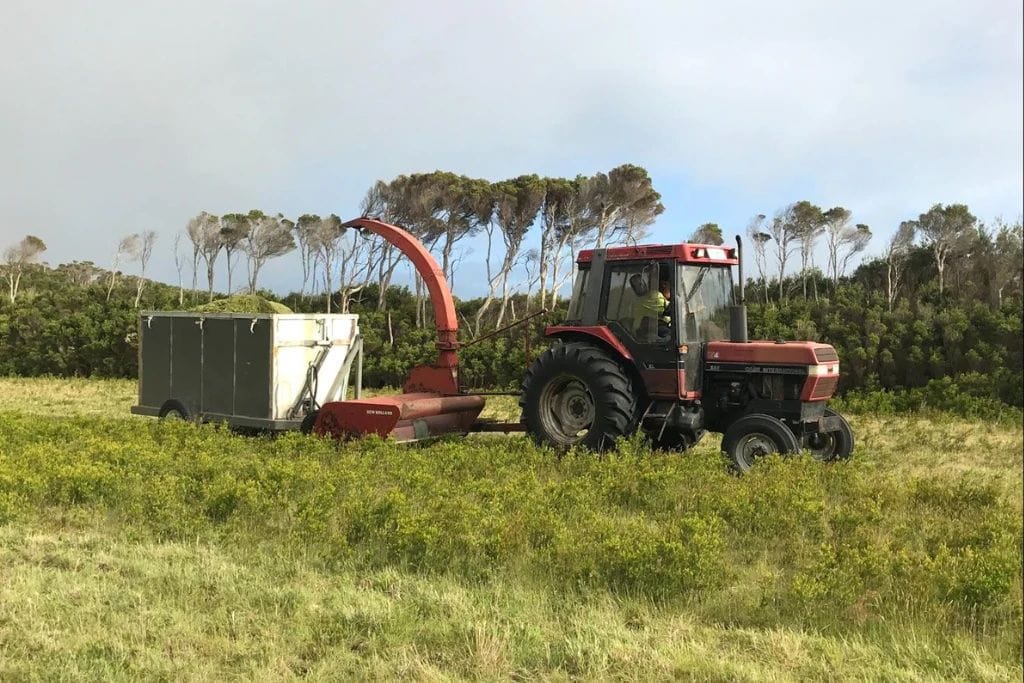 The plant undergoes a distillation process immediately after being harvested, which works by vaporising its volatile compounds. It takes approximately 30 minutes for the steam to permeate through the Kunzea biomass.
From there, it goes into an oil separator, which can take up to three hours to adequately distill. That amount of time results in a higher percentage of active components – such as viridiflorol, a chemical also found in tea tree oil – which helps give Zea products their anti-inflammatory properties.
However, the use of Kunzea for pain management goes back thousands of years. According to the University of Tasmania, it was initially applied topically by indigenous communities in order to relieve irritated skin and muscle aches – much of what Brass is aiming to do with it today on a larger scale.
To fund his ambitions, he recently closed an equity crowdfunding campaign on Birchal after successfully raising $940,000 from 643 investors.
Brass notes it was a quickfire start, with Zea reaching its minimum target of $400,000 within one hour of launching the campaign.
"We're stoked," he said.
"We weren't necessarily expecting that sort of interest from our customers. Everyone jumped on board which was great to see.
"It was time for us take to take it to that next level and really establish ourselves as a household brand."
Bootstrapped until now, the company is planning to use the funds to target overseas markets – specifically the US and UK - within the next six to 12 months.
"We've got everything established - it's just really understanding the customs aspect of it and what we need to do to get through those barriers," Brass said.
He also believes there is far more research that needs to be done in order to understand Kunzea's "full potential".
"Part of the capital that we raised will also go into doing research. We're going to partner with a couple of universities."
"There is huge potential in the skin, beauty, personal care and wellness industry. One of the first products we have lined up in the next six to 12 months is an eczema cream."
In November last year, Zea was awarded B Corp certification and joined a cohort of 5,000 businesses worldwide that demonstrate high social and environmental performance.
While the median score for ordinary businesses which complete the assessment is 50.9, the company was given an overall impact score of 85.5.
"That has really been a form of credibility in the way that we're approaching our brand and our business," Brass said.
For him, it has been an arduous process to reach this stage.
"My dad unexpectedly passed away a month after the company was started," he said.
"That was a really difficult time for all of us. But it also made us really close and more determined to make it a brand that can help millions of people."
"We're very committed to this journey. We're just getting started in what we believe we can achieve and the impact we can have on people's lives."
Get our daily business news
Sign up to our free email news updates.
Help us deliver quality journalism to you.
As a free and independent news site providing daily updates
during a period of unprecedented challenges for businesses everywhere
we call on your support