FED up with the furniture options open to Australians, which he describes as "bland", Adam Drexler (pictured) and wife Deborah took it upon themselves to provide something entirely different.
Their creation, under pseudonym Matt Blatt, is one of the most exciting and Instagrammable furniture stores in the country. The duo pride themselves of being not in the furniture business, but the entertainment business.
The eclectic retailer already has 11 stores around the country, but is set to open three more right before Christmas.
The new premises, in Melbourne and Sydney, are part of the family-owned brand's continuing national expansion plans. Sydney's new showroom will open in Balgowlah, in the northern beaches region in November; and Blackburn, in Eastern Melbourne, will open the doors to a new store in early December.
The group's logistics will also be improved, with a new and much needed distribution centre opening in Oakleigh, Melbourne, in late November.
These three showrooms come off the back of several successful openings for Matt Blatt over the last few years, following Canberra, Adelaide, and Fortitude Valley.
Business News Australia spoke to Adam Drexler ahead of the new openings about 2017's challenging retail environment, what makes Matt Blatt such a special brand, and the group's plans for the future.
You've undergone a recent period of growth in a tough retail environment, so what's driving this?
I often ask myself and I have this conversation with my wife, how did we ever get to this stage? We scratch our heads over it. It wasn't like we planned to open a business that became a brand name that employs 200 people in various states, it kind of just happened. We're both very passionate about the business and people who work in the business, they're passionate. Anyone who's not passionate doesn't last in this business of Matt Blatt. We hope to open three new stores and over the next five years and it's all very well thought out, so there is a plan and it seems to be working which is good. There's always hiccups and sometimes you have to take a step back but generally it's a sound plan and for us to have gotten where we are today. I guess we had pressed the right buttons until now.
What's the best part about going to work at Matt Blatt every day?
It's just an exciting place to be. There's so much change happening here all the time. It's forever changing. I thrive on that, I just love change, I like coming to work everyday not knowing what's ahead of me.
Right now is a pretty tough time for retail but Matt Blatt seems to be bucking the trends why do you think that is? Is it about branding, product, or something else? Or a combination of all of it?
It's all of that, but I feel we're connecting with our customers. We're providing a service, quality, and range of furniture which is a bit different to the bland sort of stuff that's been available in Australia for so long. We're providing an alternative which our customers connect with and not everyone does but we've found a place in this business that people like to come to.
You say you're in the business of entertainment, what does that mean exactly?
We are a fun place! People come here and there's pinball machines for them to play, there's a chocolate wheel they can spin to win a $20 gift voucher, there's an area where kids can sit down to watch cartoons while their parents shop. There's a life size dinosaur in some of our shops and when they walk through the door their mouths drop. They take in the whole spectrum of colours and visual merchandising that we work so hard to do around here. We like to see ourselves as entertaining people. We're funky.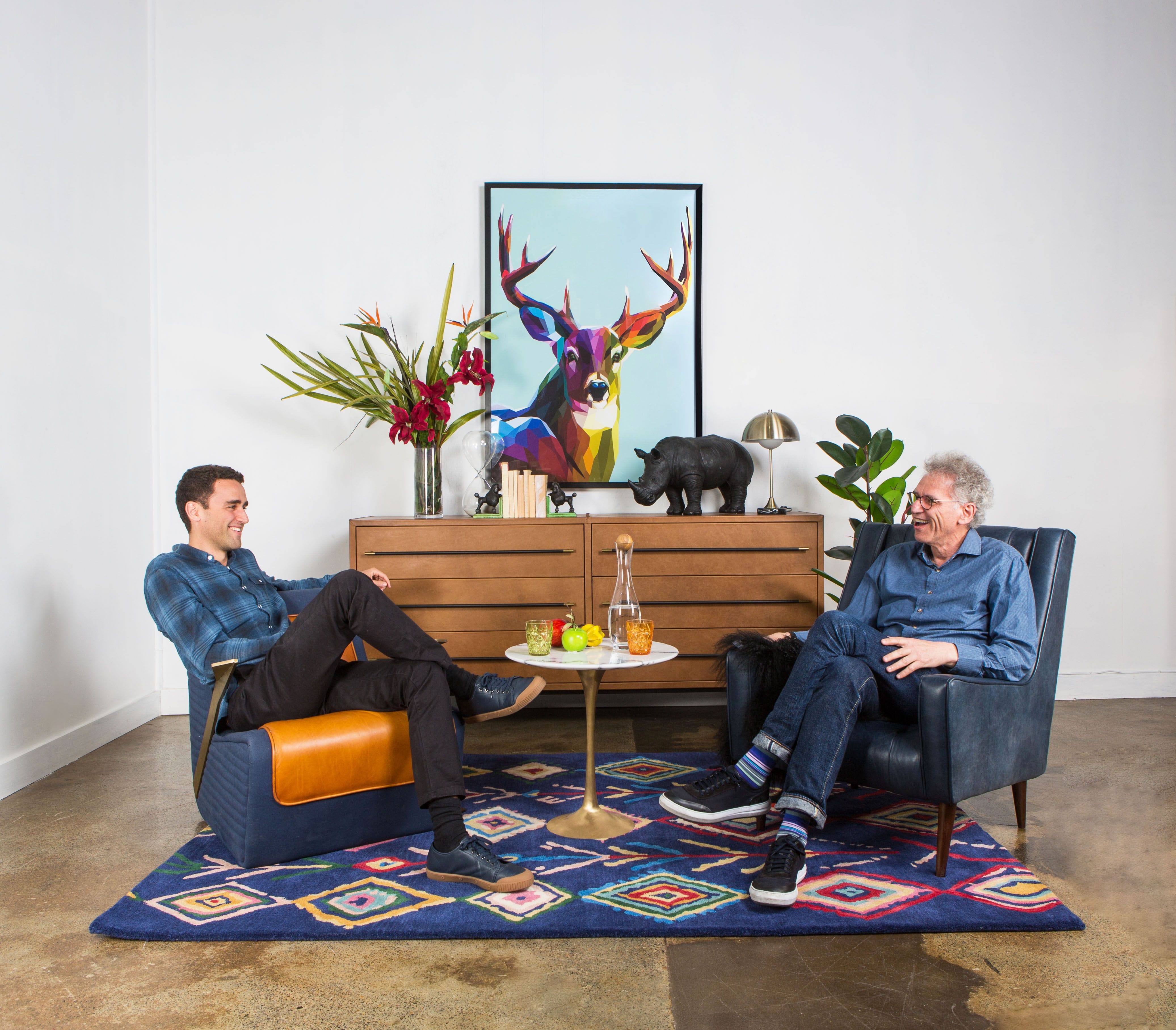 Joel Drexler and Adam Drexler
You're successful online but are you worried about Amazon coming to Australia?
I don't think Amazon will affect my business much, it will affect other businesses like clothing stores and electronics. I think there is a lot of hype around Amazon which is very carefully constructed. Everyone thinks the sky is going to fall because Amazon's coming. I don't really feel that that's going to be the case. I think the advantage Amazon has is mainly to do with logistics and delivery and offering a quick service to their customer. And I think that's very important for retailers today to get that right. If you want to successfully battle Amazon it's all about service and delivery, being a bit more efficient and customer focussed.
What's in the pipeline after these expansions?
We hope to open three stores a year over the next five years. Long term we want to go to Perth sometime, and we want to expand our range of furniture. We're always looking for new ways of marketing which fits in with our entertainment concept. We're always thinking of ways to put a fun factor into our business.
Never miss a news update, subscribe here. Follow us on Facebook, LinkedIn, Instagram and Twitter.
Business News Australia
Get our daily business news
Sign up to our free email news updates.
Help us deliver quality journalism to you.
As a free and independent news site providing daily updates
during a period of unprecedented challenges for businesses everywhere
we call on your support