One year on from the legalisation of hemp in food products the sector is showing signs of innovation.
Currently, health food stores and supermarkets only have a few options when it comes to hemp-based foods (you've probably seen bags of raw materials and a few infused drinks floating around).
True innovation in the sector will come with time, but a new hemp-based "milk" is the first major indication that the sector will burst into every aspect of our lives over the next few years.
Lauded for its high levels of protein, hemp is fast-becoming the go-to ingredient for health-conscious Aussies looking for the next big superfood.
MáMilk, a truly innovative and exciting hemp-based milk, will soon be hitting the coffee machines and health food store fridges near you, giving soy and almonds a real competitor in the nut milk world.
Co-founded by Tegan Scates (pictured), one of Australia's preeminent hempreneurs, MáMilk is not only incredibly good for you, but tastes great in a flat-white too. Scates, says she came up with the idea years before legalisation but was truly inspired when she looked into the ancient history of the nutritious beverage.
"Two years ago, I was visiting a hemp processor near Byron Bay and I visited a dairy farm nearby. I've got nothing against dairy farms, but the way in which their milk is commercially produced isn't sustainable. It just made me ask myself, 'why isn't there an alternative?' says Scates.
"I did some research and found that the oldest cultures in the world used to drink hemp milk; it's been dated back thousands of years in China. That's where the name MáMilk actually came from."
A cursory Google Translate confirmed Scates' statement; Má in Chinese means hemp it's a match made in heaven.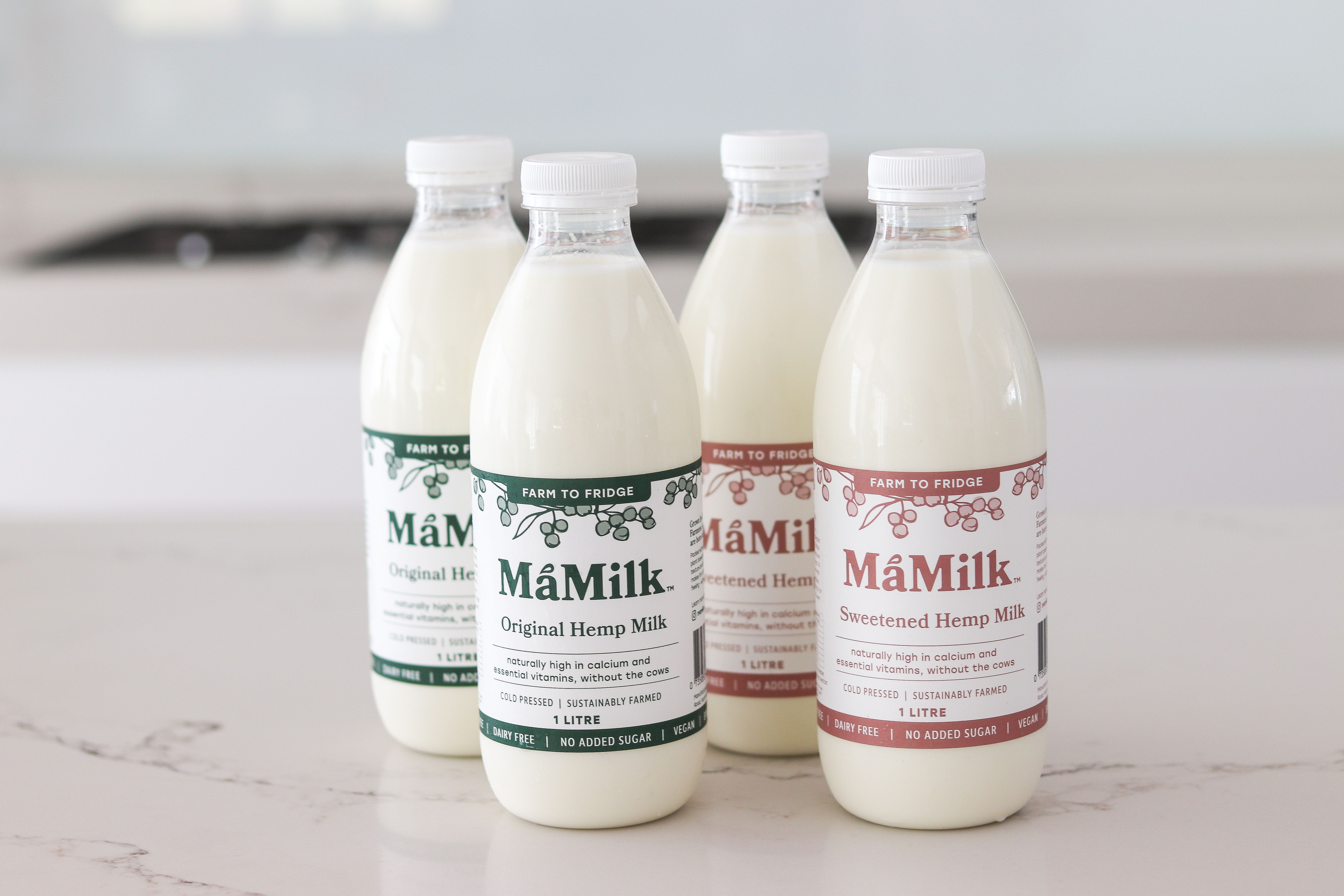 Scates, who is the founder of High on Hemp, a marketing and press consultant for the hemp and cannabis sector, says their innovative product is perfectly timed for consumers who are increasingly looking for sustainable, transparent, and eco-friendly products, not to mention products that are locally sourced, grown, and manufactured.
In fact, the hemp used in MáMilk is entirely grown and processed in Australia. It is sourced from Hemp Farms Australia's supply chain, a well established primary producer, co-founded by Lauchlan Grout.
"There's 10% of Australia's population who are adopting dairy free lifestyles and there's a growing interest for milk alternatives in the industry," says Scates.
"MáMilk gives the consumer exactly what they're asking for. We're showing them where it's being grown and how it's being made, and how our processes are different to anybody else. It also has this really wholesome taste and feeling to it that other milks don't have."
Milk alternatives like soy and almond milk have long been the go-to for those trying to kick dairy milk, but they're often criticised for being milky and watered down.
Carly Lownds, a Nutritionist in Health Science explains the process by which MáMilk is produced.
"By cold pressing the seeds and then using high pressure pasteurisation (HPP) to extend the shelf life, we don't need the traditional high heat methods used for tetra pack products," says Lownds.
"HPP places the products under extremely high pressure using cold water, like dropping them 6,000 leagues under the sea, where the pressure kills any microbes present."
As one of the biggest hempreneurs in Australia right now, Scates is excited about the future for the hemp industry but believes it won't really take off until other business owners take the brilliant risks and leaps into the embryonic, unchartered industry.
"At the moment the market is saturated with hemp grain infused products and crafty baking alternatives" says Scates.
"Bringing out innovative products that make use of hemp is when we will really start to see the industry take off."
Never miss a news update, subscribe here. Follow us on Facebook, LinkedIn, Instagram and Twitter.
Business News Australia
Get our daily business news
Sign up to our free email news updates.