Today the S&P/ASX All Technology Index (All Tech Index) goes live, giving investors another vehicle to get in on some of Australia's (and the world's) bourgeoning tech companies.
Created in partnership between the Australian Stock Exchange and S&P Dow Jones, the All Tech Index is intended to enhance the profile of listed technology companies in Australia.
According to ASX CEO and managing director Dominic Stevens, the All Tech Index recognises the sheer mass of high-performing tech stocks trading on the Australian stock market.
"We've seen tremendous growth in the number of technology companies listing on ASX and the quality of their performance recently," says Stevens.
"The All Tech Index recognises the critical mass of technology companies on ASX. It provides investors with an opportunity to see how the sector is tracking and gives them a benchmark to measure its performance."
At launch the All Tech Index will have 46 constituents with a combined market capitalisation of more than $100 million.
"Many of the companies included in the All Tech Index started as small caps and have grown into billion-dollar companies," says Stevens.
The All Tech Index is not exclusively for Australia-based companies; 40 are home grown, but three are based in New Zealand, two in the United States, and one from Ireland.
20 of the companies on the Index are considered tech 'unicorns' (valued at over $1 billion), with the vast majority working in the IT sector.
"Technology plays an important role in our lives," says Stevens.
"ASX will continue to develop the listed technology sector to provide companies with capital to grow and investors with access to exciting opportunities. A vibrant technology sector is also good for Australia. It helps drive economic growth, strengthens the relevance of our capital markets and encourages job creation and innovation onshore."
But who are the top guns on the Index? Business News Australia has the top ten below just for you, and some good news, they're mostly Aussie born and bred.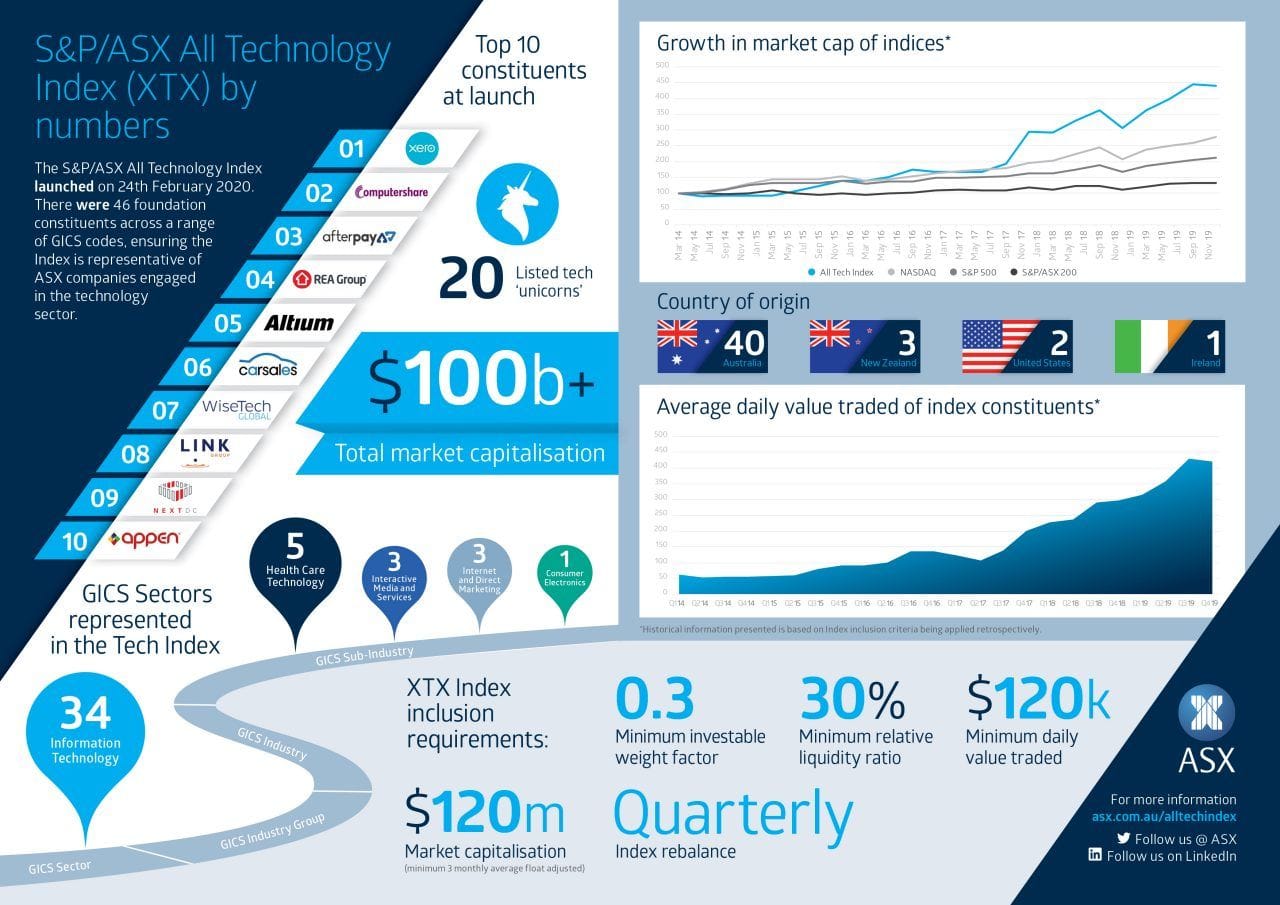 1. Xero (ASX: XRO)
Market Cap: $12.37b
CEO: Steve Vamos
HQ: Wellington, New Zealand
Xero's seamless accounting software is a must-have for most small businesses.
Founded in New Zealand, the company's platform enables business owners to run payroll systems on the go, simplifies things at tax time and automates the tiresome task of invoicing.
2. Computershare (ASX: CPU)
Market Cap: $9.25b
CEO: Stuart Irving
HQ: Melbourne
Acting as the backbone for stock registration and share transfers for some of Australia's largest companies, Computershare is effectively embedded into the fabric of not just the ASX but stock markets around the world.
Its strategy of heavy acquisition has enabled Computershare to become a global force to be reckoned with, providing a range simple technological solutions and services for businesses, shareholders, and employees in the finance space.
3. Afterpay (ASX: APT)
Market Cap: $10.31b
CEO: Anthony Eisen
HQ: Melbourne
Afterpay burst onto the scene in a big way back in 2014, promising both customers and retailers alike with a seamless way to buy-now pay-later.
Since then, the group has expanded rapidly, capturing a large market share in Australia, New Zealand and the United States.
4. REA Group (ASX: REA)
Market Cap: $15.02b
CEO: Owen Wilson
HQ: Melbourne
As a digital advertising company REA Group has its fingers in plenty of pies, deploying its data-driven expertise in sectors like real estate and home loans.
Its flagship brand RealEstate.com.au is Australia's leading platform for those looking to lease or sell property.
5. Altium (ASX: ALU)
Market Cap: $4.49b
CEO: Aram Mirkazemi
HQ: San Diego, United States
Circuit boards power effectively everything we use today, from the smartphone in your hand to the computer in your car. Altium builds software that allows printed circuit board designers to bring their technological ideas to life.
Its main software products include Altium Designer, CircuitStudio, CircuitMaker and NEXUS, and are used by manufacturers like BMW, Boeing, Philips, and Lenovo.
6. Carsales.com (ASX: CAR)
Market Cap: $4.53b
CEO: Cameron McIntyre
HQ: Melbourne
Buying and selling cars is big business in Australia, and carsales.com has that market captivated.
With more than 600 employees, Carsales.com's network of brands includes carsales.com.au, motoring.com.au, bikesales.com.au, boatsales.com.au and redbook.com.au.
7. Wisetech Global (ASX: WTC)
Market Cap: $6.22b
CEO: Richard White
HQ: Sydney
In our global economy thousands upon thousands of goods are traded every single day. Wisetech Global is a cloud-based logistics software solution developer that ensures these transactions happen smoothly.
With over 12,000 logistics organisations using Wisetech's software the company's end-to-end logistics solution is certainly a vital component in the global supply chain.
8. Link Administration Holdings (LNK)
Market Cap: $3.42b
Managing Director: John McMurtie
HQ: Sydney
Link Administration Holdings is well and truly at the heart of Australia's superannuation and pension sector, connecting millions of people with their assets by partnering with financial market participants.
Its services include data management, analytics, digital communication and stake-holder education, in addition to administering superannuation funds.
9. NEXTDC (ASX: NXT)
Market Cap: $2.72b
CEO: Craig Scroggie
HQ: Brisbane
The entire digital universe is estimated to be as large as 44 zettabytes. To put that in context; that's 40 times more bytes than there are stars that we can currently observe in the entire universe.
NEXTDC's business model is reliant on there being tonnes of data; after all, they provide companies with solutions to store it. It's clearly not an industry that's going to disappear anytime soon.
10. Appen (ASX: APX)
Market Cap: $3.08b
CEO: Mark Brayan
HQ: Chatswood, NSW
Founded in 1996, Appen is now one of the world's leading AI-assisted data annotation platforms.
The solutions created by more than 1 million of Appen's skilled contractors are deployed in leading technology, automotive, financial services, retail and manufacturing businesses worldwide.
Never miss a news update, subscribe here. Follow us on Facebook, LinkedIn, Instagram and Twitter.
Business News Australia
Get our daily business news
Sign up to our free email news updates.
Help us deliver quality journalism to you.
As a free and independent news site providing daily updates
during a period of unprecedented challenges for businesses everywhere
we call on your support