Three new qualifications at The University of Notre Dame Australia are preparing current and future business leaders for supply chain realities that are being demanded of them both by legislators and consumers.
Focusing on modern slavery and human trafficking, the Graduate Certificate, Graduate Diploma and Master of Arts programs aim to teach business professionals and industry leaders about the complex issues, and why it's important to remain vigilant about the exploitation of the world's most vulnerable.
Business News Australia spoke with Professor Martin Drum, the project leader for the three new programs, about why enrolling in the programs will set leaders up to be acutely aware not just about the realities of exploitation, but how new laws will soon dramatically impact supply chains.
---
With more than 40 million people in the world currently subject to forced or bonded labour or servitude, the pressure to understand how modern slavery is interwoven into the international supply chain could not be more urgent for business owners and leaders alike.
The historically under-regulated area is now subject to mandatory reporting requirements here in Australia under the Modern Slavery Act, making it even more vital that business professionals understand the ins and outs of global worker exploitation.
That's not to mention the added pressure from consumers who are demanding more from the brands they buy from - with those prioritising a shift away from modern slavery benefitting, and those lagging behind losing business.
Three new programs from The University of Notre Dame Australia are at the forefront of educating business leaders about the evolving regulatory landscape, helping students explore complex issues around modern slavery and human trafficking.
Professor Drum says these programs aim to empower leaders in the workforce and the wider community, to put an end to the exploitation of vulnerable people.
"Modern slavery is a huge issue, particularly for businesses. And the issue is, whether businesses in Australia understand or not, they're often providing the demand for goods that are produced by modern slavery," Professor Drum said.
"The broader problem here is around our supply chains and the fact that we end up buying those products that are made. Slavery exists because we are part of the market for it."
To combat this, and to empower leaders to take action, Notre Dame has introduced three programs for those looking for specific guidance and education in the space.
Professor Drum says the Graduate Certificate in Modern Slavery, which consists of four courses, is ideal for those who are working full time or running a business but want to learn more about the topic.
Meanwhile, the Graduate Diploma of Modern Slavery and Human Trafficking is targeted at those who want to dive a bit deeper and understand the related issues that arise from modern slavery and worker exploitation.
Finally, for those stepping into a specific role with ties to monitoring modern slavery or those looking to complete research in this area, the Master of Arts (Modern Slavery and Human Trafficking) is most appropriate. Students will complete an industry placement and an applied professional project.
Professor Drum notes that knowledge about modern slavery is going to be increasingly important for business leaders.
"These skills will certainly become more and more important, and that's because we live in a globalised world," Professor Drum said.
"You can't really just put your head in the sand. We're growing more and more interconnected and that time when we did everything on our own and understood who was producing things from the farm to the plate - that's become much more complex these days.
"That's why understanding these issues is really critical."
Not only is there now a legal requirement to disclose modern slavery risks on a business level, but many businesses are finding that outward demonstration of being a good corporate citizen is resulting in booming sales.
For example, denim maker and merchant Outland Denim has built its brand on wanting to stamp out modern slavery at all levels.
Founded by James Bartle, who was inspired to start the business after seeing a young girl for sale in East Asia, the brand is committed to ensuring all seamstresses are paid a living wage and are given support to build their own futures.
This approach paid off too, resulting in the company bringing its customers on as investors in not one, but two gangbuster equity crowdfunding raises.
Professor Drum says that while not all consumers are actively looking for ethical brands, those that do are hyper critical, and this is a trend that is not going away.
"Ethically aware consumers have to do a fair bit of research to try and understand, and this information is not always easily available," he said.
"This cohort of people that are more interested in where their goods are coming from are slowly increasing. Like environmental sustainability, people are going to be asking more and more questions in this space.
"It's only going to be more important and critical to what businesses do."
While a longer-term solution to the widespread issue of modern slavery might not be readily accessible just yet, Professor Drum says those who study one of Notre Dame's programs will leave with a new perspective and understanding of the legal framework required of businesses and the realities of worker exploitation.
"Firstly, it's essential to help and understand a very pertinent issue that impacts a business," he said.
"But secondly, it's designed to give you the skills and expertise that you need to address it, and that's especially relevant in a business context.
"You need to highlight and understand the problem, but you also need the skills to be able to do something about it."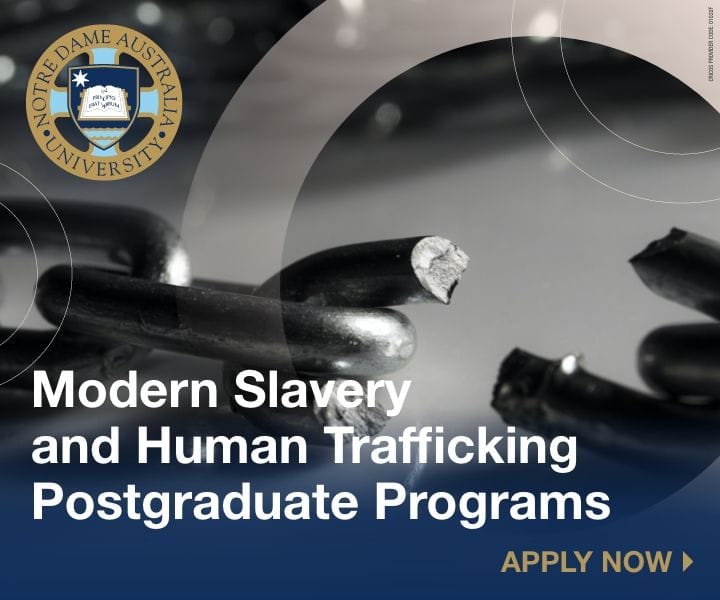 This article was written in partnership with The University of Notre Dame Australia.
Get our daily business news
Sign up to our free email news updates.