Amidst ongoing expectations for floods throughout NSW from its northern to southern borders, there are now 59 evacuation warnings in place affecting 40,000 people as weather experts raise concerns for the Hawkesbury-Nepean catchment where many areas are experiencing water levels equal to or greater than in March 2021.
Premier Dominic Perrottet has indicated there will be more evacuation orders on the way due to a spill from the Manly Dam.
"We also know that there is a pending evacuation order coming for many people as a result of the Manly Dam spill that will affect 800 homes and 2,000 people," the NSW Premier said.
"Please get ready to leave if there is an evacuation order in place," he said, noting there were also 15 evacuation warnings affecting 22,000 people.
Click here for a list of current evacuation centres in the state.
Dean Narramore from the Bureau of Meteorology (BoM) urged the public to stay up-to-date with all the latest warnings as this "dangerous and rapidly evolving flood situation continues to impact our highly populated regions of the Central Coast, Sydney Metropolitan and down into the Illawarra".
"Since 9 o'clock this morning this morning, we've seen 50 to 100 millimetres in the northern suburbs of Sydney, and that is now pushing up towards the Central Coast," Narramore said.
"We've seen some flash flooding in that part of the world, and that's likely to move further north in the coming days and we do have warnings there for intense rainfall that is unfortunately likely to lead to life-threatening and dangerous flash flooding."
The BoM expert noted there was previously a major flood warning for the Kempsey area, but that now looks like it will peak at moderate flood levels.
"That's good news for residents on the Macleay River as it moves downstream," he said.
"Moving onto the Hunter we have major flooding on the Wollombi Brook River at Bulga...then that's going to move towards the Singleton area with major flooding as we move into Wednesday, with minor flooding possible in the Maitland area."
He said the Hawkesbury-Nepean catchment was of the most concern, particularly in places like Richmond and Wisemans Ferry that were experiencing major flooding similar to levels last year, and the same was true at Menangle.
"We're expecting major flooding to impact the Windsor area higher than last week and equal to or similar to what we saw in March 2021, and with all the ongoing rainfall through large parts of the catchment, we continue to see these rivers increase as we move into tonight and tomorrow," he explained.
"Penrith at this stage is expecting [a] moderate flood warning, but of course [it's] highly dependent on how much further rainfall falls in the next six to 12 hours through the Hawkesbury-Nepean catchment, and that then will fall into our major rivers."
Narramore also noted concerns for tonight for winds that are rapidly picking up speed in parts of the Illawarra and Sydney metropolitan area.
"The Sydney Airport is gusting to 60 kilometres an hour, Wattamolla is gusting up to 80 kilometres an hour, and we expect those winds to increase and strengthen further tonight as a low rapidly deepens offshore," he said.
"On top of the flooding and the rainfall that have been occurring, these kinds of wind speeds gusting up to 90 kilometres an hour are likely to bring down trees and powerlines."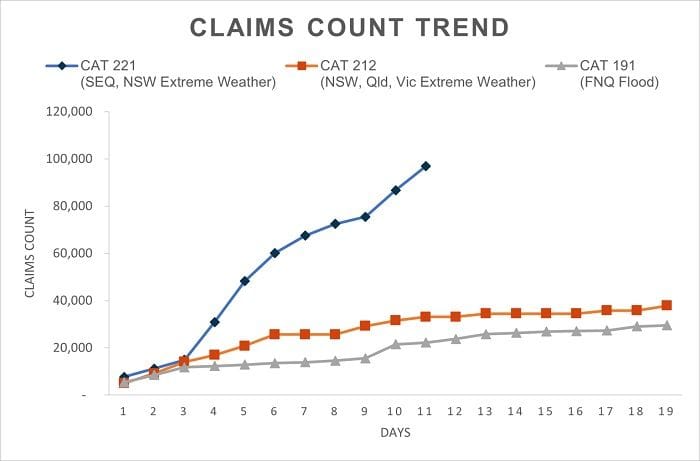 These warnings come after the Insurance Council of Australia (ICA) today reported 96,844 claims to date in relation to flooding in Southeast Queensland and New South Wales.
This represents a 12 per cent increase on yesterday's figures, driven by a 23 per cent rise in NSW, with total damage claims across for homes and vehicles in both states now estimated to be at $1.45 billion.
"As we expected we are now seeing an influx of claims from New South Wales," says ICA CEO Andrew Hall.
"Insurers are prioritising those customers whose situation is the most severe to support them getting back on their feet as soon as possible.
"This means it may take a few weeks for insurers to start the assessment process for less severe claims, but those customers can be assured their insurer is there to support them."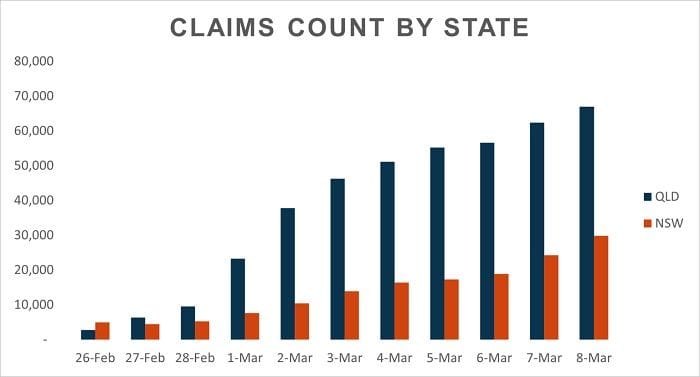 Yesterday preliminary estimates were released for impacts in Queensland from the State Government, including $2-2.5 billion in recovery programs and support measures, $936 million in insurance claims and $1 billion in lost economic activity.
"For anyone dumping treasured possessions or hosing the mud out of their home, comparisons to other floods don't mean much," QLD Treasurer Cameron Dick said.
"But the impact on our budget and economy does affect how quickly we can recover from natural disasters.
"It's important to note that these estimates of the cost of this severe weather event are preliminary, and likely to rise as more damage assessments are conducted."
Help us deliver quality journalism to you.
As a free and independent news site providing daily updates
during a period of unprecedented challenges for businesses everywhere
we call on your support