A new report from the Australian Small Business and Family Enterprise Ombudsman has confirmed the resilience of small businesses in the face of challenging conditions.
The report, released by Ombudsman Kate Carnell today, provides a statistical overview of small business performance in Australia, using data available from the Australian Bureau of Statistics (ABS) and other trusted sources.
Of note in the Small Business Counts Report is an in-depth look into the COVID-19 crisis which reveals 40 per cent of small businesses changed the way they provided products and services in response to the pandemic.
"2020 has been a year like no other and certainly the toughest Australia's 2.3 million small businesses have ever experienced," Carnell says.
"Natural disasters such as catastrophic bushfires at the beginning of the year were followed by a global pandemic, during which necessary government-imposed restrictions forced many small businesses to close their doors - some for months on end.
"While the true toll this year has taken on small businesses - including the mental health impact - won't be known for some time, our Small Business Counts report shows that many small businesses have pivoted their operations to adapt to the rapidly changing conditions."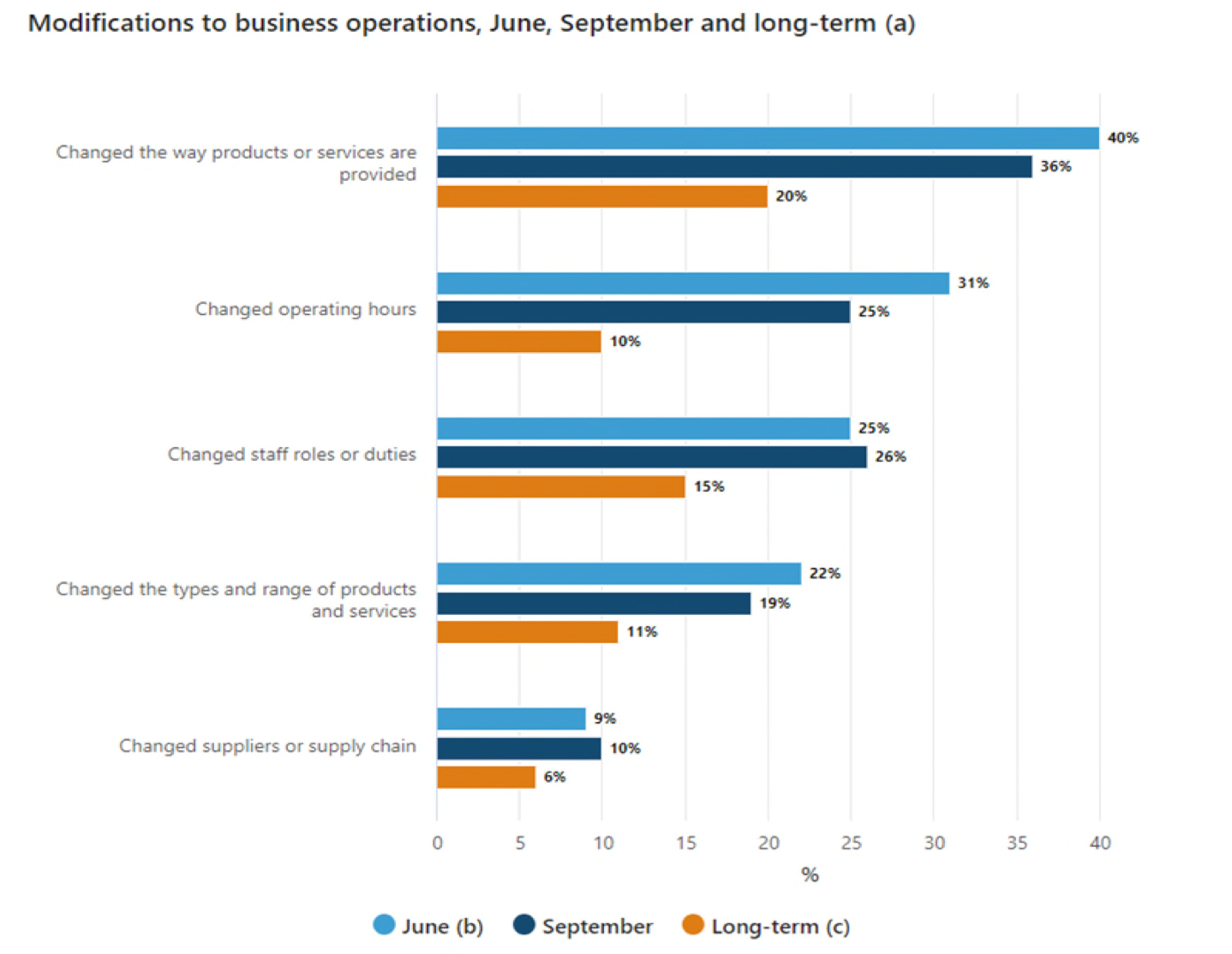 Late payment times and extended payment terms were a main pain point for small businesses, especially during the COVID-19 crisis.
CreditorWatch, which monitors how many days on average a payment is made after it is due, found late payments were being paid 30.6 days late in October 2020 compared to 13.4 days late a year earlier.
"This ongoing problem is having a devastating impact on small businesses," Carnell says.
The biggest increase in payment delays occurred in the Transport, Postal and Warehousing sector, where late payments are now an average of 90 days late compared to nine days late just a year ago.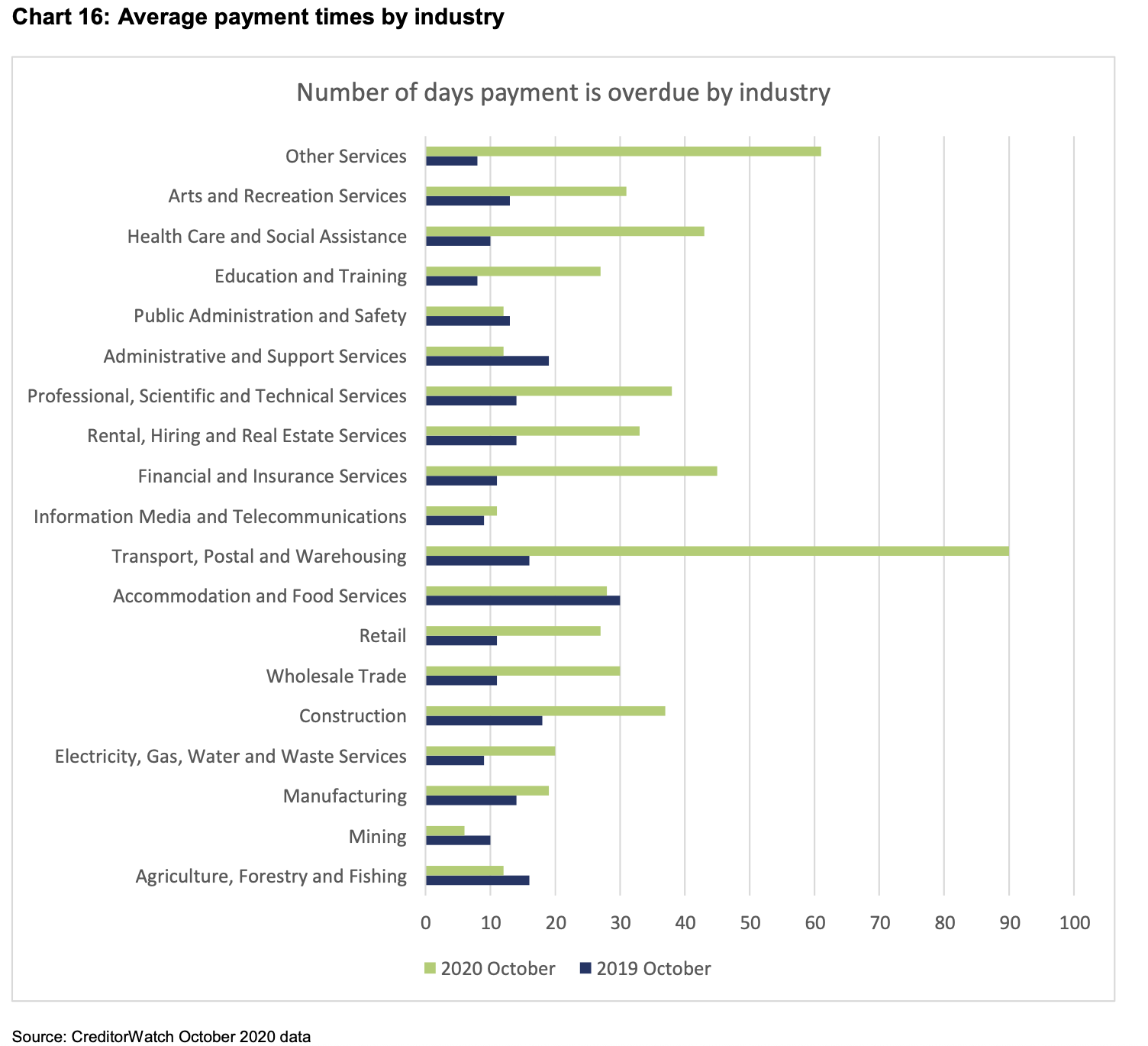 While a crisis like COVID-19 would generally lead to an increase in the number of small businesses going insolvent, this has not been the case to date.
The report shows the number of businesses entering external voluntary administration declined sharply in March 2020 and has remained below 2019 levels though the Ombudsman acknowledges this is likely the result of financial support measures delivered in response to the crisis and temporary changes to insolvent trading protections.
"The concern around low insolvency numbers in the current climate is that, when businesses that are not viable delay entering external voluntary administration, they continue to accrue debts," the Report says.
"These debts may never be repaid and could have significant negative impacts on the suppliers' cash flow, which could then ripple through the economy."
According to the Ombudsman, small businesses and family enterprises in Australia represent the "engine room" of the economy, accounting for between 97.4 per cent and 98.4 per cent of all businesses.
Further, small businesses contributed almost $418 billion to Gross Domestic Product (GDP) in 2018-2019, equivalent to more than 32 per cent of Australia's total economy.

Small business employs more than 4.7 million people and 41 per cent of the business workforce, making it Australia's largest employer.
By industry, small business employment is the largest in the constructions sector, where almost 750,000 people were employed in 2018-19.

In terms of profitability, turnover and net income fell for the median small businesses between 2016 and 2018, while turnover increased but net income stayed flat for the mean small businesses over the same period.
The Ombudsman says the fact mean turnover increased while mean net income stayed flat suggests cost pressures are keeping net incomes low.

In terms of innovation, the report claims small businesses make up 84 per cent of all innovating businesses in Australia, with small businesses outperforming non-innovative ones on all key metrics.

Exports are also on the rise for small businesses. Over the three year period looked at by the Ombudsman to 2018 more than 2,700 additional small businesses engaged in exporting merchandise.
This represented an increase of 9.5 per cent, higher than the increase for medium sized businesses.

Never miss a news update, subscribe here. Follow us on Facebook, LinkedIn, Instagram and Twitter.
Business News Australia
Help us deliver quality journalism to you.
As a free and independent news site providing daily updates
during a period of unprecedented challenges for businesses everywhere
we call on your support