A new report on the buy-now pay-later (BNPL) industry from the Australian Securities and Investment Commission (ASIC) has found one in five consumers are being hit with late payment fees.
It comes as the total amount of credit extended in the BNPL industry has almost doubled over the past 12 months, demonstrating the growing popularity of the payment platforms.
ASIC's report, which aggregated data from BNPL provider Afterpay (ASX: APT), BrightePay, Humm (owned by Flexigroup (ASX: FXL)), Openpay, Payright and Zip Pay (ASX: Z1P), found missed payment fee revenue totalled more than $43 million in FY19.
One in five consumers are missing payments now, with the revenue collected rising by 38 per cent compared to the previous financial year.
The number of BNPL transactions increased from 16.8 million in FY18 to $32 million in FY19 an increase of 90 per cent.
"Buy now pay later arrangements are clearly popular as a payment method. While working for the majority of users, some consumers are suffering harm," ASIC said.
"There are regulatory changes coming that will impact the industry, with the design and distribution obligations coming into effect in October 2021.
"The industry is also developing a code of conduct. ASIC expects the industry to work collectively to develop a code that provides good consumer outcomes across the diverse range of business models operating in the industry."
According to the report, there were more than 6.1 million open accounts at June 2019, representing up to 30 per cent of the adult population.
Afterpay accounts for the vast majority of BNPL transactions, with 73 per cent of the more than $5 billion spent on all platforms transacted through the fintech giant's platform.
ZipMoney held 11 per cent of the market at the end of FY19, while Humm accounts for 11 per cent, and Brighte, Openpay and Payright round out the remainder of the market.
In terms of revenue sources, Zip Money receives more than half of its revenue from "other consumer fee" revenue, and 38 per cent from merchant fee revenue.
On the other hand, Afterpay receives 80 per cent of its revenue from merchant fees, with 20 per cent coming from missed payment fees.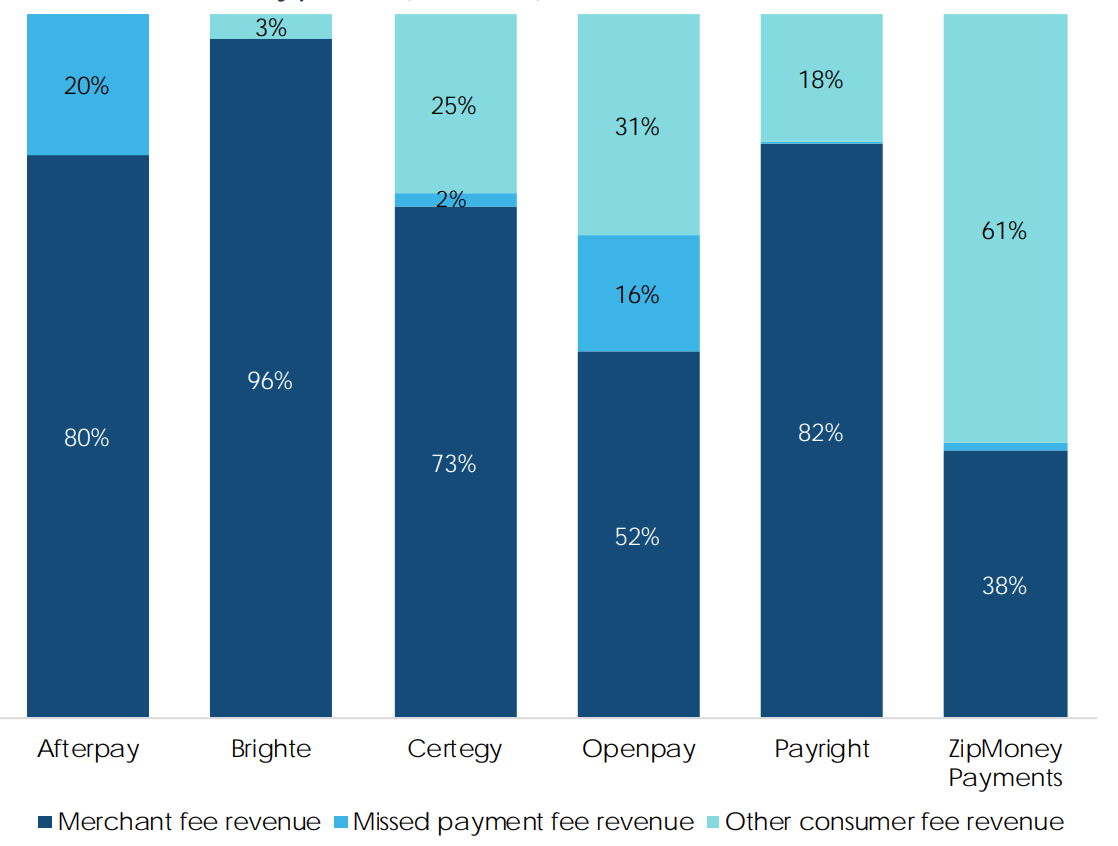 Via ASIC.
Both Afterpay and Zip have welcomed ASIC's latest review.
"ASIC's report demonstrates that BNPL is a collective term to describe a range of new businesses with fundamentally different business models," Afterpay said.
"While Afterpay is clearly the largest of the companies profiled (73 per cent of the total value of BNPL transactions), Afterpay represents a relatively small proportion (27 per cent) of BNPL consumer debt.
According to Zip co-founder and chief operating officer Peter Gray the ASIC report demonstrates the continued growth and popularity of BNPL platforms in Australia.
"Zip has invested significantly in our market leading proprietary credit decision capability, which is delivering better outcomes when compared to our peers or credit cards," Gray said.
"We have performed credit and identity checks on every single applicant since inception, and where customers connect their bank account, we can assess an individual's circumstances understanding all their financial commitments.
"This means that only one in 100 Zip Pay customers are late each month, compared with the data in the report that shows one in five customers across the broader BNPL industry have missed a payment."
Shares in Z1P are down 0.83 per cent and shares in APT are down 0.44 per cent at 10.24pm AEDT.
Never miss a news update, subscribe here. Follow us on Facebook, LinkedIn, Instagram and Twitter.
Business News Australia
Get our daily business news
Sign up to our free email news updates.